Food
Section Navigation
Office of Sustainability
Physical Plant
804 Penrose Ave
Walla Walla, WA 99362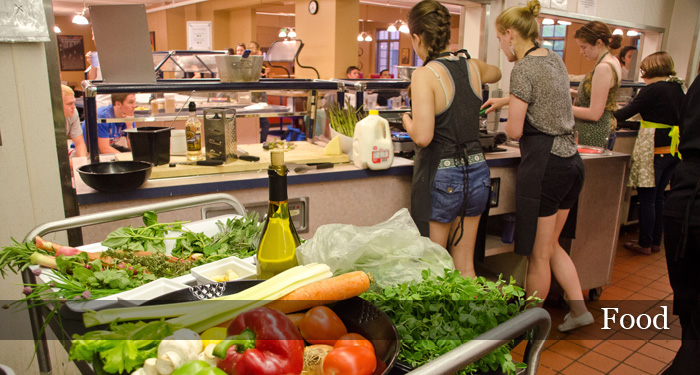 Food:
What you eat and where it comes from has a significant impact on your carbon footprint. In order to mitigate our campus carbon footprint we encourage responsibly sourced food. This means food that has been produced utilizing ecologically sound methods. In addition to the production of food it is important to minimize the number of hauling miles associated with what you eat. The further the distance your food has traveled the larger its carbon footprint. To figure out the carbon miles associated with your food check out Foodmiles.com.
Bon Appetit:
Our campus contracts with Bon Appetit to operate our campus dining and catering. As a company Bon Appetit strives to source at least 20% of their ingredients from small, owner-operated farms, ranches, and artisan producers within 150 miles of their kitchens. This focus on local source food significantly reduces the carbon miles put on campus food. In addition to responsible sourcing Bon Appetit acts as a leader within the dinning industry. Check out more about Bon Appetit.
In addition to food sourcing Bon Appetit was recognized to EPA U.S. Food Loss and Waste 2030 Champions.
Organic Garden:
It is the mission of the Organic Garden to create a garden of abundant nourishment; nourishment for the community, the mind, the body, the spirit and the future. The philosophy of the Organic Garden is to foster an environment filled with experimentation, composting and the recycling of waste, no chemical pesticides or fertilizers (for the health of people and the planet), education (learning from the Earth, each other and shared ideas), respect for nature, celebration of life and appreciation for where food comes from.

The garden grows a wide variety of both annual and perennial vegetables, fruits, and herbs ranging from raspberries to bok choy to butternut squash. In an effort to improve soil fertility the Student Organic Garden uses food scraps from student houses and composts it with other materials provided by the physical plant. Our purpose is to get dirty and enjoy the process of growing food. Holds Open Garden Mondays 5-7pm, Wednesdays 4-6pm, and Fridays 4-6pm 
(Open Gardens are not held during the winter when the ground is frozen)