Unexpected Opportunities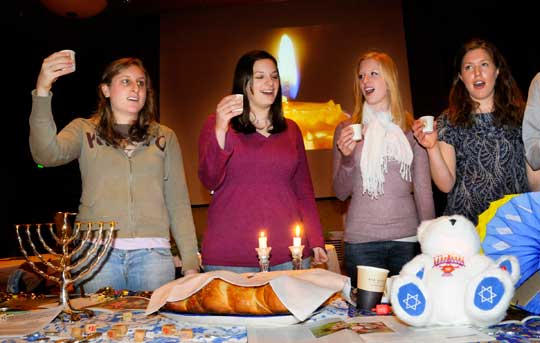 Left to right: Rachel Stein, Shayna Tivona, Jacqueline Kamm and Julia Nelson.
Jacqueline Kamm '10 embraces Walla Walla's Jewish community on campus and off
Her high school history teacher in Sammamish, Wash., urged her a few years ago to look at Whitman College because it 'turns out really good thinkers." That was the big draw for her.
And now, Jacqueline Kamm, a Whitman junior, thinks. About this: How the college has come through for her, has been life-changing.
'The classes have been transformational," said Kamm, who's majoring in music and sociology. Since becoming a music major, Kamm has performed her first solo recital, learned to play the piano, and grown a deep appreciation and understanding for classical music. As a sociology major, she is currently working on research on divorce and gender with her adviser, Professor Michelle Janning. Becoming a sociology major has 'changed the way I view race, class, and gender relations on a daily basis, and has even brought out the feminist in me," she said.
That's the academic side. There's also involvement in Kappa Kappa Gamma, Sirens of Swank, the college admissions team, Whitman Chorale and Chamber Singers, and the Sexual Assault Advisory Board. And Kamm found an additional something extra that she wasn't necessarily looking for, yet has come to value highly nonetheless: opportunities to practice and share her Jewish traditions and participate in the local Jewish community, on campus and off.
'It wasn't a do-or-die situation," Kamm said of the things she looked for in a college, but she's 'definitely glad" Whitman enables this. On campus, Whitman's established Jewish student organization, called Hillel-Shalom, provides opportunities for the college's 125 Jewish students — and any others who are interested — to develop and/or participate in activities built around the traditional Jewish theme of 'community."
The theme finds easy expression at Hillel-Shalom's 'Fridays at Five" event, a weekly Shabbat and social gathering. 'It's a highly reflective moment of your week," she said. 'It's nice to belong to a group of Jewish students, to have that community. It keeps me engaged in Judaism," said Kamm. She enjoys helping to carry on a religion that is special to her in part because of its focus on how to be a better person and on humanity's good attributes.
Often Hillel-Shalom members lead services at Walla Walla's Congregation Beth Israel; Kamm does so every month or two. An experienced cantorial singer, she co-led the congregation's Rosh Hashana (Jewish new year) service with another Whitman student, Davey Friedman '11, who also has served the congregation as a bat mitzvah tutor for two middle school students. Kamm served as the cantor for the bat mitzvah services and has co-led Yom Kippur (Day of Atonement) services, and in her freshman year she received a grant to create and implement a workshop on participating in and leading services at the synagogue. She also is the Hillel-Shalom liaison to Congregation Beth Israel, serving on the board and linking the campus with the wider Jewish community.
While as a prospective college student considering Whitman, Kamm learned about the local Jewish community from talks with Hillel-Shalom adviser Sharon Kaufman-Osborn. Kamm said it was nice knowing she 'had a place" in the community before she even got there. 'I always planned on being a part of a Jewish group on campus but what came as a surprise was the amount of involvement I ended up having with Congregation Beth Israel. I've become more involved with my faith since I've come to Whitman."