Jewett Hall
This traditional residence hall houses about 170 first year students. It is nestled on the northeast fringe of Ankeny Field, 100 yards from Penrose Library. A prime location for activities such as ultimate frisbee and outdoor studying, Jewett also has spacious lounges with kitchen space, a recreation room, and a free laundry room. If you are someone who relishes extra minutes of sleep, you will appreciate Jewett's close proximity to classroom buildings.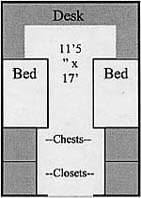 The graphic on this page shows the layout of a typical standard-size room. Room sizes may vary.
All room furniture in Jewett is built in and cannot be moved. Jewett has pull out day-beds that cannot be bunked, but can be used as couches that take up less space.