Anderson Hall
Anderson Hall is a traditional college residence. It houses about 138 students, most of whom are first-year students.
Anderson features a large central lounge with floor-to-ceiling windows, a fireplace, and a big backyard complete with 2 sand volleyball courts.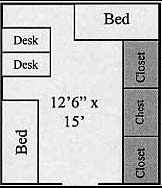 The graphic on this page shows a typical Anderson double room. Room sizes may vary.
All furniture items in Anderson are movable. Beds may be bunked if so desired. See your residence hall staff for assistance with bed bunking.