Climbing Team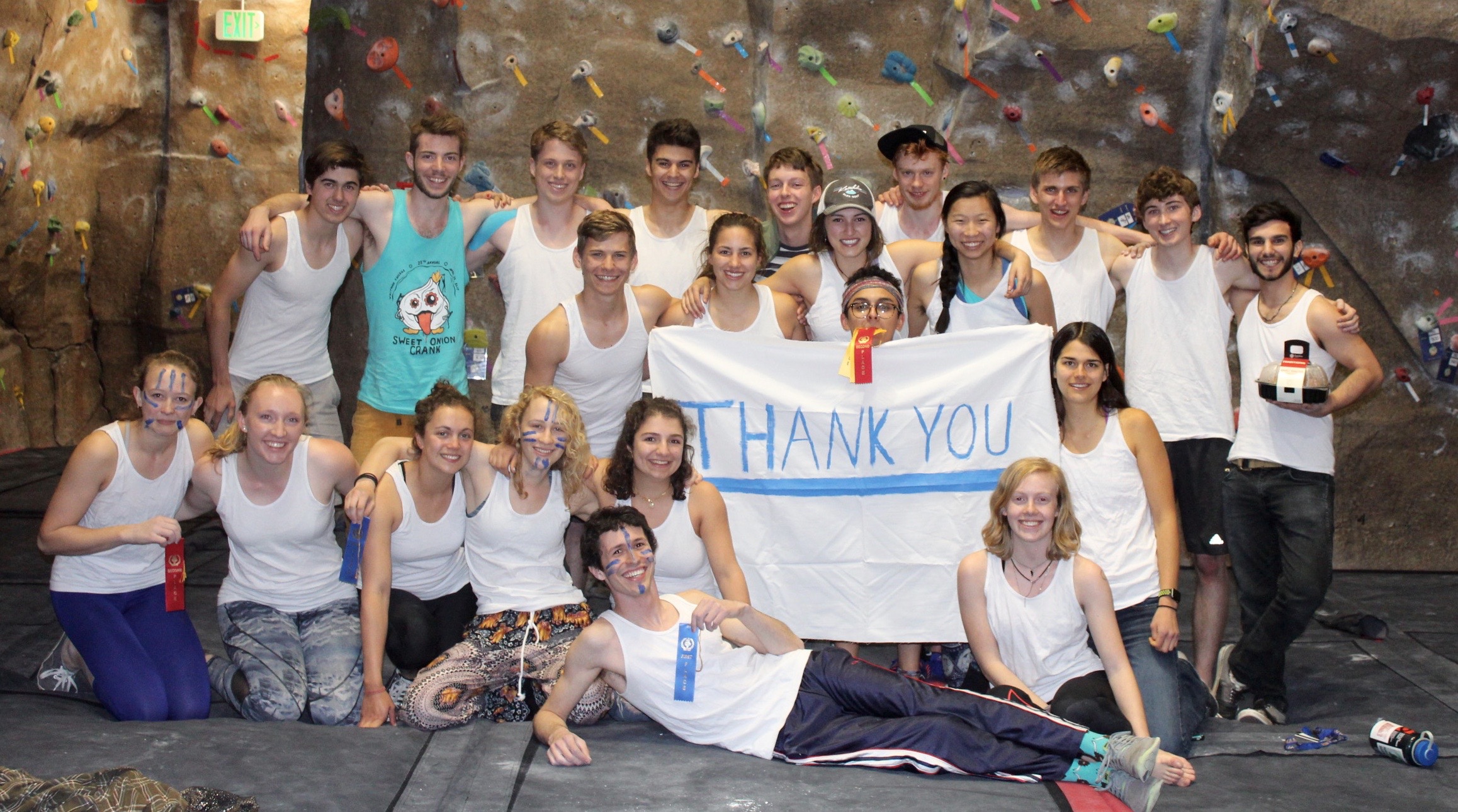 Click the buttons below to donate to, join, or visit the climbing team
About the Team:
The Whitman College Climbing Team is an officially sanctioned club sports team. We are committed to improving the technical and physical climbing abilities of our athletes. During our training season in the fall semester we divide into three training teams (the beginning/intermediate team, the advanced team, and the open team). Climbers are placed with the team that best fits their strength and climbing abilities. This allows our climbers to train with a group that is at their level. During our competitive season the training teams merge. We practice during the week and travel to competitions over the weekends. We compete in the Northwest Collegiate Climbing Circuit (NC3) and the USA Climbing Collegiate Climbing Series (CCS). Many members of our team start out their climbing careers with the climbing team. Many members of our team choose not to compete. The climbing team is a very supportive environment that fosters individuals of all climbing backgrounds and abilities to achieve their best.
Upcoming Events:
Whitman Crush (USAC Collegiate Local)- December 7
USAC Collegiate Regionals- TBD
USAC Collegiate Nationals- TBD
WWU- Feb. 1
Univ. of Oregon- Feb. 8
Oregon State- Feb. 15
Central WA- Feb. 22
UW- Feb. 29
Univ of Idaho- March 7
WSU- March 28
EWU- April 4
Portland State- April 11
Whitman (Finals)- April 25
Social Media:
Check us out on Instagram!
Practice Schedule:
Tuesday 10 PM: Beginning/Intermediate Climbing Gym
Thursday 5 PM: Beginning/Intermediate BFFC
Monday 10 PM: Advanced Climbing Gym
Wednesday 8:15 PM: Advanced/Open BFFC
Thursday 10 PM: Open Climbing Gym
Are you a Whitman Student interested in joining the climbing team or learning more about it? Here is how to join:
1) Sign up for Whitman IMLeagues
a) Click on the club sports tab in the upper left section of the page.
b) Scroll down until you see "club climbing" and click on it
c) Request to join the team
d) Fill out the waiver
e) Fill out the player contract (This is a separate document from the waiver)
2) Come to the climbing center during open hours and do the climbing center orientation; if you wish to save time, please fill out the waivers in advance)
3) Come to a Beginning/Intermediate team practice (See practice schedule for details)
Are you a prospective student interested in the climbing team?
We are very excited to talk to or meet new climbers who are looking at Whitman. We highly recommend that you schedule a visit to Whitman through the admissions office. During your visit we would love to meet you and climb with you. If your visit lines up with a practice you are welcome to join us. Please reach out to us in advance and we will work out the details with you. If you cannot make it out to Whitman or if you have questions please feel free to contact us. We do not have our spring practice schedule yet. However, if you are planning a visit in the spring we will likely be gone at competitions most weekends (Friday-Sunday) so visiting on weekdays is best.
Contact Information:
Cameron Daniel: danielca@whitman.edu
Hannah Herrgesell: herrgehm@whitman.edu
Mackenzie Kuller: kullerma@whitman.edu
Otto Schwarm: schwaroc@whitman.edu
Madi Crowley (Captain) crowlema@whitman.edu
Walker Orr (Captain) orrwe@whitman.edu | 509-778-1909