Spring Orientation 2022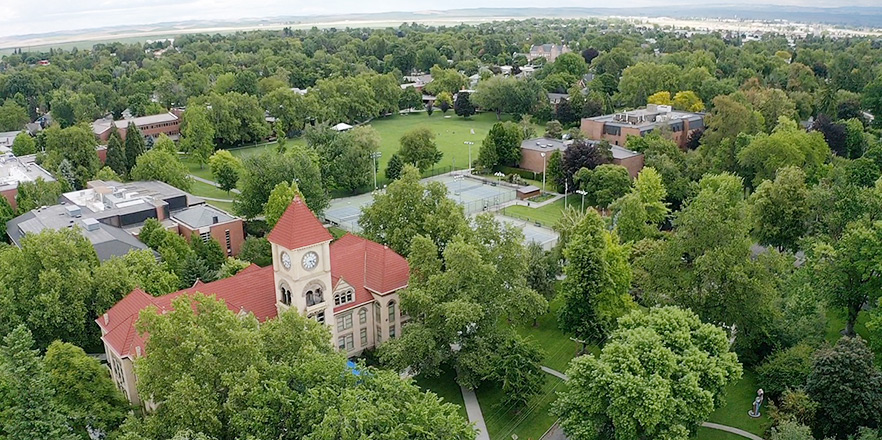 SPRING 2022
Upcoming dates:

International New Student Move-In: Sunday–Monday, Jan. 9–10
International New Student Orientation starts: Wednesday, Jan. 12
New Student Move-In: Thursday, Jan. 13
New Student Orientation starts: Friday, Jan. 14

Spring Semester classes start: Tuesday, Jan. 18
---
New Student Orientation Spring 2022
We're excited you are joining us and can't wait to welcome you and your families to campus! We've planned various events for your first week of your Whitman experience.
During your orientation, we will introduce you to the academic and social culture of our campus and community. New Student Orientation focuses on advising and registering for classes, meeting and socializing with other incoming new students, getting acclimated to Walla Walla and having fun.
Parents and families are encouraged to join their students in some New Student Orientation activities on Friday, Jan. 14, 2022—look for the events marked with an *. All visitors must follow our COVID-19 protocols to participate. COVID-19 details are below.
Building Access Information
Whitman College buildings are swipe-accessible—meaning your student will need to use their I.D. card to open building doors during the weekend. So, you'll need to be with your student—as well as have your access/vaccination badge—to get into buildings and some indoor activities.
Spring 2022 Orientation Schedule
Friday, Jan. 14, 2022 —New Student Orientation Begins
8 a.m. COVID-19 Baseline Testing at Cordiner Hall
All Whitman community members are required to get two baseline tests at the beginning of the semester. Get your first test done early at Cordiner Hall.
9:45 a.m. Welcome*, Baker Center
Our welcoming committee is excited to meet you!
10:30 a.m. Campus Resource Tour*
Learn where the various resource offices are on campus. ADA accessible tours can be accommodated.
Noon Lunch at Cleveland Commons
Have lunch at Cleveland Commons—our ultra-modern 500-seat dining hall where all of campus comes together.
1:30 p.m.
First Year Seminars Introduction, Memorial Building 331
Whitman's First Year Seminars are designed to immerse students in deep thought and transformative conversations while gaining skills needed to succeed in college. Mary Raschko, director of First Year Seminar program, explains what students should expect from these seminars.
Advising and Registration for Transfer Students, Memorial Building 324
Transfer students will have the opportunity to meet with several advisors to learn about college processes and expectations, specific department requirements, as well as create their course wish list in preparation for course registration.
2:30 p.m Advising & Registration for First-Year Students , Memorial Building 324
Juli Dunn, senior associate dean of students, and Aimee Walker, registrar, will host incoming first-year students. They will cover general education requirements, placement tests, Whitman's expectation around academic integrity, and the process for first-year individual advising and registration.
4 p.m Ask Us Anything Panel* , Memorial Building 331
Wondering how your Whitman experience may differ from students who start in the Fall? Get your questions answered by Whitman's Spring Start and Transfer Alumni who have experienced Whitman for themselves!
5 p.m Dinner at Cleveland Commons
Join us for a family dinner at Cleveland Commons—our ultra-modern 500-seat dining hall where all of campus comes together.
6 p.m Root for the Blues: Women's Basketball Game*
Cheer on the Whitman Women's Basketball team at Sherwood Athletic Center

Saturday, Jan. 15, 2022
10 a.m. Colville Street Market
Meet your peers at the Reid Campus Center to walk over together to The Showroom on Colville—on the corner of Colville and Rose Street in downtown Walla Walla. Browse and enjoy the late-season produce, handmade gifts and musical entertainment.
Noon Lunch downtown
Experience Walla Walla's thriving food scene for yourself! Enjoy lunch at one of downtown Walla Walla's charming restaurants.
2 p.m. Policy Review, Reid Campus Center 207
Juli Dunn, senior associate dean of students, will review the college's expectations for academic integrity, general conduct and Title IX. You'll have the opportunity to ask any questions regarding the college's most important expectations and policies.
4 p.m. Shopping Shuttle
Forgot something? Greg Lecki, associate director of the Intercultural Center, will drive students to the local shopping center for any of those last-minute college essentials. Students are encouraged to bring their own reusable bags.
6 p.m Root for the Blues: Women's Basketball Game*
Cheer on the Whitman Women's Basketball team at Sherwood Athletic Center
Sunday, Jan. 16, 2022
10 a.m. to 4 p.m. WOOT! Shoeshowing in the Blue Mountains (optional)
Whitman's Outdoor Orientation Trip (WOOT!) wants to take you off campus for a beautiful day of snowshoeing in the Blue Mountains. This is a great way to go outdoors while also getting to know your fellow incoming peers. Lunch will be provided.
Register and reserve your spot!
Whitman's Outdoor Program rental shop will supply all the gear. If you need to borrow additional clothing to keep warm, meet at the OP rental shop at 9:45 a.m. (in the lower level of Reid Campus Center).
Tuesday, Jan. 18, 2022: Classes Start
Tuesday, Feb. 1, 2022
4-7 p.m. Spring Student Activities Fair
Connect with student leaders from our amazing student clubs and organizations! Find out about all of the wonderful involvement opportunities on campus, and in the Walla Walla community. Over 100 clubs, organizations, offices and local businesses will be there to share information. Come and get involved!
Masks & Vaccination Required!
Whitman College is a fully vaccinated campus community. Proof of COVID-19 vaccination will be required for all faculty, staff, and students for the 2021-2022 academic year. The college is also requiring faculty, staff and students to receive the COVID-19 vaccine booster by January 15, 2022, or receive an approved booster exemption.
Based on CDC guidelines and campus policies, all faculty, staff, and students—even those who are fully vaccinated—are required to wear face masks. Find the latest information and guidelines—and upload your proof of vaccination—on our COVID-19 Dashboard.
Visitors, Vaccines, and Face Coverings!
In keeping with our status as a fully vaccinated campus, the mask and vaccinations requirement—including the booster—also applies to all campus visitors. No exceptions or exemptions. All visitors must wear a mask and show proof of being fully vaccinated against COVID-19 to attend on-campus events.
Family members who wish to participate in Move-In and Orientation activities must also show proof of vaccination. Any guests without proof of vaccination or without a face covering will be denied entry to campus events including young children and those ineligible for vaccination.
To further help keep visitors and our community safe, we highly encourage all visitors to take a COVID-19 test within 72 hours of coming to campus. Whitman College may cancel or postpone events for our community's health and safety. We will let families know as soon as possible if there are any changes.
Learn more about Whitman College's visitor access.
Enjoy & Explore!
City of Walla Walla Visitor's Guide
If you have any questions, please do not hesitate to contact us at orientation@whitman.edu.