---
2018 REUNION REGISTRATIONS DUE BY SEPTEMBER 14th!

Even though you sent an RSVP to let us know you planned to attend the reunion, you still need to register by selecting the events you will attend and the meals you will enjoy. Register before September 14 for early bird pricing. After the deadline, prices go up 25%! Pre-registration is required in order for us to plan appropriately for your visit. Note: we cannot guarantee meals for walk-ins.

Don't know if you are registered? Click here.
Thank you! Questions? Email reunions@whitman.edu


Reunion Highlighted Events
9th Annual W Club Golf Tournament
Friday, 11:30 a.m.
Read more and RSVP by September 21st


Alumni Baseball Game
Saturday, 1 p.m.
Read more and RSVP by September 25th


Students and Alumni of Color reception
Saturday, 3-4:30 p.m.
The Students and Alumni of Color Coalition (SAoCC) invites students, alumni, staff, and faculty of color to meet at the Glover Alston Center (GAC), 26 Boyer Ave. to connect, support, and celebrate each other. Snacks and beverages will be provided. Come join us in celebration!


---
Events
Faculty lecture with Lyman Persico • Menlo Park, CA
September 16, 2018, 2-4 p.m.

Whitman College alumni, parents, and friends are invited to hear Lyman Persico, assistant professor of Geology and Environmental Studies, speak about his innovative work with drones to 3D map geologic structures and the great possibilities for this new technique.
Read more and RSVP by September 12th


An Evening of Reflections with Professor David Schmitz
Join Whitman alumni, parents, and friends for a lecture on the history of the college by the Robert Allen Skotheim chair of history, Dr. David F. Schmitz. Professor Schmitz will discuss the problems that faced Whitman College (and all liberal arts colleges) in the mid-1970s and examine one key response by the new Skotheim administration, the professionalization of the faculty.

October 9, 2018, 6:30-8:30 p.m.
Roosevelt House at Hunter College, New York
Read more and RSVP by October 3rd

October 11, 2018, 6:30-8:30 p.m.
National Press Club, Washington D.C.
Read more and RSVP by October 3rd
Faculty Lecture with Kurt Hoffman • St. Paul, MN
October 13, 2018, 2 p.m.

A Truck, A Horn, and a Sheet of Metal: How curiosity, passion for learning, and physics transform the ordinary. Alumni, parents and friends are invited to hear Kurt Hoffman, professor of Physics, speak about providing students a venue to connect their passion and enthusiasm for real applications with abstract skills being developed in their other courses.
Read more and RSVP by October 5th


Changing Climates: Whitman College's pathway to Sustainability • San Francisco, CA
November 8, 2018, 6:30-8:30 p.m.

Join alumni, parents, and friends for a presentation by Brandon Bishop on sustainability efforts at Whitman College. This presentation will look at some of the projected impacts of climate change globally and within the inland northwest.
Read more and RSVP by November 1st
More Alumni Events
---
Whitman News
Whitman Launches New Center for Global Studies
This year, Whitman students have the opportunity to benefit from a new Center for Global Studies.
Read more


Whitman Highlighted in Princeton Review Rankings
Whitman College professors are some of the most accessible out there, according to the latest Princeton Review rankings.
Read more


Whitman Climbing Team Scales NC3 Ranks
Whitman's climbing team made school history spring semester by winning the Northwest Collegiate Climbing Circuit (NC3) for the first time.
Read more


More Whitman News
---
Celebrating Jack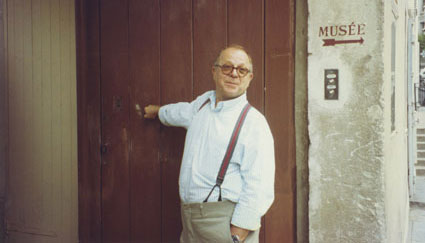 October 26-27, 2018
The Whitman College Theatre Department and the Office of Alumni Relations invite you to a weekend celebrating the life of Jack Freimann. Check out the updated schedule of events and see who else plans to attend.

To read more and to RSVP, click here.


---
Congratulations to the 2018 Alumni Recognition Award Winners

Pat Courtney Gold '61, Gene Adams '53, Dick Neher '53, Becky Walliman Antilla '08 and Professor Akira "Ron" Takemoto.

Read more about these outstanding individuals here.


---
Why We Love Whitman!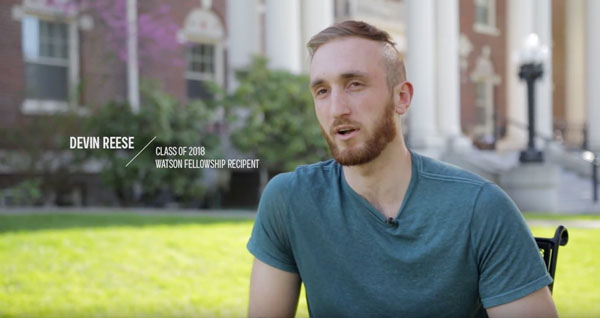 A pair of 2018 Whitman graduates, Zuhra Amini and Devin Reese, garnered prestigious Thomas J. Watson Fellowships to travel the globe in search of answers to their research questions.

Watch the video.


Access
Whitman Connect
---
2019 Reunion Weekend Classes of 1954, 1959, 1964, 1979, 1983, 1984, 1985, 1994, 2003, 2004, 2005, 2009
September 19-22, 2019
Save the date! More information will be coming soon!
---
Join those who make a difference.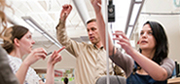 Your unrestricted gift enables Whitman to meet emerging needs and priorities. Please make your gift to support the Whitman Annual Fund.
Make your gift today.


---
Submit a Class Note
Submit Class Notes for the magazine and keep your classmates up to date! Wedding/Union and Baby/Adoption photos are now printed in the Whitman Magazine. Submit directly to Class Notes editor Jennifer Dilworth Northam '91 (northajl@whitman.edu).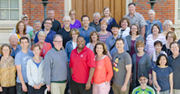 ---
WhitMail Project
You can make a difference in the life of a graduating Whitman senior in just a few minutes with WhitMail. Learn how you can participate. Help welcome a senior to the ranks of alumni through the WhitMail Project!
Deadline is May 3.
Read More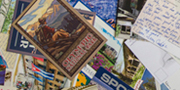 ---
Whitman Magazine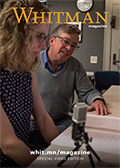 Hear from alumni, students and faculty in their own words in this special VIDEO edition of Whitman Magazine.
---