---
Presidential Installation
All alumni are invited to the Installation ceremony for Dr. Kathleen M. Murray, Whitman's 14th president, at 4:00 p.m. on September 18, 2015.

Dr. Murray is a passionate advocate of the liberal arts and the residential learning experience, and she believes that her undergraduate years in such a setting developed her potential as a scholar and artist, laying the foundation for her rewarding career and life. For more information and to RSVP for the ceremony and events throughout the weekend, go to www.whitman.edu/installation.

Can't make it back to Walla Walla for this historic event? Send your welcoming messages to President Murray using the hashtag #BigWhitmanWelcome! Post your video, photo or text on Facebook, Twitter or Instagram using the hashtag. Visit the installation multimedia page to see how the Whitman community welcomes our 14th President!


---
2015 Reunion Weekend

Classes of 1950, 1955, 1960, 1969, 1970, 1971, 1975, 1990, 1994, 1995, 1996, and 2005
Registrations are due September 11th. To register and see who else is registered, click here. Remember, even if you sent in an RSVP letting us know you were "likely to attend" you need to register to sign up for events and pay in advance. Welcome home!
Read more


---
W Club Golf Tournament
The Sixth Annual W Club Golf Tournament will be held during Reunion Weekend, on Friday, September 25, starting at 11:30 a.m.

Cost for an individual golfer is $125, a foursome is $500.



Register yourself or your foursome here.

Download the brochure for details.


---
Presidential Receptions Introducing
Dr. Kathleen Murray
Join Whitman College alumni, parents and friends for a series of receptions introducing our 14th President, Dr. Kathleen M. Murray. Hear from Dr. Murray about initial plans to build on the success of the Now Is the Time Campaign and create a shared vision for the College's future. Wine and refreshments will be served.

Read more and register online:
September 29, 2015 - New York City
September 30, 2015 - Washington, D.C.
October 8, 2015 - Seattle, WA
October 18, 2015 - San Francisco, CA


---
Events
Welcome Potluck for alumni from the Classes of 2000-2015 • Boston, MA

September 10, 2015 • 6:30-9 p.m.
Home of Eric Rietveld '09
Read more and Register online.


South Sound Welcome Reception for alumni, parents and friends • Gig Harbor, WA

September 15, 2015 • 7 p.m.
Home of Alan and Mary Deming Barber '78
Read more and RSVP online


More Alumni Events
---
Whitman News
Mumford & Sons take on Whitman's soccer teams
As Mumford & Sons' Gentlemen of the Road tour arrived in Walla Walla this August, a group of Whitman soccer players took on the band and their roadie team in a quick game of pick-up soccer.
Read more


Whitman College to host sculpture by internationally renowned artist and activist

Whitman will host a sculpture by contemporary Chinese artist and political activist Ai Weiwei starting in September. The piece, titled "Refraction," is a large, stainless steel sculpture created to simulate a bird's wing.
Read more


---
New Award Recognizes "Pete Reid Day" in Walla Walla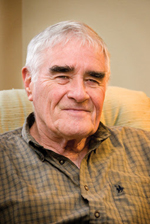 On August 6, Rotarian and Walla Walla Mayor Jerry Cummins announced at a Rotary Club of Walla Walla meeting that Pete Reid '49 would be the first recipient of a new civic award instituted by the city. Reid was presented with the award and Cummins proclaimed August 6, 2015, as "Pete Reid Day."

Reid came to Whitman in 1946 after naval service in World War II and graduated with an economics and business degree. In 1949, he became a staff member, assisting with the new job placement office and traveling for a few weeks each fall and spring for the admission office. Over the course of his time at the college, Reid worked in areas including career services, admissions, alumni and special fundraising projects. His primary role, though, was in the business office where he served as business manager, treasurer, chief financial officer and overseer of the Whitman Farm Committee. He later served as special assistant to the president. Reid Campus Center is named in honor of Pete and his wife Hedda Jorgenson Reid '49, and the Pete and Hedda Reid Scholarship Endowment was created in 1990 to honor them and to support Whitman students with financial need.

Read more


---
Subscribe to The Pioneer!
Would you like to keep in touch with Whitman College from home? Did you know that you can get the Whitman Pioneer delivered to your door every week? Subscribe to The Pioneer!

Weekly home delivery of The Pioneer is $45 a semester, or $75 an academic year. For an additional $25 ($60/semester, $100/year) you'll also receive The Circuit, a magazine produced by the Pioneer's staff.

Make checks payable to Whitman Pioneer and send to:
The Pioneer
280 Boyer Avenue
Walla Walla, WA 99362

If you have any questions, or if you'd like to know more about how you can support The Pioneer, don't hesitate to contact us at pioneer@whitman.edu.


---
Hire a Whittie – The SEC can help your organization hire Whitman talent
HIRE A WHITTIE – The SEC can help your organization hire Whitman talent. Recruiting season is upon us – for seniors seeking post-graduate positions and for underclassmen seeking summer internships. Many organizations have begun their recruiting process or will in the coming weeks and we want to be sure that Whitman students are in the hunt. Please help us connect to your recruiters by introducing them to Kimberly Rolfe, Director for Business Engagement. Email Kim.


---
Why We Love Whitman!
Photo by Matt Banderas '04, Whitman visual editor/photographer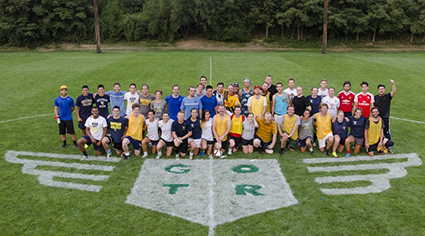 As Mumford & Sons' Gentlemen of the Road tour rolled into town, a group of Whitman soccer players from the men's and women's soccer teams took on Marcus Mumford (back row, far right), the rest of the band and their roadie team in a quick game of pick-up soccer.


---
---
Reunions
Class of 1966 Fiftieth Reunion
May 19-22, 2016

View the schedule of events, accommodation information, RSVP and see who else plans to attend.
---
Join those who make a difference.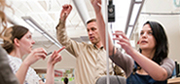 Your unrestricted gift enables Whitman to meet emerging needs and priorities.
Please make your gift to support the Whitman Annual Fund.
Make an online gift now.
---
Submit a Class Note
Class notes submitted between June 6, and September 18, 2015, will appear in the November 2015 issue.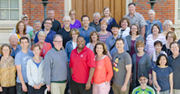 ---
Alumni Travel
Join members of the W Club at the Seattle Mariners Spring Training in Arizona, March 9-12, 2016. Read more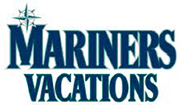 More Alumni Travel
---
Whitmail Project
You can make a difference in the life of a graduating Whitman senior in just a few minutes with WhitMail. Learn how you can participate.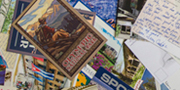 ---
College Bookstore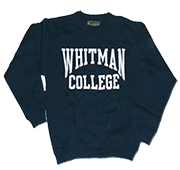 Buy online
---
Whitman Magazine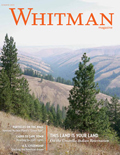 View online
---
Athletics

Join the excitement
---