---
Alzada J. Tipton named new Provost and Dean of the Faculty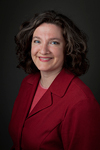 Whitman College President Kathleen Murray announced last month​ the appointment of Alzada J. Tipton as the College's new Provost and Dean of the Faculty.

"Dr. Tipton brings a wealth of experience as an academic administrator and a faculty member that I am confident will serve us well as we work to advance Whitman College," said President Kathleen Murray. "Throughout the interview process, she exuded warmth, a strong collaborative spirit and excellent leadership skills, and I look forward to our work together."

Tipton has 15 years of academic leadership experience including almost 10 years as the vice president for academic affairs and dean of the faculty at Elmhurst College and five years as dean of the college of liberal arts at Hamline University. Prior to that, she was associate professor of English at Hamline University.

Read more


---
Events
Building a Diverse Whitman Community • Seattle, WA and Portland, OR

Seattle: February 17, 2016 • 7-9 p.m. • Hilton Seattle
Portland: March 16, 2016 • 7 p.m. • Urban Studio



You are cordially invited to a reception hosted by the Whitman College Alumni Association at which Kazi Joshua, Whitman's new Vice President for Diversity & Inclusion, will be speaking. Attend this special event to learn about the College's current efforts to build and support a more diverse Whitman community.


Read more and RSVP online for the Seattle event.
Read more and RSVP online for the Portland event



Presidential Reception • Portland, OR and San Marino, CA

Portland: February 25, 2016 • 6:30 p.m. • Arlington Club
San Marino: February 28, 2016 • 2 p.m. • Huntington Library, Art Collections, and Botanical Gardens, Stewart R. Smith Board Room and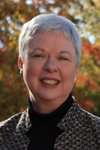 Courtyard

Join Whitman College alumni, parents and friends for an evening reception with our 14th President,
Dr. Kathleen M. Murray. Hear from Dr. Murray about initial plans to build on the success of the Now Is the Time Campaign and create a shared vision for the College's future. Wine and refreshments will be served.

Read more and RSVP online for the Portland event.
Read more and RSVP online for the San Marino event

Save the Date -
President Murray will visit Spokane on Wednesday, May 4, 2016.
South Sound Leap Year Happy Hour • Tacoma, WA

February 29, 2016 • 6 p.m. • Bar Bistro
Come celebrate this unique day with Whitman College alumni, parents and friends! Liesl Olson '11, alumni relations officer, and other Whitman staff will be on hand to talk about what's happening on campus and around Walla Walla. Light hors d'oeuvres will be available. Drinks are no-host so bring cash or credit card.
Read more and RSVP online


Whitman College Community Meet-Up • Austin, TX

March 2, 2016 • 5:30 p.m. • Contigo
Join Austin area alumni, parents and friends of Whitman College for our first event of 2016! Appetizers will be available but drinks are no-host so bring cash or credit card.
Read more and RSVP online


Whitman at the Oregon Shakespeare Festival • Ashland, OR

August 12-14, 2016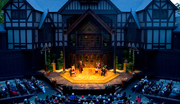 Join Theresa DiPasquale, professor of english language and literature, and Whitman alumni, parents and friends for a weekend of play going and discussions. Come for the weekend or for a day.

Tickets have been reserved for the following performances: The Yeomen of the Guard, Twelfth Night, Timon of Athens, Great Expectations, The Winter's Tale. Packages start at $300 per person. Read more


More Alumni Events
---
Whitties Helping Whitties - Spring Break Job Shadow returns
Love what you do? Think your organization is top notch? How about sharing your fantastic experience with a current Whitman student over spring break?

Some of the best learning can be provided through observation and that's what this program is all about. To help you get started, here are some ways you can help a student get a taste of what you do every day:

1) Schedule them to sit in for a staff meeting and a client call or some project work
2) Introduce them to your team and let them spend an hour or so with each member to get an understanding of how you all work together
3) Shadowing not possible due to intellectual property restrictions? Grab a coffee in the cafeteria and talk them through your work and how you got there.


Here's how it works. Simply complete this quick form [http://goo.gl/forms/xIs8p3nZef] and we'll share your information with students looking for Job Shadowing opportunities. They will contact you to discuss timing and details. If you have questions, please contact Kim Rolfe in the Student Engagement Center at rolfekb@whitman.edu.


---
Contribute to Livewire

We'd like to hear from alumni between 2006 and 2015! Please submit updates and photos to olsonlm@whitman.edu.

We are also accepting wedding/union, engagement, and new baby photos! Need instructions? Electronically submitted photographs must be at least 300 dpi for a three- by five-inch photo and must include an accurate caption to make it in time for the next issue.
Deadline is February 5.
Read the latest Livewire


---

Classes of 1956, 1961, 1976, 1980, 1981, 1982, 1991, 2000, 2001, 2002, 2006. Fifty-Plus Reunion for the Classes of 1965 and earlier

Want to help plan your reunion? Email alumni@whitman.edu or call 509-527-5167. View the schedule of events, accommodation information, RSVP and see who else plans to attend.



---
Alumni Board Nominations
All alumni are invited to submit a petition for consideration for board membership. The petition should outline the individual's interest in serving on the Alumni Association Board of Directors, stating his/her involvement with the College since graduation (this includes participating in alumni events and volunteering on behalf of the College).

The Board seeks qualified individuals with preferences for candidates who will contribute to increasing alumni engagement in Denver and Los Angeles; alumni from the decades of the 1970s, 1980s and 1990s are preferred.

More information about how to submit a petition can be found here.

Nominating petitions should be sent no later than March 29, 2016, to Director of Alumni Relations, Nancy Mitchell, Whitman College, 345 Boyer Avenue, Walla Walla, WA 99362. If you have any questions, please call 509-527-5952, email mitchenl@whitman.edu


---
Nominate an outstanding Whittie for outstanding achievement
See award criteria and submit a nomination using the form at whitman.edu/alumni. Click on the link for "Recognition Awards" under the "Stay Involved" header.

The Alumni Association Board of Directors and staff will select the recipients based on nominations that meet the above criteria. Nominations will be accepted until the end of the day on Friday, March 18, 2016. Awards will be given out during Reunion Weekend, September 22-25, 2016. Special consideration will be given to nominations from the Reunion Classes. Email question to Assistant Director of Alumni Relations, Jennifer Dilworth Northam '91, at northajl@whitman.edu.


---
Why We Love Whitman!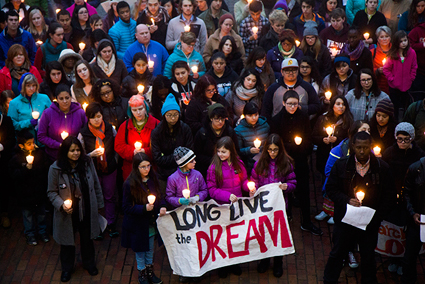 Whitties joined with community members and students from Walla Walla University and Walla Walla Community College for a peace march in honor of MLK Day. Photo by Marra Clay '17.


---
---
Reunions
Celebrate 100 years of excellence, April 22-24, 2016 with:
Delta Gamma
Beta Theta Pi
Class of 1966 Fiftieth Reunion
May 19-22, 2016

View the schedule of events, accommodation information, RSVP and see who else plans to attend.

Members of the Class of 1966, be sure to fill out the Class of 1966 Survey by March 1st!

Fill out your Reunion Booklet form and send in a photo no later than March 1st.
---
Submit a Class Note
Class notes submitted between January 5, 2016 and April 4, 2016, will appear in the May issue.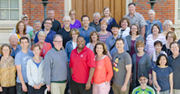 ---
Whitmail Project
Help welcome a senior to the ranks of alumni through the WhitMail Project!
Deadline is May 6.
Read More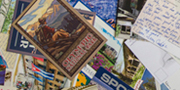 ---
College Bookstore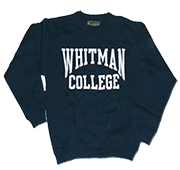 Buy online
---
Whitman Magazine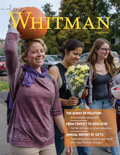 View online
---
Athletics

Join the excitement
---