---
2015 Reunion Weekend Recap
What an amazing Reunion Weekend! More than 800 alumni, family and friends joined us on campus for a beautiful fall weekend. It was truly delightful to see so many generations of Whitties together on campus at the same time.

Whether you attended the reunion or not, the information below is meant for you – please take a few moments to fill out a short survey, view photographs and take a peek at a video taken of the alumni parade.

1. Reunion attendee and non-attendee survey
2. Reunion class photos are now available for free download.
3. Did you have your photo taken at the All Class Party? View them and order copies here.
4. Watch a short video clip of the alumni parade.

We look forward to seeing you at area events or back on campus again soon!

Classes of 1956, 1961, 1976, 1980, 1981, 1982, 1991, 2000, 2001, 2002 and 2006 - we'll see you for Reunion Weekend 2016, September 22-25! Save the dates. More information coming soon!


---
Events
This event has been postponed due to health issues. We will reschedule after the first of the year.
Building A Diverse Whitman Community • Seattle, WA

November 12, 2015 • 7 p.m.
Associate Dean of Intercultural Affairs Kazi Joshua invites you to a special event to learn about the College's current efforts to build and support a more diverse Whitman community.
Hilton Seattle, Windward Room
Read more and RSVP online.


Welcome Reception • Las Vegas, NV

November 19, 2015 • 7-9 p.m.
Las Vegas area alumni, parents and friends are invited to a wine and dessert reception with Nancy Mitchell, Director of Alumni Relations, and Donna Gardner '95, Development Officer. Don't miss this opportunity to connect with other members of the Whitman family living in and around the Las Vegas area.
At the home of Susan and John Blackmon '79, Overseer
Read more and RSVP online


More Alumni Events
---
Welcome Young Alumni!
Welcome to the City Events • Various Cities

Join local alumni, parents and friends to welcome young alumni new to the area and catch up with other area alumni. Feel free to drop in anytime on your way home!

November 3, 2015 • 6 p.m. • Seattle, WA
November 5, 2015 • 6 p.m. • San Francisco, CA
November 17, 2015 • 6 p.m. • Eugene, OR
November 18, 2015 • 5:30 p.m. • Boise, ID


More Alumni Events
---
Whitman News
Crews break ground on new indoor batting cages at Borleske Stadium
There will soon be a place for local baseball players to practice their batting, no matter what the weather is like, thanks to new indoor batting cages currently under construction at Walla Walla's Borleske Stadium. The new facility will be used year-round by the Whitman College Men's Baseball Team, the Walla Walla Sweets, and elementary and middle school students who attend camps at Borleske Stadium.
Read more


Aisha Fukushima '09 uses her talents to spread positivity
Aisha Fukushima is a U.S.- and Denmark-based hip-hop artist who performs and writes her own lyrics and is a curator of other artistic talent. One of her major projects, RAPtivism, a global hip-hop project that she founded in 2009, is a collaboration among artists from across the world.
Read more


Alumna wins prestigious young investigator award from the Society for the Study of Evolution

Catherine Wagner '04, an assistant professor in the Department of Botany and the UW Biodiversity Institute, won the 2015 Theodosius Dobzhansky Prize, which is awarded annually by the Society for the Study of Evolution to recognize the accomplishments and future promise of an outstanding young evolutionary biologist.
Read more


---
Host a Whittie for an afternoon... during Spring Break
Do you work somewhere AMAZING? Here is a chance to let Whitman students know about it!

Every year, we encourage students to spend a part of Spring Break thinking about their professional aspirations and doing something to advance them. One of the programs developed to help make this happen is the Spring Break Job Shadow, an opportunity for students to shadow a Whittie for a day, a week or a couple of hours.

If you're interested in potentially sharing your work and your workspace with a current Whitman student, please sign-up. (Dates are included in the form.) We'll share your information with students so they can reach out where they're interested.

Curious about other ways you can get involved with students, contact the Student Engagement Center.


---
Why We Love Whitman!
Photo by Matt Banderas '04, Whitman visual editor/photographer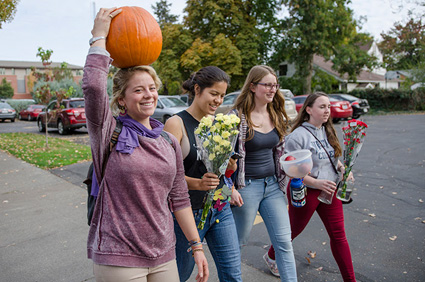 Four students gather supplies for this fall's Parents' Weekend.


---
---
Reunions
Class of 1966 Fiftieth Reunion
May 19-22, 2016

View the schedule of events, accommodation information, RSVP and see who else plans to attend.
---
Join those who make a difference.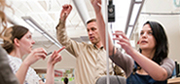 Your unrestricted gift enables Whitman to meet emerging needs and priorities.
Please make your gift to support the Whitman Annual Fund.
Make an online gift now.
---
Submit a Class Note
Class notes submitted between September 19, 2015 and January 4, 2016, will appear in the February 2016 issue.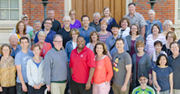 ---
WhitMail Project
You can make a difference in the life of a graduating Whitman senior in just a few minutes with WhitMail. Learn how you can participate.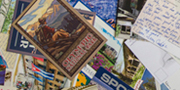 ---
College Bookstore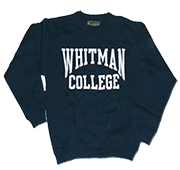 Buy online
---
Whitman Magazine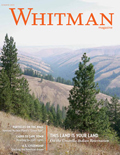 View online
---
Athletics

Join the excitement
---