---
2018 REUNION REGISTRATION OPENS August 6th

Even though you sent an RSVP to let us know you planned to attend the reunion, you still need to register by selecting the events you will attend and the meals you will enjoy. Register before September 14 for early bird pricing. After the deadline, prices go up 25%! Pre-registration is required in order for us to plan appropriately for your visit. Thank you!

Questions? Email reunions@whitman.edu


---
Events
Whitnic in Central Park • New York, NY
August 18, 2018, 2-4p.m.
Central Park's Sheep Meadow

Join Whitman alumni, parents and friends for our third BYOPicnic in Central Park's Sheep Meadow. The group will be greeted by Aaron Blank '01 on the west side of the meadow. Look for a Whitman sign staked in the ground and a Whitman pennant on the fence.
Read more and RSVP by August 17th


An Evening of Reflections with Professor David Schmitz
Join Whitman alumni, parents, and friends for a lecture on the history of the college by the Robert Allen Skotheim chair of history, Dr. David F. Schmitz. Professor Schmitz will discuss the problems that faced Whitman College (and all liberal arts colleges) in the mid-1970s and examine one key response by the new Skotheim administration, the professionalization of the faculty.

October 9, 2018, 6:30-8:30p.m.
Roosevelt House at Hunter College
Read more and RSVP by October 3rd

October 11, 2018, 6:30-8:30p.m.
National Press Club
Read more and RSVP by October 3rd
More Alumni Events
---
Whitman News
Alumni Get Back on the Track for Athletics Reunion
On June 22-24, 2018, 45 former track and field and cross country athletes, coaches, and assistant coaches returned to Whitman College for a team reunion.
Read more


Whitman Sociology Professor Talks About Families and Policy in New York Times
Professor Michelle Janning, who is also a senior scholar at the council of contemporary families, talks about inequalities in family support in our country.
Read more


Alumni Canoe Journey Subject of Documentary Film
Whitman alumni Andy '76 and Alan Dappen '74 complete canoe trip through island passage they began 40 years before.
Read more


More Whitman News
---
Congratulations to the 2018 Alumni Recognition Award Winners

Pat Courtney Gold '61, Gene Adams '53, Dick Neher '53, Becky Walliman Antilla '08 and Professor Akira "Ron" Takemoto
Read more about these outstanding individuals here.


---
Fellowships, Scholarships and Grants: Fall Cycle
If fellowships, scholarships or grants with fall deadlines are on your radar, now is the time to commit and act (if you haven't already begun the application process). A short list of major programs follows below. A full list of opportunities is found on the website of Whitman's Office of Fellowships and Grants. Contact director Keith Raether ASAP if you intend to apply for any of these awards.

Boren Fellowship: Support for graduate study with focus on languages and countries critical to U.S. national security.

Luce Scholars Program: Year-long professional placement and study in Asia.

National Science Foundation Graduate Fellowship Program: Support for graduate study in S.T.E.M. fields.

Pickering Graduate Fellowship: Support for graduate study for students interested in the Foreign Service.


---
4 Ways to Share Your Professional Insight with Whitman Students
The Student Engagement Center is inviting alumni participation this coming year in multiple programs intended to help students build toward their life after Whitman. We are seeking insights from and interactions with alumni at all points in their career trajectory. Below are several ways for you to participate and help a Whitman student in their journey.

1. Update your Whitman Connect profile - the Whitman Connect directory is a great place for students to access information about, and introductions to, Whitties doing work in a variety of professional fields. If you're interested and willing to connect with students individually to discuss your career, please check your profile to ensure it is accurate and up-to-date.
2. Share your story through Whitties on Work - this new offering provides a mechanism for alumni to share their career trajectory, work insights and career advice via video or the written word. Sign-up here to share your story.
3. Host a virtual or on-campus information session - many organizations are currently recruiting at Whitman for internships, fellowships, volunteer posts and early career positions. Help your organization Hire a Whittie by putting us in touch with your recruiting team or reaching out to us directly to host a session rolfekb@whitman.edu.
4. Sign-up to participate in Finding Your Future - these on-campus and virtual events are intended to inform students of the breadth of career opportunity in a variety of fields, including - finance, the environment, communications, education, social justice, science, the law and more. If you're interested in hearing more about this program or want to volunteer as an alumni participant, please fill-out this quick form.
---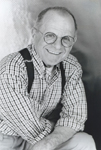 Celebrating Jack
October 26-27, 2018
The Whitman College Theatre Department and the Office of Alumni Relations invite you to a weekend celebrating the life of Jack Freimann. Check out the updated schedule of events and see who else plans to attend.

To read more and to RSVP, click here.


---
Why We Love Whitman!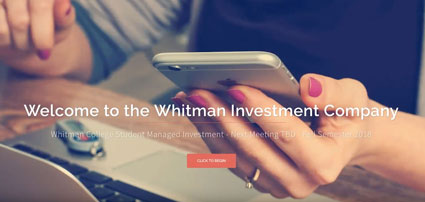 Getting involved in the Whitman Investment Company, which manages a portfolio of more than $1,000,000, provides a hands-on learning opportunity for students interested in finance.

Watch the video.


---
Access
Whitman Connect
---
2019 Reunion Weekend Classes of 1954, 1959, 1964, 1979, 1983, 1984, 1985, 1994, 2003, 2004, 2005, 2009
September 19-22, 2019
Save the date! More information will be coming soon!
---
Join those who make a difference.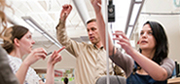 Your unrestricted gift enables Whitman to meet emerging needs and priorities. Please make your gift to support the Whitman Annual Fund.
Make your gift today.


---
Submit a Class Note
Submit Class Notes for the magazine and keep your classmates up to date! Wedding/Union and Baby/Adoption photos are now printed in the Whitman Magazine. Submit directly to Class Notes editor Jennifer Dilworth Northam '91 (northajl@whitman.edu).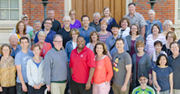 ---
WhitMail Project
You can make a difference in the life of a graduating Whitman senior in just a few minutes with WhitMail. Learn how you can participate. Help welcome a senior to the ranks of alumni through the WhitMail Project!
Deadline is May 3.
Read More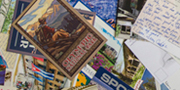 ---
Whitman Magazine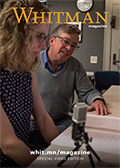 Hear from alumni, students and faculty in their own words in this special VIDEO edition of Whitman Magazine.
---