Pete Reid Young Alumni Award 2012


Pete Reid Award for Young Alumni
The Pete Reid Award for Young Alumni is given by the Alumni Association to someone whose youthful exuberance is demonstrated daily toward his or her career, community, and Whitman College as exemplified by Pete Reid '49, in his service to the College. This award is limited to graduates of the last fifteen years. Standards for recognition include outstanding recognition in his or her career or field of work or outstanding commitment in service to others, and a demonstrated commitment to Whitman College.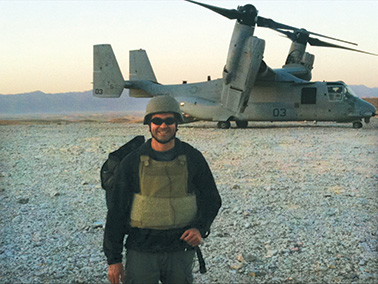 2012 Pete Reid Award for
Young Alumni Recipient

Joey Bristol '01 was selected to receive the Pete Reid Award for Young Alumni for his outstanding work in the Foreign Service.
Since graduating from Whitman with a degree in politics and environmental studies, Bristol has traveled all over the proverbial map, from working on environmental policy in China to organizing for the Obama campaign.
"I have enjoyed meeting groups of Whitties around the world," he said. "Miles C. Moore Professor of Political Science Phil Brick and Director of Off-Campus Studies Susan Brick brought a group of Whitman students to China, and Grace Farnsworth Phillips Professor of Geology and Environmental Studies Bob Carson came to Bulgaria with another group of Whitman students in tow."
For the last four years, Bristol has served as a diplomat with the U.S. Department of State in Washington D.C., China and Afghanistan, where he currently works as a political-military officer at the U.S. Embassy.
Bristol spent a year learning Persian (Dari) language and learning about Afghan culture, history and politics after volunteering for the one-year tour of service in Kabul.
He credits Whitman in large part for his success in the diplomatic field.
"Whitman prepared me well," he said. "Critical thinking, the ability to work on a team and flexibility – traits developed through the liberal arts teaching model – are all very useful here."
As a student at Whitman, Bristol excelled at golf and skiing, and he worked in Residence Life as an SA and RA. During his senior year, Bristol collaborated with Phil Brick to write an essay about Native American involvement in the conservation movement.
"Professors Phil Brick, Timothy Kaufman-Osborn and Bob Carson all left meaningful impressions on me through coursework," he recalled.
In Afghanistan, he oversees programs for weapons destruction, mine clearance and assistance for landmine victims.
"Who knew I would move from dealing with industrial policy and macroeconomics in China to sorting through humanitarian demining programs and learning how mine detection dogs are trained?" Bristol said.
His next posting will be as a line officer based out of Secretary of State Hillary Clinton's office in Washington, D.C., but first he hopes to visit his alma mater.
"Receiving the award is an exciting and humbling surprise," Bristol said.