Pete Reid Award for Young Alumni 2008
Pete Reid Award for Young Alumni
The Pete Reid Award for Young Alumni is given by the Alumni Association to someone whose youthful exuberance is demonstrated daily toward his or her career, community, and Whitman College as exemplified by Pete Reid '49, in his service to the College. This award is limited to graduates of the last fifteen years.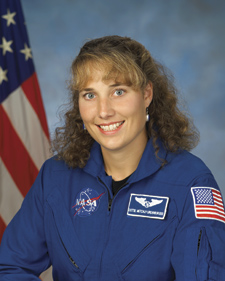 2008 Pete Reid Award for
Young Alumni
As a youngster growing up in Colorado Springs, Colo., NASA astronaut Dottie Metcalf-Lindenburger '97 "really did dream about space." Having her own telescope helped. Planets fascinated her. Museum and planetariums captured her. And Whitman helped her truly understand science.
"The chance to do research as an undergraduate … opened up more questions. You realize that you're this tiny drop in a field of research, which is what science is all about. That experience gave me a lot of confidence," said Metcalf-Lindenburger, the 2008 recipient of the Pete Reid Award for Young Alumni.
The award, named in honor of Pete Reid '49, is given by the Whitman College Alumni Association to a graduate "whose enthusiasm is demonstrated toward his or her career, community or Whitman College." Recipients must be graduates of the school within the past 15 years.
"It was very special to have attended Whitman, and it's very special to be honored," said Metcalf-Lindenburger. "To all the students at the college, I would only say: Be passionate about whatever you study. That passion, along with the knowledge you gain, will carry over into your job, and you will have success."
Metcalf-Lindenburger, a geology major at Whitman, joined the National Aeronautics and Space Administration (NASA) after teaching earth science and astronomy for five years at Hudson's Bay High School in Vancouver, Wash. She applied for the astronaut-educator position at NASA at the same time that she started looking into graduate schools with programs in planetary and atmospheric sciences.
In May 2004 Metcalf-Lindenburger was selected by the space administration as a mission specialist. Less than two years later, she completed astronaut candidate training, an intensive program that qualified her for space-flight assignments.
The requirements of an astronaut remind Metcalf-Lindenburger of the rigors of her learning experience at Whitman. "You balance a lot of different things," she said. "I'm learning Russian at the same time that I'm trying to learn the space shuttle vehicle, the international space station vehicle and its systems, the vehicle we're creating to return to the moon. You have to juggle a lot of things."
In "the office part" of her work at NASA, Metcalf-Lindenburger monitors systems and technology for the International Space Station. Away from the desk, she flies in T-38 jets.
"Being able to switch roles and feel comfortable doing it was something that Whitman prepared me for," she said. "So much of my experience was the building of character."
"Did the life of the mind at Whitman influence my thinking about the world? Definitely. It opened me up to the universe."