Pete Reid Award for Young Alumni 2006
Pete Reid Award for Young Alumni
The Pete Reid Award for Young Alumni is given by the Alumni Association to someone whose youthful exuberance is demonstrated daily toward his or her career, community, and Whitman College as exemplified by Pete Reid '49, in his service to the College. This award is limited to graduates of the last fifteen years.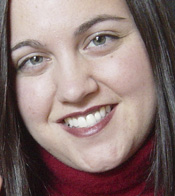 2006 Pete Reid Award for
Young Alumni
On February 6, 2006, the Whitman College Alumni Association presented Danielle N. Garbe '97 with the 2006 Pete Reid Award for Young Alumni at a reception hosted by George S. Bridges, Whitman's 13th President. Danielle was a Phi Beta Kappa graduate with honors in politics who went on to receive her master's in public administration at Columbia University in 2001 on a Woodrow Wilson Graduate Foreign Affairs Fellowship. She joined the U.S. Department of State as a Foreign Service Officer on September 10, 2001 and has since had an exciting career on the front lines of diplomacy, including being recognized by the Department with a Superior Honor Award for her work assisting the American victims of the 2002 terrorist attack in Bali.
Though her career takes her around the globe, she says she always thinks of Whitman as one of her homes. Danielle continues to stay involved with the College as a volunteer; since 1999, as an Admission Representative; on the Garrett-Sherwood Interview Committee in 2002; an Associate Class Representative for the Development Office since 2004; and as a panelist on the Hurricane Katrina Symposium held on the Whitman College campus in September 2005.

In the February 2006 issue of LiveWire, Whitman's newsletter for Young Alumni, the following article describes Danielle's career in her own words.

"''State Department Operations Center. This is Danielle.' Will the caller be an American needing assistance with a passport? A journalist following a story? Or an Embassy official calling in with breaking news? You never know what might happen during a day in the State Department's 24/7/365 crisis management center. You could call us a 911 and 411 service – the people who get called to respond to an emergency and who disseminate information to Secretary Rice and other Department officials about breaking events.

"I memorized the Ops Center phone number during my first assignment to Jakarta, Indonesia, when I was responsible for assisting the American victims of the October 2002 Bali terrorist attacks. During my second assignment to the Washington Bureau for East Asian and Pacific Affairs (EAP), that experience was put to use again as EAP worked with Ops to coordinate the interagency response to the December 2004 Indian Ocean tsunami. Having worked so closely with the Ops Center throughout my first two assignments, it was exciting to join the office in June 2005. It has been rewarding to be part of this team, to learn more about our foreign policy goals around the world, and to help Americans in need.

"The worst natural disaster in our nation's history, Hurricane Katrina, required assistance from all of the federal government, including the State Department. I explained our role as a panelist on Whitman's September 8 symposium on the hurricane. The Ops Center handled the international aspects of the crisis: fielding inquiries about foreign citizens affected by the hurricane, assisting the nine foreign governments with consulates in New Orleans, and managing the offers of assistance from over 120 countries and international organizations. It was unusual for our agency to be so involved in a domestic issue, but everyone at State was thankful to be able to help our fellow Americans at home.
Danielle will start two years of Mandarin Chinese training in September 2006 in preparation for her next assignment as the human rights officer at the U.S. Consulate in Shanghai, China in 2008. Wherever she is in the world, you can find her at: garbedn@yahoo.com.
Danielle's exemplary career as a Foreign Service Officer and her outstanding volunteer efforts on behalf of Whitman College, make her deserving of this honor. The framed certificate presented to her by the Alumni Association reads:

Danielle Garbe '97, academic standout, exceptional admission officer, involved world citizen—for a life lived in the eye of the storm, caring for victims of natural and man-made disasters and protecting the rights of those at risk; for serving so many others in an intense, but calm, determined, yet unassuming manner that allows you to shine, wherever you are in the world, as a true example of what a liberally educated person is all about; for making us proud of you and aware of what we all can do, one person at a time—the Whitman College Alumni Association proudly presents you with the 2006 Pete Reid Award for Young Alumni.