Pete Reid Award for Young Alumni 2004
Pete Reid Award for Young Alumni
The Pete Reid Award for Young Alumni is given by the Alumni Association to someone whose youthful exuberance is demonstrated daily toward his or her career, community, and Whitman College as exemplified by Pete Reid '49, in his service to the College. This award is limited to graduates of the last fifteen years.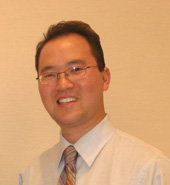 2004 Pete Reid Award for
Young Alumni
The 2004 Pete Reid Young Alumni Award recipient, Dan Nguyen-Tan '96, dabbled in many campus activities: serving as a Resident Assistant, Student Academic Advisor, Associate Editor of the Blue Moon, Opinions Editor of the Pioneer, chairing Interim, working with LEAD, participating in various administrative search committees, and interning at Whitman's Development Office. For his contributions to the campus community, Nguyen-Tan received recognition with both the Eugene Marx Award for Distinguished Campus Service and the Executive Council Award for Outstanding Contribution to Student Government.
In between activities, Nguyen-Tan did find time to study and graduated Phi Beta Kappa with a degree in Sociology with Honors. His department awarded him the Best Thesis Prize. He also minored in three disciplines: Philosophy, Education, and World Literature. With two national graduate school fellowships, the Truman Scholarship and Woodrow Wilson Fellowship, Nguyen-Tan enrolled at Harvard's Kennedy School of Government and graduated in 1998 with a Master's in Public Policy while concentrating on financial analysis and strategic management.
Nguyen-Tan returned to his hometown of Chico, California and immediately made an impact by juggling his multiple interests in business, government, nonprofits, and academia. Nguyen-Tan co-founded Golden Capital Network, which assists early-stage technology companies in raising angel and venture capital. He also evaluates small business loan requests as a member of the Loan Administration Board for Tri-County Economic Development Corporation.
In November 2000, at the age of 26, Nguyen-Tan was elected at-large to the Chico City Council with the highest votes. He now serves as the Finance Chair overseeing an $80 million annual operating budget. Nguyen-Tan also keeps one foot in academia by working as a faculty instructor in public finance at Chico State since 1999.
As a community volunteer, Nguyen-Tan is most passionate about two areas: youth development and conservation. He co-founded Youth Nexus, a youth philanthropy board that was featured in an Irvine Foundation national report on youth-led grant-making. Nguyen-Tan served as President of the Board of Big Brothers Big Sisters of Butte County, a leading youth mentoring organization. He also serves as Board Member of the Asian Pacific Youth Leadership Project, which encourages Asian-American youth to participate in community and public service.
Nguyen-Tan works on environmental issues as a Board Member of Northern California Regional Land Trust, which works with property owners who wish to conserve their land. In addition, he co-founded North State Renewable Energy, a consortium of regional leaders dedicated to promoting the application of renewable energy technologies in the public, private, and nonprofit sectors.
Nguyen-Tan continues to give back to Whitman by serving as a former Alumni Board member, Admission Volunteer, Associate Class Representative, and co-organizing his 5-Year Reunion. He misses those black bottom cupcakes from Whitman's food service, reading Montaigne and Japanese literature with Professors Henry and Takemoto, talking politics with Professor Norsworthy, and lazy spring days throwing the disc on Ankeny.