Pete Reid Award for Young Alumni
The Pete Reid Award for Young Alumni is given by the Alumni Association to someone whose youthful exuberance is demonstrated toward his or her career, community, and Whitman College as exemplified by Pete Reid '49, in his service to the College. This award is limited to graduates of the last ten years. Standards for recognition include outstanding recognition in his or her career or field of work or outstanding commitment in service to others, and a demonstrated commitment to Whitman College.
The 2020 Pete Reid Award for Young Alumni Winner, Camila Thorndike '10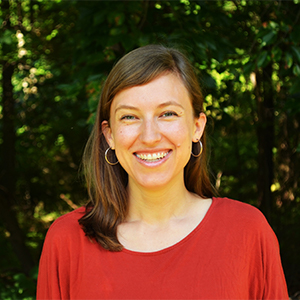 Camila Thorndike is a recognized community mobilizer and environmental advocate. After graduating from Whitman cum laude in 2010, she worked for the U.S. Institute for Environmental Conflict Resolution, directed outreach for a regional urban planning project in Arizona, and spearheaded public engagement for a musical theater performance about fossil fuels. She served as coalition leader and primary lobbyist for the unanimous passage of the "Clean Energy DC Act": the nation's strongest set of state-level clean energy policies. Camila is the co-creator of Our Climate, a youth-oriented organization dedicated to passing inclusive, science-based climate policy through creative civic engagement. She is a Udall Scholar, Sitka Fellow, recipient of the 2018 D.C. Environmental Network Award, and 2020 MPA graduate of the Harvard Kennedy School where she was a Bacon Environmental Leadership Fellow. She is a popular alumni speaker in several Environmental Studies courses, imparting her extensive knowledge and inspiring students with her leadership in regional and national climate politics.