Gordon Scribner Award 2012


Gordon Scribner Award for Distinguished Service
The Gordon Scribner Award was created to honor Gordon Scribner '42, former dean of students and director of alumni, upon his retirement. The award is given by the Alumni Association to persons who have made a major contribution of volunteer time and effort to Whitman College over an extended period of time and possess the ability to inspire. Any alumnus/alumna or friend of the College is eligible for this award. There are no restrictions regarding board involvement.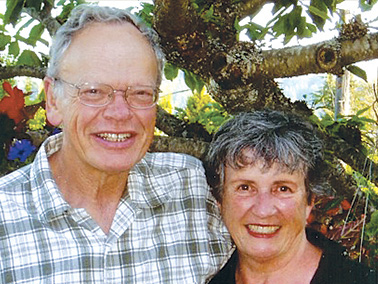 2012 Gordon Scribner Award for
Distinguished Service Recipient

Ned Lange '56 has served Whitman for 55 years. He is an Overseer Emeritus, a governing board member, a reunion chair and a class representative. He is the recipient of the Gordon Scribner Award for Distinguished Service in recognition of his years of leadership and support for the college.
Lange grew up in Walla Walla, scouring the Whitman campus for glass bottles to turn in for refund during World War II and playing on the obstacle course built for the Navy.
"My entire life has involved Whitman," he said. "My home was on Alvarado, across the alley from the Phi Delt house, and the campus was my playground. My early memories of Whitman include my fascination with the Natural History Exhibits in the basement of Billings Hall, where my dad taught as an adjunct lecturer during the depression."
Lange recalled visiting his sister, Beth Lange Kemmerer '43, in her sorority section when he was seven years old.
"She would announce 'man in section!' as I entered," he said.
At Whitman, Lange was student body president, business manager for The Pioneer, tour manager for his choir and a participant in Greek life and debate. He characterized these extracurricular experiences as "an integral part of the undergraduate education" and said the lessons he learned "proved invaluable in professional and civic activities."
After graduation, Lange enrolled in law school at New York University as a Root-Tilden Scholar.
"When I arrived at NYU for law school, I was a bit intimidated by the academic institutions of national renown that my classmates had attended," he said. "It was not too long before I realized that Whitman had prepared me as well or better than they."
He later joined a law firm in Seattle, focusing primarily on banking law and consumer protection and regulation. He has served on several national banking and bar association committees and was named to the Consumer Advisory Council to the Federal Reserve in 1985, serving as chair in 1987.
"Throughout my career, both in professional practice, and in civic pursuits, the communication skills learned and practiced at Whitman have proved invaluable," he said.
For Lange, Whitman runs in the family. He met his wife, Priscilla Alsip '61, at a commencement ceremony in 1963, and the couple married seven months later. Their three children are Whitties: Alan Lange '87, John Lange '89 and Magill Lange '98. And the list doesn't stop there.
"Between Priscilla's family and mine, 18 have attended Whitman, including our grandniece, Lucy Alsip Vollbrecht '15," Lange said. "She will graduate 100 years after my father graduated in 1915."
Since retiring, Lange has continued to serve on boards and exhibit a passion for higher education. The Lange Community College Spark Scholarship Endowment was established last year to provide aid to students transferring to Whitman from Washington state community colleges, with a preference for underrepresented minority and first-generation students.
"I consider my work and social contact with Whitman friends a gift I can never repay," he said.