Gordon Scribner Award
The Gordon Scribner Award for Distinguished Service, created to honor Gordon Scribner '42, former dean of students and director of alumni, is given to an individual who has made a major contribution of volunteer time and effort to Whitman College over an extended period of time and possesses the ability to inspire.
The 2021 Gordon Scribner Award Winner, Jim Dow '71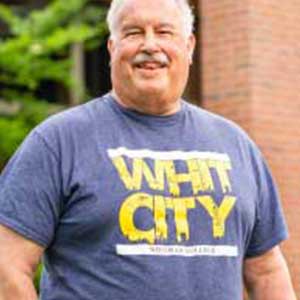 Described as the ultimate Whitman ambassador, Jim Dow has been a Whitman leader for five decades, from encouraging his Bainbridge Island students to look at Whitman to serving on a multitude of Whitman boards and committees. Since retiring from full-time teaching, he has made Whitman his priority. His passion is evident in all his interaction with alumni, staff, students and prospective students. He maintains a list of contacts so he can pass Whitman students along to professionals in their fields of study and job interests. Dow knows the hard work, dedication and passion of Whitman students and the value they bring to the workplace, and works to make connections wherever he can.
A passion for giving back drives Dow's ongoing contributions to the Whitman community. In addition to his countless friendships, mentorships and connections with students, faculty and alumni, Dow is an alumni representative for the admissions office and has served on both the alumni and W Club boards. He is currently a member of the President's Advisory Board. But it is the relationships that he builds with prospective and current students and alumni of all ages that are truly inspirational.