Faculty Award for Service 2006
Faculty Award for Service
The Whitman College Alumni Association Faculty Award for Service is given yearly to a faculty member who has distinguished himself/herself in service to the Alumni Association. Although this service may take any number of forms, the underlying theme involves strengthening and maintaining ties between the College and its alumni. Examples of service include participation in alumni gatherings, both on and off campus, and assistance in the planning/implementation of alumni events.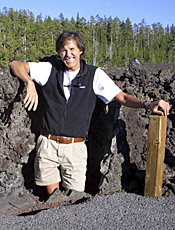 2006 Faculty Award for Service Recipient
Professor of Geology John DuNann Winter is the recipient of the 2006 Faculty Award for Service. The Alumni Association Board of Directors is proud to present Professor Winter with this award for more than two decades of active participation in alumni events.
From rafting down western rivers to retracing the steps of Lewis & Clark in Montana, John has been captivating alumni with his knowledge of the land. From the beaches of the Olympics to the vineyards of our Valley, he has unlocked the secrets of the world beneath our feet, showing us that what we take from it and how we treat it, impacts our world.
Undaunted by broken bones (his own) and filling the shoes of a colleague due to an emergency, he has proven unshakable in his knowledge and commitment to our programs. For these and other efforts on our behalf, the Whitman College Alumni Association presents professor of geology John Winter with the Faculty Award for Service.
Professor Winter began teaching at Whitman in the fall of 1981. His principal fields of interest are metamorphic petrology, mineralogy and crystallography, and geochemistry. He has spent summers in Greenland, one in Labrador and one in Norway where he studies processes that take place during the formation and subsequent development of the ancient deep continental crust. He is also working on contact metamorphism in the Wallowa Mountains of Northeastern Oregon. He has also worked briefly as an exploration geologist in New Guinea.
He teaches Mineralogy, Igneous and Metamorphic Petrology, Introductory Geology, Environmental Geology, and Geochemistry. John is the author of "An Introduction to Igneous and Metamorphic Petrology," one of the most commonly used texts in the field, now in use in over 80 colleges and university in the U.S. (as well as internationally).
In May 2006, he will retire after 25 years of teaching at Whitman.