Alumni of Merit Award
The Alumni of Merit Award, the highest honor the Alumni Association bestows on an alumna/us of Whitman College, is given to alumni who have achieved distinction in their chosen field, or rendered outstanding service to their community, or rendered outstanding service to, and demonstrated loyal interest in, Whitman College.
The 2021 Alumnus of Marcus Amerman '81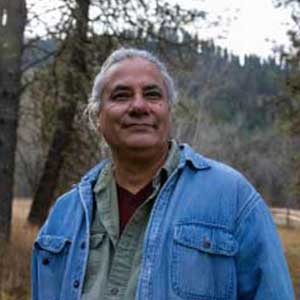 An enrolled member of the Choctaw Nation of Oklahoma, Marcus Amerman was born in Phoenix and grew up in the Pacific Northwest before settling in Santa Fe, New Mexico. After Whitman, he took additional art courses at the Institute of American Indian Arts in Santa Fe. He credits the Plateau region and its wealth of talented bead artists with introducing him to the "traditional" art form of beadwork. Amerman has made this art form his own by creating a new genre of bead artistry in which beads are stitched down, one by one, to create realistic, pictorial images, not just large color fields or patterns.
Amerman draws upon a wide range of influences to create works that reflect experience living in three different regions with strong artistic traditions, his academic introduction to pop art and social commentary, and his inventive exploration of the potential artistic forms and expressions using beads. Although he is best known for his bead art, he is also a multimedia artist, painter, performance artist, fashion designer and glass artist. His work is in the permanent collections of the Smithsonian National Museum of the American Indian, the Portland Art Museum and the American Museum of Natural History, among many others. His cultural background and Whitman education continue to influence his artwork, which is a combination of blood, upbringing and craft, while challenging assumptions about what it means to be a Native artist.