Alumni of Merit Award
The Alumni of Merit Award, the highest honor the Alumni Association bestows on an alumna/us of Whitman College, is given to alumni who have achieved distinction in their chosen field, or rendered outstanding service to their community, or rendered outstanding service to, and demonstrated loyal interest in, Whitman College.
The 2019 Alumni of Merit is Michael May Class of 1944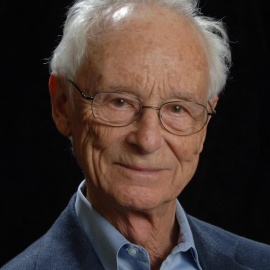 Michael May has been an integral voice in nuclear de-escalation for more than 40 years. After earning his doctorate in physics from the University of California-Berkeley in 1952, May worked for more than 33 years at the University of California's Lawrence Livermore National Laboratory Center for Global Security Research, and served as co-director for the Center for International Security and Cooperation at Stanford University. From 1974-1976, he was one of the five U.S. delegates to the Strategic Arms Limitation Talks in Geneva, Switzerland. A recipient of a Whitman Honorary Doctor of Science degree in 1976, May was selected Alumnus of Merit for his significant and sustained contributions to technical and policy issues pertaining to nuclear weapons, nuclear terrorism and their environmental impact.