Pete Reid Award for Young Alumni 2003
Pete Reid Award for Young Alumni
The Pete Reid Award for Young Alumni is given by the Alumni Association to someone whose youthful exuberance is demonstrated daily toward his or her career, community, and Whitman College as exemplified by Pete Reid, '49, in his service to the College. This award is limited to graduates of the last fifteen years.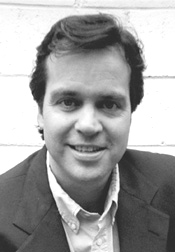 2003 Pete Reid Award for
Young Alumni
Named Harper Joy Theatre's best actor of the 1988-1989 season and earlier in his college career the Bradley J. Hunt Award for Excellence in Musical Theatre in 1987-1988, Murphy's star has continued to shine. After graduating from Whitman in 1989, Murphy received his M.F.A. in Acting at the University of Connecticut and a Conservatory Training Certificate from the National Shakespeare Conservatory and Neighborhood Playhouse in New York City. He was acting professionally at the Connecticut Repertory Theatre before he completed his M.F.A., later receiving The Victor Borgia Award.
Murphy's other accomplishments include working as an actor, director and casting director for several theatrical companies in New York City, New England and Boston; serving as associate casting director for The 20th Century Fox film, "The Good Son," working as associate producer for Blue Planet Film Productions in Boston, and as co-producer of New England's The Festival On Golden Pond, and appearing in the independent films "The Wright Brothers" and "Money Buys Happiness."
Murphy, founder and artistic director of Performance PLUS at New Hampton School in New Hampshire, has served as the arts director since 1992. Performance PLUS is the culmination of ten years of his exploration into the celebration of the arts as a path for adolescent development. Murphy and his professional staff utilize the performing arts as a guide for positive artistic growth with respect, responsibility, and relationships as their founding principles. Performance PLUS offers hands-on professional training in the performing arts and related fields of interest for the ambitious, experienced artist as well as the novice artistic explorer.
For the 2001-2002 academic year, Murphy served as sabbatical replacement for Harper Joy Theatre's director, Nancy Simon, '63. During his tenure, Murphy had a dramatic impact on the students. After returning to the East Coast, Performance PLUS hired several Whitman graduates and continues to offer an East Coast connection to Whitman theatre students.
Murphy's Whitman family roots run deep; his mother Jeannette Jackson Murphy, is a member of the Class of 1955, uncle Nagle Jackson, a noted playwright, graduated from Whitman in 1958, and his grandfather Paul Jackson, served Whitman College for 35 years as professor of English, chair of the English Department and Dean of the faculty. As many as six cousins have also attended Whitman.