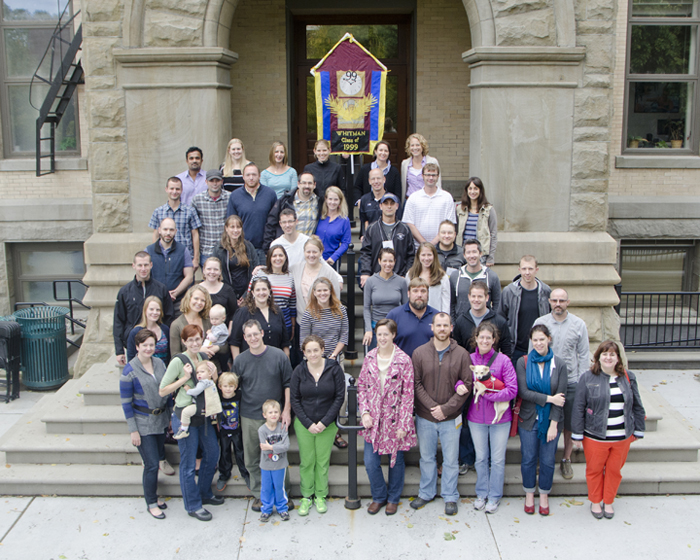 Class of 1999
Cluster Reunion - Fall 2013

Download the high resolution photo.
(Right click or option-click the link and choose "Save As..." to download this file.)
Row 1: Tammy Sittnick, Melodie Wilson-Velasco Stenger (Timothy in arms), Oliver Stenger, Rob Stenger, Elliot Stenger, Erica Carlson, Laura Bauer Learned, Eric Dwight Gilroy, Sarah Dwight Gilroy (dog Poppy in arms)Amy Mihelich, Amy Kane.
Row 2: Linnéa Wright, Carol Heinz (Ana Lucia in arms), Emily Harris Gant, Megan Murdock Krischke, John Gunderson, Ryan Cooper, Scott Siler.
Row 3: Paul McCormick, Heather Burpee, Rhiana Groves, Sierra Taylor Moxon, Nikki Perry, Steph Kafoury, Adam Gershon, John Mackay.
Row 4: Keith Magee, Allison Pyrch, Peter Stiffler, Lubo Merkov, Robert "B.T." Moorer.
Row 5: Mike Waldman, Damien Tutt, David Harris, Bob Mowery, Amy Knierim Mowery '97, Jason Metcalf-Lindenburger, Jeremy Engdahl-Johusa, Ellie Leonard Ziegler.
Row 6: Akshay Shetty, Erika Anderson Nielsen, Becca Curd Fisher, Anne Barbo Moon, Anna Brady, Chandlee Gore Holland.