Class of 1998 Cluster Reunion, Fall 2013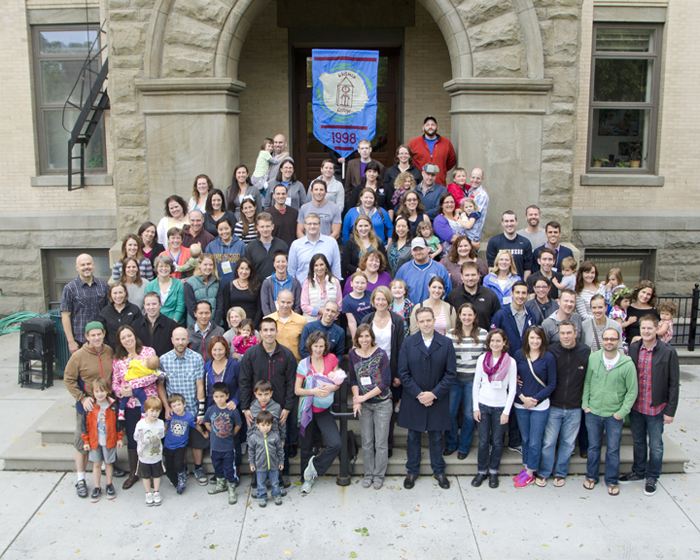 Class of 1998
Cluster Reunion - Fall 2013

Download the high resolution photo.
(Right click or option-click the link and choose "Save As..." to download this file.)
Row 1: Jamie Mitchell, Flynn Mitchell, Ava Erickson Mitchell (Elizabeth in arms), Oliver Mitchell, Dan Anderson '95, Duncan Anderson, Jen Kimura Anderson, Henry Anderson, Tanny Davenport (Henry and Jack in arms), Melissa Thorne Sackett (Lucille Anne in arms), Wendy Lilliedoll, Don Blakeney, Erin Williams Blakeney '01, Rhean Sounders, Anna Lockett, Wade Lockett.
Row 2: Heather Fogle Browne, Will Whittemore, Jason Douangpanya, Heather Riesen Douangpanya (Hallie in arms), Brady Bennon, Adam Graham-Squire, Anna Saltanstall, Jennifer Brockmeier Smith, Benjamin Andrew Smith, Aaron Schwab, Amy Portwood, Ty Phillippay, Breez Phillippay, Lindsey Smith LaRock (Eden in arms).
Row 3: Nathan Dire, Jenny Hillman Dire, Susdan Dickerson-Lange, Peggy Jones Hayner, Tina Swanson August, Katie Symons, Megan Hinnen Read, Haeli Johnson, Staci Simmelink Johnson, Emmali Johnson, Tim Johnson, Pia Longinotti, Anne Ackerman Licurse, Anthony Detrano (Theodore in arms), Katie Floyd Detrano (Juniper in arms).
Row 4: Tanya Hudson, Michele Perrin Roberts, Magill Dickerson-Lange (Elliott in arms), Jeremy Floberg '95, Sara Sakamoto, Adam August, Edward Impert, Stacey Bush, Sandra Sattler, Peter Allen, Marc Fredson, Ryan Romaneski.
Row 5: Gayle Selden, Erin Sanders, Amanda Bradford Harvey, Heidi Brown Bromley, Mike Craven, Josh Henretig, Holly Staffan, Jennifer Taylor Hennessey (Heather and Katelin in arms), Kelly Martinson Hennessey (Gillian in arms).
Row 6: Moonwater, Erin Lawson, Erin Carlson, Jessica Palmer, Ethan Hennessey, Seth Hennessey (Alistair Hennessey in arms).
Row 7: Diana Harris-Campf, Sean Harris-Campf, David Kearney, Brenna Willott, Pete Morrisseau.