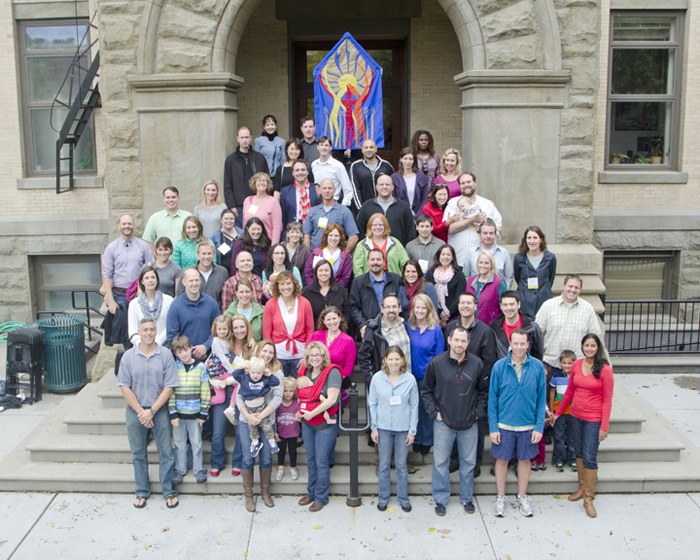 Class of 1997
Cluster Reunion - Fall 2013

Download the high resolution photo.
(Right click or option-click the link and choose "Save As..." to download this file.)
Row 1: Cam Fletcher, Wyatt Fletcher, Lindsey Audleman Fletcher (Sadie in arms), Lindsey Rindflesh Owen (Alec in arms), Jennifer Gogert Ohlsen (Olivia and Novleen in arms), Karen Pantilat Rasmussen, Lawrence Dylan Rogeatson, Chris Bromley, Lavon Medlock (Sahalie and Edison in arms).
Row 2: Stephanie Sward Hutchinson, Greg Wyckoff, Courtney Whitmore Wyckoff, Dorothy Metcalf-Lindenburger, Jennifer Edwards, Bob Mowery '99, Amy Knierim Mowery, Dave Holznagel, Jesse Finkelstein, Brian Medlock.
Row 3: Jesica Mitchell, Chris Cramer, Shawn O'Neill, Rachelle Campf O'Neill (Nora in arms), Danielle Garbe, Patrick Sprinkle, Amber Sprinkle, Castle Funatake, Holly Munyan.
Row 4: Mike Heath, Barbara McKinstry Barilleaux, Laura Schulz, Amanda Mackinson, Anne Marie Shields Charaholm, Kara Monroe, Jennifer Leckenby Fallquist, Matt Anderson, David Betten, Hallie Bowker Chouaniere.
Row 5: Denver Gant, Kara Jepsen Gladstone, Charlotte Wells, Guillermo Badenes, Doug Kaiser, Stephen Fallquist, Sarah Patch-Putt, Stephen Patch-Putt (Alder in arms).
Row 6: Sean Doyle, Yumi Shuman, Jeremy Shuman, Hythum Ismail, Helen Rance Hitchens, Juliet Dowsett.
Row 7: Kathryn Parlet, Rob Maysey, Alecia Walters.