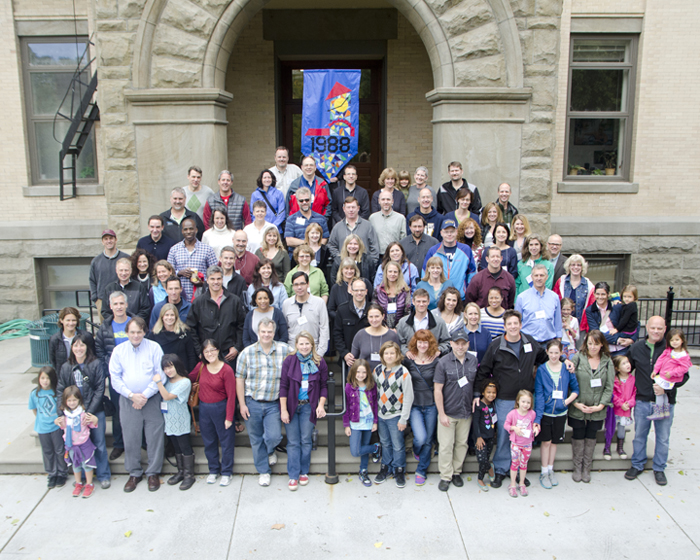 Class of 1988
25th Reunion - Fall 2013

Download the high resolution photo.
(Right click or option-click the link and choose "Save As..." to download this file.)
Row 1: Alexi Woodward-Hart, Tinoa Woodward-Hart, Danielle Hart, Scott Daly, Katherine Daly, Penny Tumoika Daly, Cliff Day, Amy Matheson Day, Nora Adams, Quincy Adams, Kirsten Murphy, Kevin Shaughnessy, Julia Bowton -Meade, Brett Bowton-Meade, Maggie Bowton-Meade, Sopie Bowton-Meade, Amy Bowton-Meade, Cate Eronemo, Ralph Eronemo '89 (Lilah in arms).
Row 2: Cora Woodward, John McLaughlin, Brian Holtzclaw, Fred Bartlett, Laura Hafermann, David O'Neal, Beth Long Salaguinto, David Salaguinto '87, Todd Adams, Yaroslavna Adams, Brain Murphy, Beth Scherzo, Elisabeth Black, Sheila Mascardo-McClintick, Doug Novotny, Lilly Belle Novotny, Kate Novotny, Addie Novotny
Row 3: Michael Zoretic, Jenn Clark, Laura Todd, W. Scott Shoemaker, Beth Andre Schoemaker, Polly Ogden, Julie Macdonald Harvey, Cheryl Morgan, Janet Inman Sutton, John McClintick, Sarah Heath
Row 4: Jeff Clark, Steven Metcalf, Lars Larson, Jodi Emtman, Donnetta Elsasser, Arlene Weible, Cara Elston, Doug Smith '89, Michael Sullivan, Hilary Hoover, Maggie Fleet, Kristin Kershaw, Emily Patzmann Swanson
Row 5: Storr Nelson, Lori Simard Cathcart, Mary Pettenger, Sonny Elasser, Erik Highberg, Matt Pearson, Timothy Allen, Sally Nordquist, Karen Keck Hougan, Brent Schimke
Row 6: Kurt Munnich, George McKelvey, Lynn Greer McKelvey, Shawn Collins, John Massman, Thomas Stidham, Susan Dunn Ovens, Eleanor Davenport, Karen Davenport, Mike Wilcox