Class of 1985 Cluster Reunion, Fall 2014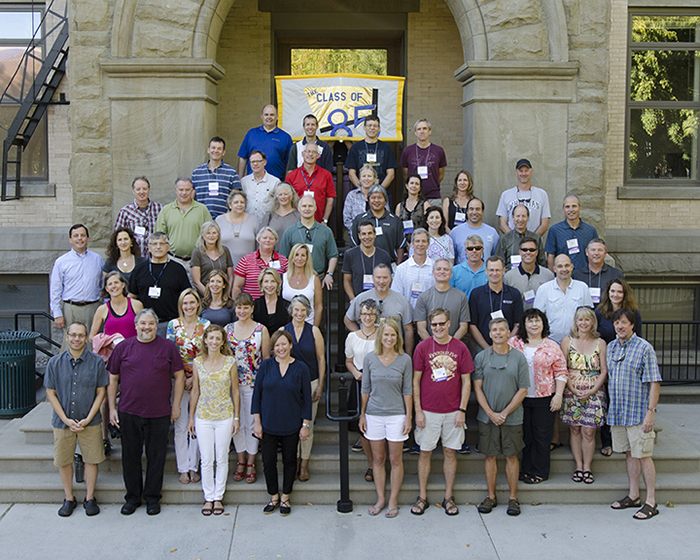 Class of 1985
Cluster Reunion - Fall 2014

Download the high resolution photo.
(Right click or option-click the link and choose "Save As..." to download this file.)
Front Row: Vince Bander, Chris Maxfield, Catherine Brunton Blundell, Maria Courogen, Katharine Henderson Rumbaugh, Greg Ford, David Leith, Greg Davison '83.
Row 2: Susan Schomburg, Laurie Utterback, Deborah Wolf Streeter, Mary Adam Thomas, Susan Champagne Harrison, Lynn Schriver Davison.
Row 3: Gail Vore, Mindy Maier LeClercq, Louisa Gowen Malatos, John Livengood, Kevin Thomas, Mike Reid, Jeff Eyrich, Rachel Dresbeck.
Row 4: John Bogley, Alexndra Lexton, Nicholas George '74, Jill Larson Turner, Kim Nichols, Erin Bevan Zonta, Paul Landon, Jeff Langdon, Chris Luttges, Steve Kuka.
Row 5: Clark Campbell, Daniel Steward, Krista Scott, Esther Joneson, Eric Hansen (in front of Esther), Calvin Rapada, Alex Perel (in front of Calvin), Nancy Foulkes, David Piccioni, Stephen Henderson, Andy Luther.
Row 6: Brian White, Laird O'Rollins, John Kaminski, Susan Buxton, Mary Clure, Katie Blaine, Keith Streeter.
Row 7: Kevin Koertje, Jay Murphy, Brian Porter, Fritz Paulus.