Class of 1974 40th Reunion, Fall 2014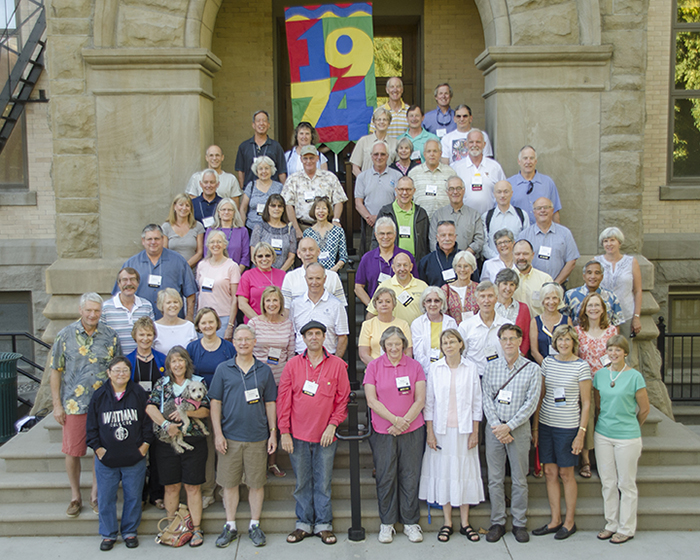 Class of 1974
40th Reunion - Fall 2014

Download the high resolution photo.
(Right click or option-click the link and choose "Save As..." to download this file.)
Front Row: Willy Van Krieken, Gladys Jewett Burson, Norm Donelson, Marlin Eller, Becky Gustafson Flugstad, Cathy MacArthur Martin, Douglas Carlsen, JoAnn Robison Cornelius, Marilyn Brownell Beyer.
Row 2: Tom Wenzel, Mia Wessels, Lissa Walker Heckelman '73.
Row 3: Terry McConn, Sherry Fletcher McConn, Carol Lundblade Blanc, Robert Blanc, Jann Hoppler, Cheryl Bailey Stuberg, Paul Lodine, Jamie Martin-Almy, Debbie Carlson.
Row 4: Clay Patterson, Penny Schwarze, Bonnie Hilber Bennett, Doug Bennett, Greg Black, Sally Rodgers, Ellen Watts Lodine, Mark Vogler (behind Ellen), Neal Palafax.
Row 5 (half row starting in middle): Henry Hart (purple shirt), Tim Jones, Christine Jacobi McDade, Candace Franks Murray '76.
Row 6: Mary Settle, Susan McConnell, Moira Hazen Bandoli, Pamela Haynes Irvine, Erick Isaacson, Bill Neighbor, Stephen Behr.
Row 7: Reiley Reid, Leslie Norton, Tim Sullivan, Dick Wallace, Janet White Wallace (behind Dick), Jeff Deckrow, David Niklas, John Murray.
Row 8: David Clodfelter, Wes Young, Lisa Snook Young, Kathy Smith Starr, Bill Starr, Fred Yancey.
Row 9: Rob Bowman, O. Alan Weltzien.
Nick George can be found in the Class of 1985 photo, row 4, third from left.