Class of 1970 40th Reunion, Spring 2010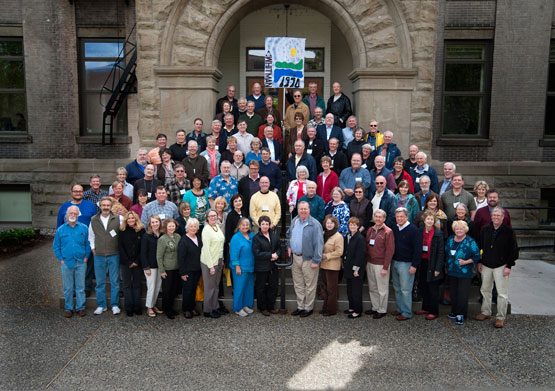 Class of 1970
40th Reunion - Spring 2010
Download the high resolution photo.
(Right click or option-click the link and choose "Save As..." to download this file.)
Row 1: John Jay, Tim Jewett, Joan Jewett, Carla Ashby Nichols '69, Julie Schaffer, Helen Johnston, Carolyn Findlay Kiefer, Melinda S. Jones, Cheryl Smith Hazel, Richard Camp '69, Jessica Reed Camp, Elizabeth Tweeddale Hale '69, Lewis Hale, Chris Kosmos, Emily Dexter, Dee Anderson, Chuck Maynard.

Row 2: Jack Riehl, David Shinstrom, Betsy Greacen with Paquo, Dean Nichols, Judy Minium, Jane Ryan Koler, Elizabeth Anderson, Dick Hazel, Geoffrey Ferguson, Joan Valaas Ferguson, B.J. Brenden Sprague, Bill Sprague '68, Carol Grocock Fielding, Joe Fielding, Michelene Chenault (in front of Joe), Mike Henniger, Markie McRae (in front of Mike), Lisa Gibb Henniger, Stan Foster.

Row 3: Brent Walker, Cherie Walker, Arthur Dalley, Dave Turner, Carrie Saito Turner, Dave Millen, Fred Holmquist, Patsy Bates Mattingley, Diane Haines Monter, Donald Schmidt, Bob Green, Jan Dvorak Tenold, Greg Tenold, Jim Waldo.

Row 4: Ted Williams, Cathy Highberg Williams, Keith Mackenzie, Ron Saario, Doug Nelson, John Monter, Mike Phillips, Joann Loomis, John Loomis, Bob Bell.

Row 5: Evans Van Buren, John Adkison, Pat Sanford Turner, Lee Johnson, Ruth Spangler '71.

Row 6: Bill Rodgers, Mark Lodine, Rod Fife, David Schaefer, Steve Penland, David Gavareski, Carol Thompson Gavareski.

Row 7: Jeff Gredvig, Susan McKenney Schubothe '71, Linda Weihmann Brown '69, Roscoe Nelson (behind and to the right of Linda), Tom Evans, Tim Donohue, David Gavareski.

Row 8: Elizabeth Hartley Carr, Edward Carr, James Hogin, Ralph Schubothe, Greg Brown.

Row 9: Paul Billing, Tim van Oppen, Glen Gorud, Steve Smith.