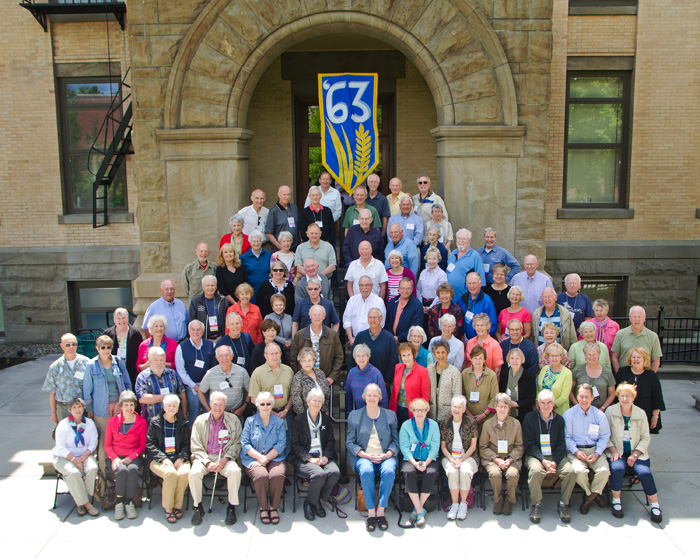 Class of 1963
50th Reunion - May 16-19, 2013

Download the high resolution photo.
(Right click or option-click the link and choose "Save As..." to download this file.)
Row 1: Linda Mason Moats '64, Candy Shorett Bocarde, Mary Helen MacLean Windell, Howard Paulson, Roberta Graham Paulson '62, Linda Wellsandt Howell, Cora Enman, Gretchen Miller Kafoury, Lynn DeFrees Riegel, Nancy Gray Hawley, Mal Hawley, Vernon Nelson, Anita Merrell.
Row 2: Jim Dudley '60, Marcy Wilson Dudley, Alec McKay, Martin Howard, John Arbini, Karen Poulsen Arbini, Susan Baker, Judy Haruda Lynch, Kathryn Kaaihue Kimi, Janet Miller Turchi, Mary Sue Clancy Willingham, Patti Beamer, Kathy Hicks Ferriss, Judy Cox Likwartz.
Row 3: Ruth McQuaid Chenoweth, Victoria Raymond Ford, Rick Venneri '64, Bruce Hilger, Pat Parsons, Terry Parsons, Cole Mason, Holly Mason, Sally Rodgers, Mary Anne Highberg MacDonald, Dick Beamer, Linda Chapman, Marian Hedgcock Wolfe, Herman Bax.
Row 4: Dave Gregory, Evan Thomas, Mary Pat Eckstrom Beard, Jayne McCarthy, James Marshall, Lee Kramer, David Pelton, Tina Grodem Pomeroy, Glen Grodem '60, Janetta Hermon Beaumont '65, Randy Beaumont, Kathy Davis Clarke.
Row 5: Gary Jacobsen, Pat Jacobsen, Karen Marshall, Jim McCarthy, Tom Malcolm, Betty Malcolm, Toni Boone-Gillette, Mick Gillette, Raleigh Curtis, Judy Lorence (in front of Raleigh), Bob Lorence, Charlie Clarke '64.
Row 6: Lewjean Hower Holmes, Victoria Cordova, Ann Willard Watts '61, Ted Watts, Clint Willour, Tom McKean, Sue Vadman.
Row 7: John Zumdieck, Frank Simpson, Roger Whitlock, Ken BeLieu, Chuck Beard, Carol Hurley Curtis '66.
Row 8: Lance Christiansen, Tom McCracken, Denny Sargent, Bill Reid