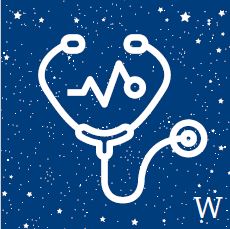 Careers in the health professions demand more than science skills-- they also require maturity, compassion, leadership, integrity, communication skills, and knowledge of health care policy. Whitman College does not offer "pre-med," "pre-vet," or "pre-health" majors. Although many students choose one of our life science majors - biology, or biochemistry, biophysics, and molecular biology (BBMB) - more than one third of our successful candidates enter with other majors, including anthropology, art, chemistry, classics, English, foreign languages, geology, history, mathematics, music, philosophy, politics, psychology, religion, and theater.
The most comprehensive on-campus resource for pre-health advising is the Whitman Health Professions site.
Following a summer internship with Virginia Garcia Memorial Hospital, Abby Molloy '18, said:

"Today, Virginia Garcia Memorial Health Center serves over 42,000 community members and works to uphold a mission to provide high-quality, comprehensive health care to those who need it most. Throughout the course of my internship, I have begun to understand the greater importance and weight of this mission, and I have worked to uphold it."
There are many clubs on campus that will allow you to explore your interests, stretch your skills, and make an impact in an area about which you're passionate. Contact the ASWC Club Director at aswc_clubdir@whitman.edu to learn more about current clubs or start your own.
Community Service House (The "Coop")
Residents of this interest house promote volunteerism and complete at least 30 hours of community service each semester. Up to seven students and one resident assistant can occupy the Community Service House.
Diversity Governing Board
Two students sit on the Diversity Governing Board, where they engage in frank discussions about creating a learning environment that attracts and embraces a more diverse community. These students represent their peers in meetings with the Whitman College Board of Trustees.
GlobeMed
A chapter of the national non-profit, GlobeMed at Whitman educates the community about issues of global public health through discussions, events, films, and a close relationship with Burma Humanitarian Mission (BHM). BHM supports grassroots education, community-based backpack medics, and refugee collaboration projects in Burma.
Health Center Advisory Committee
Three students work as a liaison between the Welty Health Center and the student body, advising the Health Center on program and policy changes and students on service availability.
Thrive
This club addresses mental health issues, educating the community and welcoming anyone who seeks information about how to help themselves or support loved ones.
SOS Volunteers Club
This club works with SOS Health Services of Walla Walla, which provides quality healthcare to the uninsured. Student volunteers act as scribes for physicians during clinic hours, assist with patient data entry, and plan the annual SpeakEasy fundraising concert.
Whitman Pre-Health Society
This group guides liberal arts students through joining the medical field. Activities include MCAT preparation, physician shadowing in Walla Walla, and workshops about pre-med course requirements and creating a four-year plan.
Community involvement helps students understand a broad range of issues and is becoming increasingly important in the eyes of many employers. For more ways to connect with local organizations, contact the Student Engagement Center in Reid Campus Center.
Adopt-A-Grandparent
This program pairs Whitman students with residents at the nearby Odd Fellows senior home. Volunteers visit their adopted grandparents each week to tell stories, play games, listen to music, read books, and craft together.
Buddy Program
The Buddy Program connects students with intellectually or developmentally disabled adults in Walla Walla. Students meet with their community buddies twice a month for various activities, including dances, movie nights, crafts, bowling, and more.
American Red Cross (homelessness & general health)
The American Red Cross helps people prevent, prepare for, and respond to disasters and emergencies. They offer CPR and first aid, and get volunteers for disaster response, blood collection, and teaching classes. Those who wish to volunteer with the disaster action team can respond to house fires, immediate housing challenges, and disasters while giving necessary clothing and food to victims of disaster. Additionally, there is also office support, website management, clerical, and janitorial work.
Blue Mountain Heart to Heart
BMH2H helps prevent new HIV and Hep C infections and hopes that they can create a better standard of life for those in our community. They need volunteers who can help with fundraisers, education and outreach, letter writing and other skills. If you volunteer here, you'll gain a lot of knowledge about HIV/AIDS, experience with people in the community afflicted, a harm reduction philosophy, and advocacy skills.
Eye to Eye
Eye to Eye connects fourth and fifth graders from Walla Walla public schools with Whitman students with learning disabilities. Each week, the pairs create art projects that instill confidence and self-advocacy skills in the elementary schoolers.
Green Park Elementary Bilingual Program
Once a week students tutor children at Green Park Elementary School as they transition from learning only in Spanish to learning in English. Volunteers must be able to teach various subjects in Spanish, including math, reading, writing, and science.
Providence St Mary Medical Center
This organization's participants can do comfort rounding (interactions with patients), cashiering in the gift shop, prepping food, and working with therapy animals.
SOS Health Services of Walla Walla
SOS Health Services of Walla Walla helps uninsured people get the care they need. Patients can walk in and be treated. Volunteers must be willing to help with clinical tasks in addition to maintaining a friendly and welcoming demeanor.
Walla Walla Community Hospice
Provide care for patients in their final stages of life and support their loved ones and caregivers. Patient care volunteers work with a diverse team (RN, Social work, Chaplain, CNA) in order to best care for patients. Volunteers must apply and go through training, but the experience is worthwhile.


Fellowships and grants afford many students the opportunity to continue their learning beyond graduation in high-impact programs. For more information, please contact the Office of Fellowships and Grants.

AAUW Selected Professions Fellowships are awarded to women who intend to pursue or are enrolled in full-time study at accredited U.S. institutions through a designated degree program in which women's participation traditionally has been low.
The Amgen Scholars U.S. Program provides hundreds of undergraduate students with the opportunity to engage in a hands-on research experience in science and biotechnology at ten of the nation's leading educational institutions.
RISE is a summer internship program for undergraduate students from the United States, Canada and the U.K. in the fields of biology, chemistry, physics, earth sciences and engineering. RISE offers unique opportunities for undergraduate students to work with research groups at universities and top research institutions across Germany for a period of 2 to 3 months during the summer. RISE interns are matched with doctoral students whom they assist and who serve as their mentors.
Global Health Corps Fellowship
Global Health Corps offers a one-year paid fellowship in which fellows make a significant, measurable contribution to a partner organization and its target population. GHC recruits partner organizations involved in healthcare access and positive health outcomes for the poor. Fellowship placements are domestic and international. Candidates apply for specific positions with one of Global Health's partner organizations for which they have relevant skills and experience. Fellows are selected jointly by GHC and the partner organization.
The NIH Postbac Intramural Research Training Award program or Cancer Research Training Award provides recent college graduates who are planning to apply to graduate or professional (medical/dental/pharmacy) school an opportunity to spend one or two years performing full-time research at the NIH.
The National Institutes of Health Oxford-Cambridge Scholars Program is an accelerated, individualized doctoral training program for outstanding science students committed to careers in biomedical research.
Princeton in Africa (PiAf) is a nonprofit organization that offers yearlong fellowship opportunities with a variety of organizations working across the African continent. PiAf Fellows work in service-oriented positions in many different fields, including humanitarian aid, public health, conservation, education and social enterprise.
Fellowships for teaching and other services in Asia.
Princeton in Latin America (PiLA) is a nonprofit organization, affiliated with but not funded by Princeton University. PiLA partners with non-governmental organizations (NGOs), community, government and multilateral organizations throughout Latin America and the Caribbean to provide them with highly qualified recent college graduates. Fellows commit to a full-year service fellowship in development work.
The Rotary Global Grant provides support scholarships for graduate students studying abroad in one of six specific focus areas. Scholarships range from one to four years and therefore can include an entire degree program.
Switzer Environmental Fellowship
Switzer is a one-year fellowship given to highly talented graduate students enrolled at schools in New England and California whose studies and career goals are directed toward environmental improvement, and who clearly demonstrate leadership in their field. Fellows come from diverse social, academic and economic backgrounds and are on the leading edge of environmental and social change through efforts in environmental policy, public health, journalism, business and other fields. Fellows are committed to interdisciplinary and cross-sector work, applied results, and collaborative leadership, and may apply from any field of study.
Internships and on-campus employment are excellent for accumulating work experience, developing your narrative, and broadening your network. Note that the list below is not comprehensive. Check sites such as vault.com and internships.com for more opportunities.
To see what Medicine internships Whitman students have held in the past, check out the Whitman Internship Database and search "Medicine" or "Health & Medicine".
Studying away from campus is a fantastic way to learn more about the world, as well as an excellent experience upon which you'll draw throughout your academic and professional career. For more information, contact Off-Campus Studies in Memorial.
SIT: South Africa Community Health and Social Policy
Through the SIT: South Africa Community Health and Social Policy program, Whitman students can examine primary health care concerns from a South African perspective exploring roles of the South African state, the media, nongovernmental organizations, community structures, and traditional healers. This program focuses on topics such as health communication strategies, prenatal care, access to health care, and health education.

SIT: Chile Public Health, Traditional Medicine, & Community Empowerment
Through the SIT: Chile Public Health, Traditional Medicine, and Community Empowerment program, Whitman students can gain insight and exposure to healthcare policies, politics, and delivery methods within a Chilean context, with a special emphasis on indigenous peoples and traditional medicines practices. Program excursions include visits to public health centers throughout Arica and surrounding valleys. Longer excursions include traveling to the rural area of Putre, the region from which the Aymara population of Chile originated, and Temuco, home to the indigenous Mapuche nation. Students produce a final Independent Study Project.

IES: London Health Practice & Policy
Through the IES: London Health Practice & Policy program, Whitman students can study current issues related to health care, public health practices and policy, and the structure and administration of health care systems. Students enroll in courses at the IES Abroad Center (located near the British Museum) and travel to Oxford once per week for a course taught at Oxford's St Catherine's College. Students travel to Kingston, Jamaica for the final 8-10 days of the semester to study health issues in a country with a developing economy.

DIS: Copenhagen
The DIS Copenhagen program, students can take a variety of courses in English while experiencing immersion in Copenhagen, Denmark. This program provides students with an academically challenging environment where students can take over 200 elective course that are all taught in English. There are several cultural engagements opportunities like course-integrated study tours, DIScovery Trips, housing.

The Philadelphia Center
Qualified Whitman students interested in a professional development experience in the historic city of Philadelphia may elect to participate in The Philadelphia Center program. Participants on this program will intern on a field of their choice for 32 hours a week. The Philadelphia Center offers more than 800 internship options to choose from with organizations such as the Environmental Protection Association, Philadelphia Zoo, arden Theater Company, and the District Attorney's office. In addition to the internship, students will enroll in a weekly City Seminar and one elective course.
Here are some possible post-graduate degrees pursued by people in medicine. Contact the SEC for additional information.
Potential Job Titles
Cardiologist
Doctor
Emergency Medical Technician (EMT)
Infectious Disease Specialist
Internal Medicine Specialist
Medical Scribe
Midwife
Neurosurgeon
Neurologist
Pediatrician
Surgeon