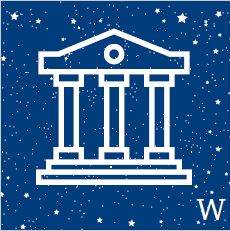 Careers in law and criminal justice typically fall into one of two categories: law enforcement or legal. Law enforcement refers to the practice of criminal justice, like policing and dealing with the causes of criminal behavior and society's response to crime. Legal focuses on providing legal services to individuals and businesses as a legal representative or as a public official in the courts.
Whitman has no separate pre-law major. However, lawyers need many of the skills that a liberal arts education can cultivate: excellent writing, reading, critical thinking and analytical skills, as well as a basic understanding of the human experience. Common undergraduate majors for future Whitman lawyers include economics, English, history, philosophy, and sociology, but law schools look with equal favor on students who have excelled in other rigorous fields of study.
Professor Patrick Frierson, our pre-law advisor at Whitman can offer direction and advice to students about their plans for law school.
There are many clubs on campus that will allow you to explore your interests, stretch your skills, and make an impact in an area about which you're passionate. Contact the ASWC Club Director at aswc_clubdir@whitman.edu to learn more about current clubs or start your own.
Action for Animals
This club collaborates with local institutions to better the lives of animals through service and advocacy, which can include working on animal rights legislation and engaging with regional and state governments.
All Students for Consent (ASC)
All Students for Consent helps the community support survivors of sexual violence and combat rape culture through education.
Almighty Ink
A slam poetry group, Almighty Ink welcomes any student interested in writing and speaking poems. The club meets weekly and sometimes travels to competitions.
Associated Students of Whitman College (ASWC)
The term ASWC refers both to every student currently attending Whitman and to the student government comprised of elected officials who voice the concerns, support the projects, and fuel the passions of the student body.
ASWC Nominations
This committee of appointed and elected members interviews and selects students to hold positions on college committees and governing boards as well as campus media organization leadership.
ASWC Oversight
Charged with ensuring that ASWC follows its own bylaws, this committee of appointed and elected members requires students to run fair, democratic elections and evaluate ASWC personnel without bias.
ASWC Student Affairs
This committee, comprised of elected members of the ASWC senate, responds to student concerns by writing legislation that clarifies the bylaws, allocates money, or demonstrates the position of the student body to the administration.
Beyond Borders Club
Beyond Borders fosters global awareness. This educational and culturally-focused club hosts screenings, lectures, art displays, and other events, such as the Internation Celebration.
Black Student Union (BSU)
Black Student Union is a safe space to discuss topics of race. The club serves as a support group for students of color, but any student can attend.
Border as Method
It is the mission of Border as Method to promote awareness of the intersectionality of immigration to our community.
Campus Climate Coalition (CCC)
Campus Climate Coalition is the umbrella organization for various environmental campaigns and groups at Whitman. Its goals shift depending on which issues galvanize the campus that year.
Club Latino
Club Latino is a group of students of any ethnic background who seek to educate themselves and the community about the history and culture of the Latino population, especially that of the United States, Mexico, Central, and South America.
Council on Student Affairs
Five students (and at least two alternates) work as a disciplinary body to make rulings on student infractions of school policy.
Diversity Governing Board
Two students sit on the Diversity Governing Board, where they engage in frank discussions about creating a learning environment that attracts and embraces a more diverse community. These students represent their peers in meetings with the Whitman College Board of Trustees.
Drama Club
Drama Club supports the student theater season by ushering and selling concessions at shows. The group also plans the annual Drama Rush, College Cabin visit, Ashland trip, and Drama Banquet.
Feminists Advocating Change and Empowerment (FACE)
FACE supports marginalized groups and advocates for a feminism that includes people of various backgrounds, genders, races, etc., rather than limiting their efforts to a particular "kind" of woman.
First Generation/Working Class Club (FGWC)
Sometimes FG/WC students struggle to adjust to Whitman; this club aims to help them overcome potential obstacles by providing a network and advocating for resources on campus.
Global Awareness House (Glo-Ho)
Glo-Ho residents raise awareness about world issues such as hunger, population, and human rights. Up to five students and one resident assistant can live in this interest house.
GlobeMed
A chapter of the national non-profit, GlobeMed at Whitman educates the community about issues of global public health through discussions, events, films, and a close relationship with Burma Humanitarian Mission (BHM). BHM supports grassroots education, community-based backpack medics, and refugee collaboration projects in Burma.
Indigenous People's Education and Cultural Club (IPECC)
Both Native and non-Native students comprise IPECC, a group that shares the diverse traditions of Native culture through entertainment, speakers, educators, and activities.
Mixed Race Club (HAPA)
HAPA responds to the modern world's continual blurring of the margins of "race" by creating a community for multiracial students and educating others about identity development.
South Asian Students Association (SASA)
SASA promotes interest in and awareness of South Asian cultures in the Whitman community by hosting festivals, film screenings, lectures, and performances.
Story Time Project
Story Time volunteers travel to classrooms and daycares throughout Walla Walla to read stories to children each week. Bilingual volunteers, especially those fluent in Spanish, are welcome.
Student Life Governing Board
Two students sit on the Student Life Governing Board, where they work with the dean of students, provost, faculty, and president of the college to address the quality of life on campus. These students represent their peers in meetings with the Whitman College Board of Trustees.
Student Registrar Committee
Four students advise the Registrar's Office about course schedules and registration.
Varsity Nordic
Varsity Nordic is an improvisational comedy group composed of five to ten students who perform regularly throughout the year and host a 24-hour fundraiser in the spring. Students must audition to participate.
Whitman African Students Association (WASA)
WASA supports African students on campus and teaches about African culture and issues.
Whitman Teaches the Movement (WTTM)
This program trains students to teach about the 1960s civil rights movement in local schools. Using curricula developed by the Walla Walla Public School District and the Southern Poverty Law Center, WTTM increases tolerance and anti-discrimination education.
Community involvement helps students understand a broad range of issues and is becoming increasingly important in the eyes of many employers. For more ways to connect with local organizations, contact the Student Engagement Center in Reid Campus Center.
Green Park Bilingual
The Greek Park Bilingual Program takes volunteers to the Green Park Elementary School where they help students in the classroom by acting as a safety net for the students who are transitioning from learning in Spanish to learning in English. These volunteers are expected to be able to teach a range of subjects such as math, reading, writing, and science while only conversing in Spanish.
Green Park Bilingual volunteers offer academic support to ELL students in K-3 classrooms with students working on both math and literacy fundamentals. Spanish language proficiency is a prerequisite for this opportunity.
Spring Break Service Trip
Spring Break Service Trips are week-long volunteer trips that allow Whitman students to focus on a particular social issue outside of the Walla Walla community. Each trip's service, education, and reflection opportunities are arranged around a theme, giving students a greater sense of their impact and role on that issue.
Participants volunteer with a primary social organization throughout the week, in addition to visiting and working with nonprofits to gain an understanding of the issues that affect a broader community. Students also have a chance to explore the city or area they are visiting because they are typically housed at local churches and cook most meals together.
Trips destinations and themes can vary from year to year but some of the previous examples include: Refugee & Resettlement in Seattle, WA, Environmental Conservation in Arcata, CA, Urban Education in Portland, OR, and Relief & Rebuilding in New Orleans, LA.
Fellowships and grants afford many students the opportunity to continue their learning beyond graduation in high-impact programs. For more information, please contact the Office of Fellowships and Grants.
AAUW Selected Professions Fellowships are awarded to women who intend to pursue or are enrolled in full-time study at accredited U.S. institutions through a designated degree program in which women's participation traditionally has been low.
Asian Pacific American Institute for Congressional Studies (APAICS) Congressional Fellowship
APAICS provides exceptional graduates and young professionals with opportunities to work on policy issues as full-time staff members of a U.S. congressional office, federal agency or nonprofit community organization in Washington, D.C. Placements are in these three areas.
Council of American Ambassadors International Affairs Fellowship
CAA enables six undergraduate students per year to participate in a summer program in Washington, D.C. that combines mentoring by former U.S. ambassadors, practical training through internships at the U.S. Department of State and academic studies in international affairs. CAA fellows receive valuable advice and guidance from former U.S ambassadors and serve as mentors to discuss international affairs issues and careers. Students first must be selected for a D.C.-based summer internship at the U.S. Department of State.
Capital Fellows Programs (California State Government)
Capital fellows engage in public service and prepare for future careers while actively contributing to the development and implementation of public policy in California. Fellows in each program work as full-time members for 10 or 11 months, are employees of Sacramento State University and are typically given assignments with a significant responsibility and challenge. Fellows also enroll as graduate students at Sacramento State University and receive graduate units from the university's Government Department or Public Policy and Administration Program.
Chamberlain Fellowship in Women & Public Policy
Chamberlain fellows work in Washington, D.C. as general research assistants on a variety of projects and reports. Research tasks include reviewing literature; collecting, checking and analyzing data; and preparing reports and report graphics. Attendance at relevant U.S. congressional briefings, policy seminars and meetings is also an integral part of the program. Research areas include the quality of women's jobs, increasing access to higher education and non-traditional jobs for low-income women, strategies for improving child care access, affordability and quality. Placements are full-time and generally span the academic year.
Congressional Hispanic Caucus Institute Public Policy Fellowship
CHCIPPF is a nine-month paid program in Washington, D.C., that offers talented Latinos who have received a bachelor's degree within two years of the program start date the opportunity to gain hands-on experience at the national level in the public policy area of their choice. Fellows work in congressional offices and federal agencies in their area of interest. Past focus areas include international affairs, economic development, health and education policy, housing and local government.
Doris Duke Conservation Scholars Program
DDCSP is a multi-summer, experiential learning program for undergraduates that explores conservation in the areas of climate, water, food and ecosystems of the Pacific Northwest. DDCSP helps emerging conservation leaders to develop unique perspectives and skills by connecting them to conservation, biodiversity, environmental justice and community programs and initiatives. Duke scholars are engaged with conservation practice across a range of ecological and cultural landscapes. Academic study in the natural sciences is not a requirement for application.
Foreign Affairs Information Technology Fellowship
The Foreign Affairs Information Technology Fellowship provides opportunities for students pursuing an IT-related degree to apply technology solutions to the arena of diplomacy. Fellows receive tuition assistance, mentorship and professional development to launch their careers in the U.S. Department of State's foreign service arm. Fellows are required to complete their junior and senior years of an undergraduate degree or a two-year master's degree in an IT field; maintain a GPA of 3.2; and become a U.S. Department of State Foreign Service IMS representing their country and its interests abroad and at home. Fellows must fulfill and maintain strict Foreign Service entry requirements. There is a minimum five-year service commitment in the Department of State's Foreign Service Officer Program. Fellows complete two internships with the State Department: one in the U.S. and one overseas.
Each year 12-14 graduating seniors are selected to serve as research assistants to senior associates-academics, former government officials, lawyers, and journalists from around the world-to work on a variety of international affairs issues at the Carnegie Endowment in Washington, DC.
Green Corps' Field School for Environmental Organizing trains college graduates to run environmental campaigns, by building a core group of activists and convincing decision-makers to pass laws, change policies and create reforms to protect our environment.
The Greenlining Institute is a national policy, organizing and leadership institute working for racial and economic justice. Greenlining ensures that grassroots leaders are participating in major policy debates by building diverse coalitions that work together to advance solutions to our nation's most pressing problems. Greenlining builds public awareness of issues facing communities of color, increases civic participation, and advocates for public and private policies that create opportunities for people and families to make the American Dream a reality.
The James Madison Fellowships were created to honor Madison's legacy and principles by providing support for graduate study that focuses on the Constitution, its history and contemporary relevance to the practices and policies of democratic government.
Washington Bus Summer Fellows
Washington Bus is a 10-week political boot camp for young leaders. Fellows spend the summer in Seattle, managing campaigns, organizing grassroots initiatives, formulating public policy and developing leadership skills. The fellowship is an intensive, intentional, transformative experience for fellows who are ready for public service. Fellows take classes from regional authorities in their fields.
Internships and on-campus employment are excellent for accumulating work experience, developing your narrative, and broadening your network. Note that the list below is not comprehensive. Check sites such as vault.com and internships.com for more opportunities.
To see what Law & Criminal Justice internships Whitman students have held in the past, check out the Whitman Internship Database and search "Law & Criminal Justice" or "Government & Law".
Studying away from campus is a fantastic way to learn more about the world, as well as an excellent experience upon which you'll draw throughout your academic and professional career. For more information, contact Off-Campus Studies in Memorial.
AU Washington Semester Program
Whitman students who wish to learn about the U.S. government and national policy or engage in community organizing in the heart of the nation's capital may apply to attend American University's Washington Semester Program. Students obtain hands-on experience by participating in an internship as well as enrolling in a seminar course, which is often taught on location taking them behind the scenes in D.C. Washington Semester students also will choose location to conduct an in-depth research project project to enroll in an elective at American University.

Mexico Solidarity Network (MSN)
The Mexico Solidarity Network introduces students to the ideas and people involved in autonomous, community-based, organizing in Mexico. Students spend six weeks in Chiapas learning Spanish and the history and ideas behind the movement before spending the rest of the semester in homestays in Tlaxcala and Mexico City. The final two weeks of the program are spent at the Centro Autonomo in Chicago.
SIT: Serbia Peace & Conflict Studies in the Balkans
Through the SIT: Serbia, Bosnia, and Kosovo - Peace and Conflict in the Balkans program, Whitman students can gain firsthand knowledge of peacebuilding, conflict transformation, and the struggle for human rights in Serbia, Bosnia-Herzegovina, and Kosovo. The program is based in Serbia, but students take educational excursions to Bosnia-Herzegovina and Kosovo.
The Philadelphia Center
Qualified Whitman students interested in a professional development experience in the historic city of Philadelphia may elect to participate in The Philadelphia Center program. Participants on this program will intern on a field of their choice for 32 hours a week. The Philadelphia Center offers more than 800 internship options to choose from with organizations such as the Environmental Protection Association, Philadelphia Zoo, arden Theater Company, and the District Attorney's office. In addition to the internship, students will enroll in a weekly City Seminar and one elective course.

DIS: Copenhagen
The DIS Copenhagen program, students can take a variety of courses in English while experiencing immersion in Copenhagen, Denmark. This program provides students with an academically challenging environment where students can take over 200 elective course that are all taught in English. There are several cultural engagements opportunities like course-integrated study tours, DIScovery Trips, housing.
Here are some possible post-graduate degrees pursued by people in law and criminal justice. Contact Noah Leavitt at leavitns@whitman.edu for additional information.
Doctor of Jurisprudence (JD)
Master of Legal Studies
Master of Science in Criminal Justice-Forensic Science
Master of Science in Criminology
Master of Science in Cybersecurity
Ph.D. in Business Administration-Criminal Justice
Ph.D. in Psychology: Criminology and Justice Studies
Listserv
To subscribe to the Law listserv, which offers a steady stream of news, advice and trivia about (nearly) all things law school and law-related, please send a blank email message to law-subscribe@lists.whitman.edu.
Useful Links
Alumni in the Field
Log in to LinkedIn or Whitman Connect to learn about Whitman alumni with jobs in law and criminal justice.
Potential Job Titles
Attorney
Criminologist
CIA Officer
Federal Policeperson
Judge
Lawyer
Law Clerk
Paralegal
Pro Bono Legal Aid Provider
Public Defender
Tax Analyst