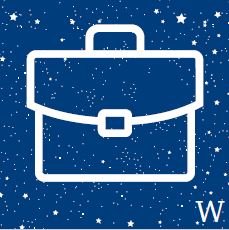 Careers in actuarial science and the insurance industry involve measuring and mitigating risk. Roles can vary from data-focused, analytical work to consumer-centric sales and service roles. Probability and statistics courses in the mathematics department are particularly relevant, while economics courses foster a broader understanding of the context within which an insurance professional works.
There are many clubs on campus that will allow you to explore your interests, stretch your skills, and make an impact in an area about which you're passionate. Contact the ASWC Club Director at aswc_clubdir@whitman.edu to learn more about current clubs or start your own.
ASWC Nominations
This committee of appointed and elected members interviews and selects students to hold positions on college committees and governing boards as well as campus media organization leadership.
ASWC Oversight
Charged with ensuring that ASWC follows its own bylaws, this committee of appointed and elected members requires students to run fair, democratic elections and evaluate ASWC personnel without bias.
Budget Governing Board
Working with the President's Advisory Committee and the treasurer of the college, two students (one nominated student in addition to the ASWC Finance Chair, who serves ex oficio) sit on the Budget Governing Board to create, discuss, critique, and implement the College's budget. This representative advocates for the student body in meetings with the Whitman College Board of Trustees.
Buildings and Grounds Governing Board
Two students sit on the Buildings and Grounds Governing Board to provide perspective on significant, long-term initiatives concerning structures, renovation, and upkeep. These students represent their peers in meetings with the Whitman College Board of Trustees.
Council on Student Affairs
Five students (and at least two alternates) work as a disciplinary body to make rulings on student infractions of school policy.
Enrollment Governing Board
Two students sit on the Enrollment Governing Board and work with the Office of Admission to develop ideology, improve the admission process, increase retention, and evaluate financial aid systems. These students represent their peers in meetings with the Whitman College Board of Trustees.
Power & Privilege Symposium
The P & P Operations Sub-Committee includes a Finance Manager who coordinates the sizeable budget for this day of presentations, discussions, and workshops about the hierarchies of power and the intersections of identity.
President's Budget Advisory Committee
The ASWC Finance Chair and three appointed students comprise this committee, which makes recommendations to the President's Council about the college's budget.
Whitman Investment Company (WIC)
A student investment management group, WIC meets weekly to discuss the portfolio, provide investment training, and take action when necessary.
Community involvement helps students understand a broad range of issues and is becoming increasingly important in the eyes of many employers. For more ways to connect with local organizations, contact the Student Engagement Center in Reid Campus Center.
Downtown Walla Walla Foundation
This organization aims to help preserve the culture, history, and commerce of downtown Walla Walla. Volunteers help with various historical tasks as well as website management, newsletter articles, and poster distribution.
Junior Achievement
Junior Achievement is the world's largest organization dedicated to inspiring and preparing K-12 students to succeed in a global economy. Junior Achievement provides students in-school and after-school programs in three key areas: entrepreneurship, financial literacy, and work readiness.Volunteers at JA teacher/consultants volunteer in elementary school classrooms for a series of 5-6 sessions that take approximately 45 minutes each. Fall sessions are October to December; spring sessions occur February to April.
Fellowships and grants afford many students the opportunity to continue their learning beyond graduation in high-impact programs. For more information, please contact the Office of Fellowships and Grants in Reid Campus Center.
Bosch Foundation Fellowship
The Robert Bosch Foundation Fellowship Program is a distinguished, transatlantic initiative that offers 15 accomplished Americans the opportunity to complete a comprehensive, professional, development program in Germany. The Bosch Fellowship is comprised of three main components: customized work placements, professional seminars, and German language training. Bosch Fellows work as consultants in their fields of expertise at leading public or private institutions in Germany. Also, Bosch Fellows participate in professional seminars, where they travel to meet and exchange ideas with the major figures across Germany and Europe. Before their work placements and workshops, Bosch Fellows participate in up to five months of language training with both private tutors in the United States and group classes in Germany.
Green Corps
Green Corps' Field school for Environmental Organizing trains college graduates to run environmental campaigns, by building a core group of activists and convincing decision-makers to pass laws, change policies and create reforms to protect our environment. Green Corps' one-year, full-time, paid Field School for Environmental Organizing includes intensive classroom training, hands-on field experience running urgent environmental and public health campaigns, and career placement in positions with leading environmental groups.
Internships and on-campus employment are excellent for accumulating work experience, developing your narrative, and broadening your network. Note that the list below is not comprehensive. Check sites such as vault.com and internships.com for more opportunities.
To see what Insurance & Actuarial Sciences internships Whitman students have held in the past, check out the Whitman Internship Database and search "Insurance & Actuarial Sciences" or "Business".
Studying away from campus is a fantastic way to learn more about the world, as well as an excellent experience upon which you'll draw throughout your academic and professional career. For more information, contact Off-Campus Studies in Memorial Building.
Budapest Semesters in Mathematics (BSM)
Through the Budapest Semesters in Mathematics program, students learn mathematics from leading Hungarian scholars in English. Hungary has a long tradition of excellence in mathematics education. The instructors of Budapest Semesters in Mathematics are members of the three institutions in Budapest known for having educated more than half of Hungary's highly acclaimed mathematicians. The school is near the center of historic Budapest, classes are small, living costs are modest, and all courses are taught in English.
Here are some possible post-graduate degrees pursued by people in insurance and actuarial science. Contact the SEC for additional information.
Master's Degree in Actuarial Science
Master's Degree in Financial Engineering
Ph.D. in Actuarial Science and Financial Engineering
Master's Degree in Mathematical Finance
MBA in Actuarial Science
Master's Degree in Insurance and Risk Management
Other Resources
American Economic Association - Information on graduate study in economics.
Alumni in the Field
Log in to LinkedIn or Whitman Connect to learn about Whitman alumni with jobs in insurance and actuarial science.
Job Titles
Account Executive
Actuary
Claims Representative
Customer Service Representative
Field Representative
Reinsurance Officer
Underwriter