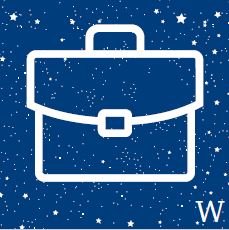 People in consulting utilize problem-solving, communication, collaboration, and analytical skills with organizations in the private, public and not-for-profit sectors. A liberal-arts background is valued in this industry because consultants must quickly understand, break down, and reassemble information to create solutions for clients.
Following a summer internship with the Sustainable Living Center advising businesses on sustainability, Margo Heffron '17 said:
"I am looking forward to continuing my work with the different businesses in Walla Walla and seeing the different approaches each takes towards sustainability. I can't wait to reconnect with each business partner come spring to help them identify their cost reductions as well as their reduced environmental impact."
There are many clubs on campus that will allow you to explore your interests, stretch your skills, and make an impact in an area about which you're passionate. Contact the ASWC Club Director at aswc_clubdir@whitman.edu to learn more about current clubs or start your own.
ASWC Nominations
This committee of appointed and elected members interviews and selects students to hold positions on college committees and governing boards as well as campus media organization leadership.
Budget Governing Board
Working with the President's Advisory Committee and the treasurer of the college, two students (one nominated and the ASWC Finance Chair, who serves ex oficio) sit on the Budget Governing Board to create, discuss, critique, and implement the college's budget. This representative advocates for the student body in meetings with the Whitman College Board of Trustees.
Buildings and Grounds Governing Board
Two students sit on the Buildings and Grounds Governing Board to provide perspective on significant, long-term initiatives concerning structures, renovation and upkeep. These students represent their peers in meetings with the Whitman College Board of Trustees.
Enrollment Governing Board
Two students sit on the Enrollment Governing Board and work with the Office of Admission to develop ideology, improve the admission process, increase retention, and evaluate financial aid systems. These students represent their peers in meetings with the Whitman College Board of Trustees.
Pitch It!
The annual Walla Walla Pitch It! Competition solicits contenders from Wa-Hi and all three local higher ed institutions. Specifically, it challenges students to develop a business concept, create a model, and pitch it to a panel. Contact Kimberly Rolfe with questions.
Power & Privilege Symposium
The P&P Operations Sub-Committee includes a Finance Manager who coordinates the sizable budget for this day of presentations, discussions, and workshops about the hierarchies of power and the intersections of identity.
President's Budget Advisory Committee
The ASWC Finance Chair and three appointed students comprise this committee, which makes recommendations to the President's Council about the college's budget.
Student Registrar Committee
Four students advise the Registrar's Office about course schedules and registration.
Varsity Nordic
Varsity Nordic is an improvisational comedy group composed of five to ten students who perform regularly throughout the year and host a 24-hour fundraiser in the spring. Students must audition to participate.
Community involvement helps students understand a broad range of issues and is becoming increasingly important in the eyes of many employers. For more ways to connect with local organizations, contact the Student Engagement Center in Reid.
General
Volunteering with local governmental agencies and organizing large philanthropic projects, whether through your Greek organization, a campus club, athletic team, or an independently organized undertaking, are productive ways to cultivate the skills for a career in consulting.
Spring Break Service Trips
Spring Break Service Trips are week-long volunteer trips that allow Whitman students to focus on a particular social issue outside of the Walla Walla community. Each trip's service, education, and reflection opportunities are arranged around a theme, giving students a greater sense of their impact and role on that issue. Students coordinate and advertise these trips.
Service Leadership Positions
Leading one of the various SEC service programs is a great way to develop organizational, communicative, and visionary skills. To learn more about Whitman-based programs, click here.
The Sustainable Living Center conserves resources for the future by encouraging and facilitating sustainable living practices in our community. Volunteers staff a booth at the Farmer's Market or at a fair, help with grant writing, retail opportunities at Builders ReSupply, and can help with a Builders ReSupply clean-up day.
Fellowships and grants afford many students the opportunity to continue their learning beyond graduation in high-impact programs. For more information, please contact the Office of Fellowships and Grants in Reid Campus Center.
City Hall Fellows
City Hall Fellows offers a systemic solution to the leadership crisis threatening American cities. The program provides recent college graduates with firsthand experience in local government as an apprenticeship in leadership for social change. Fellows participate in a structured, year-long, quasi-academic exploration of a particular city and how it operates, including intensive pro bono consulting projects by which fellows practice policy evaluation and policy-making. Fellows work on high-need government-run initiatives in cities where they have personal ties as full-time special project assistants for a senior local government administrator or official. Participating cities include Baton Rouge, Houston and San Francisco.
Fraunhofer Center for Sustainable Energy Systems Fellowship
The Fraunhofer Center provides recipients with project experience in PV technologies, building energy technologies, distributed electrical energy systems and/or technology commercialization. Fellowship positions range from research on cutting-edge clean technology solutions to work with a behavioral scientist on issues related to energy-saving technology. Placements are in Boston for three months to one year. A minimum commitment of six months and a 40-hour work week is required of all fellows.
San Francisco Fellows
The San Francisco Fellows program affords recipients the opportunity to learn about local government while working full time as a city employee. Fellows must have earned an undergraduate degree in the past five years. They participate in learning and development sessions designed to help develop essential workplace skills, enhance understanding of city processes and hone leadership ability. Fellows travel outside of San Francisco to increase their understanding of the larger context of their work. They work together on small group-consulting projects for various city departments.
Internships and on-campus employment are excellent for accumulating work experience, developing your narrative, and broadening your network. Note that the list below is not comprehensive. Check sites such as vault.com and internships.com for more opportunities.
To see what Consulting internships Whitman students have held in the past, check out the Whitman Internship Database and search "Consulting" or Business".
Studying away from campus is a fantastic way to learn more about the world, as well as an excellent experience upon which you'll draw throughout your academic and professional career. For more information, contact Off-Campus Studies in Memorial.
CIEE: Taipei Communication, Business, and Political Economy
Through the CIEE: Taipei Communications, Business, and Political Economy program, based at National Chengchi University in Taipei, students can study Chinese language intensively while taking classes in English with Taiwanese students at the University. The program includes excursions to temples, mountains, tea plantations, and museums. There are also opportunities for students to volunteer with Taiwan's many NGOs and NPOs.

IES: Beijing, Contemporary China, & Chinese Language
The IES: Beijing, Contemporary China, and Chinese Language program allows students to enroll in history, economics, Chinese culture, and language classes. Each courses on this program is supplemented by field trips directly related to the coursework. Students participate in three intensive, 300-level area studies courses taught one-at-a-time, called "blocks". There are daily seminars and discussions of 2-3 hours, along with journaling, presentations, and other challenging assignments that provide an intellectually exciting and in depth engagement with China.

CIEE Shanghai - China in a Global Context
Through the Council on International Education Exchange (CIEE) students can study in Shanghai, China. The China in a Global Context program is designed to help students gain a deeper understanding of China as it emerges to take a more influential role in world affairs. Students on this program study Mandarin Chinese at their level and take other English taught courses in a variety of subjects.
Here are some possible post-graduate degrees pursued by people in management consulting. Contact the SEC for additional information.
Master's Degree in Business Administration
Other Resources
Guide to the GMAT - This guide from Online MBA provides many useful resources for anyone interested in taking the GMAT.
GMAT Test Questions - Provides information on the quantitative, verbal, and analytical portions of the GMAT.
Business School Comparison - A site that compares business schools based on various criteria.
Potential Job Titles
Change Management Consultant
Cost Management Consultant
Environmental Consultant
Human Resources Consultant
Information Systems Consultant
Program Manager
Recruiting Consultant
Risk Management Consultant