What Can I Do With My Degree?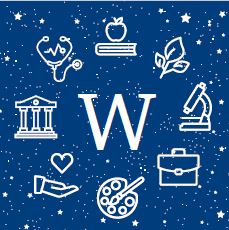 The Career and Community Engagement Center created this site to help you discover career possibilities and the activities at Whitman and in Walla Walla that you can pursue to explore those fields. We encourage you to contact the Center for additional assistance and to make use of the feedback box below to help us improve this resource.
Career Paths
Whitties often embrace non-linear paths from their major to their profession. In fact, many students study a subject they love at Whitman and then pursue a career in an entirely different field. Click on the diagram to the right to learn more about the paths of recent graduates.
Career Modes
While this tool includes more than 30 career fields, it certainly isn't exhaustive. Below are three modes that cross many disciplines.
International
If you'd like to learn more about working in other countries after graduation, contact the office of Fellowships and Grants or look for workshops hosted by the Off-Campus Studies office. To get a taste of living and working abroad during your time at Whitman, you could also apply for an international Whitman Internship Grant.
Research
From libraries and planetariums to chemistry labs and field work, research happens everywhere. The Perry Grant and Abshire Grant provide opportunities to do research at Whitman while the Whitman Internship Grant and federally funded programs can fund off-campus opportunities. Contact the Office of the Provost for more information.
Activism
Students can participate in activism by volunteering with local organizations or by joining virtually any club on campus, especially those that foster awareness and advocate for specific issues.
---
The Career and Community Engagement Center
The Career and Community Engagement Center connects Whitman students and alumni to the communities and experiences that help them cultivate their futures. From volunteering in a local soup kitchen to interning with a congressional office and connecting with alumni and recruiters from all over the country, we support students as they find experiences that complement their liberal arts education.
The icons in the logo were created by Laymik, Ralf Schmitzer, Firman Suci Ananda, Rogue One, icon 54, Juraj Sedlak, and Icon Fair, who are all artists participating in The Noun Project.
---
Feedback
Suggestions? Let us know.