October 2011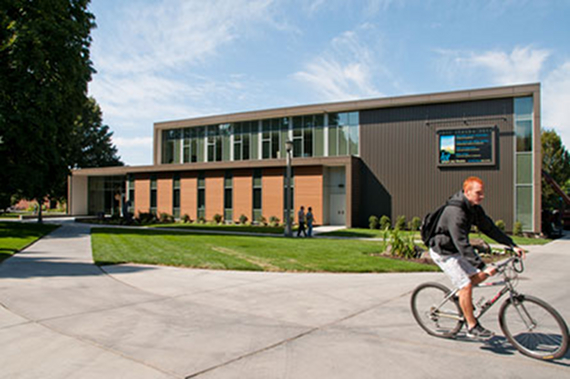 Inside the newly renovated Harper Joy Theatre.
Welcome to the November edition of the Whitman E-Newsletter! In this issue, you will find:
Admission Officers are touching down in cities and towns all over the country to attend college fairs, visit high schools, and conduct interviews. We want to meet you! Look here to see where we'll be and sign up for an interview. And did you know you can like Whitman Admission on Facebook, follow WhitmanAdmit on Twitter, and read blogs by current students and Admission Officers? Current students are waiting to answer your questions on Facebook and Twitter; don't be shy.
The second Fall Visitors' Day on November 11 will be here before you know it. This preview day is a wonderful opportunity for prospective students and their families to come explore every aspect of the Whitman experience. Have your intellectual curiosity piqued by Whitman faculty while learning about innovative experiential learning programs, meet brilliant but humble Whitties over lunch, and sample our engaging community at events focused on everything from the world-class Outdoor Program to the extensive community service opportunities in Walla Walla. RSVP today! And don't worry if you can't make it; you can go online and schedule a visit to campus anytime here.
If you know Whitman is your top choice and want to be done with your college search months early, consider applying Early Decision to Whitman. Imagine a final spring semester of high school free of college-related worry! Deadlines are November 15 and January 1, and you'll hear from us within a month. Read all about ED and decide if it could be the right choice for you.
Students involved in Whitman's top-ranked theatre program are ecstatic about the on-time completion of the $7.4 million renovation of Harper Joy Theatre. The new facility boasts some of the most technologically advanced sound and light equipment available, expanded costume and set design shops, and a host of new, state-of-the-art classrooms. The new season opened on September 24 with the Instant Play Festival, during which teams of students wrote, rehearsed, and performed fourteen plays in 48 hours after completing a three-week series of writing workshops with visiting professional playwrights. This was the first of 8 major (and countless minor) shows the Theatre Department will produce this year.
Professor of English Katrina Robert's latest critically acclaimed book of poetry, Underdog, has been nominated for a Pulitzer Prize in poetry and other accolades, including the National Book Award for Poetry and the American Book Award. Visit her website and read about her work with Whitman students as inspiration for Underdog here. This fall Katrina is teaching Introduction to Creative Writing, Intermediate Creative Writing-Poetry, and a Special Topics Creative Writing course called "For Your Eyes Only."
Sam Schonfeld '12 and Becky Nevin '13 traveled to the Kitt Peak National Observatory in Arizona with Assistant Professor of Astronomy Nathaniel Paust the first week of classes to study globular clusters. Their research will become a part of their senior thesis projects and if all goes according to plan, eventually be published in a peer-reviewed professional journal. Research partnerships and trips like this are commonplace at Whitman, and Paust is making plans for students to accompany him to Chile this spring.
Men's Tennis cleaned up this week at the ITA regionals on their home court, winning both first and second place in both the singles and doubles tournaments. Women's Cross Country took second at the Sundodger Invitational last week in Seattle and moved to No. 4 in the Western Region rankings and into the top 35 nationally. Follow all of Whitman's fourteen varsity athletic programs right here.
Juan Melendez spoke to the Whitman community about the 18 years he spent on Florida's death row and his views regarding the death penalty on Tuesday, October 4. He was released in 2002, the 99th death row inmate to be freed after wrongful conviction in America. The entire fall calendar is full of talented and thought-provoking visiting lecturers, artists, and concerts. Check out the entire lineup and imagine all that extra intellectual edification.