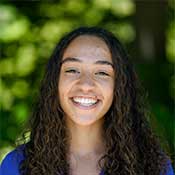 Lily Painter
Assistant Director of Admission
345 Boyer Avenue

509-527-5176
Hometown: Trout Lake, WA
Education: B.A. Willamette University, English Literature/Language and Spanish
What I love about Whitman: I love the commitment to learning and making a difference. The willingness to ask big questions and listen to other people is something that makes the community very welcoming.
Why I enjoy working in Admission: I'm a people lover, so I enjoy getting to talk with new folks from all over and being a friendly face to those who are looking to attend college or simply looking to know if it's the place for them. I want to share my love of the liberal arts experience with others and help make it accessible to anyone.
Favorite Activities in Walla Walla: I love trivia nights and all the live music that Walla Walla has! The warm summer nights also are great for hanging out with friends and enjoying the sunsets.
My Favorite Place on Campus: The outdoor spaces on campus are beautiful and offer great places to sit and relax, especially the amphitheatre and the many little benches tucked next to the water.
Fun Fact(s) About Me: I graduated high school with only 11 other students, 6 of whom I started with in Kindergarten; they're practically family at this point. I love hiking and all things water so I made it my goal last summer to jump into each alpine lake I reached.