Project website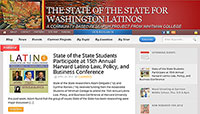 walatinos.org
The State of the State for Washington Latinos is a community-based research project at Whitman College. Led by Professor Paul Apostolidis, Judge T. Paul Chair of Political Science, the project is taught as a politics course and combines intensive research with public outreach to propel students far beyond the classroom.
Since its inception in 2005, State of the State has offered Whitman students the opportunity to conduct cutting-edge research, present their findings to a national audience, and even testify before the legislature. Students involved with the project strive to identify, analyze and address social and political inequalities by bringing research findings and recommendations to the attention of policy makers, organization leaders and the public.
Recent research topics have included voting rights, the representation gap, immigration legislation, poverty, cultural competency and dual-language immersion in local public schools.