Global Studies Initiative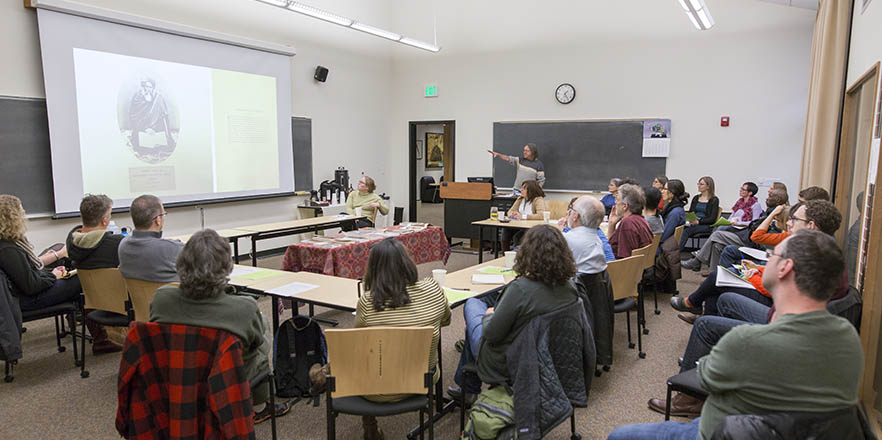 Global Studies Programming
The Global Studies Initiative is a curricular development program that seeks to cultivate a globally-engaged intellectual community and to prepare Whitman graduates for an increasingly complex and globalized world. A signature program of the college targeted in the recent capital campaign, the program was originally launched in 2008 with a Mellon Grant that stated:
"We firmly believe that globalization's many challenges and paradoxes must be a vital component of a liberal arts education. We can greatly accelerate our students' journey toward productive and imaginative lives in a global world by helping to instill global awareness during their formative years at Whitman College. This cannot be done simply by adding a new course here or there, or even a new major. Global awareness must be infused throughout the curriculum and co-curriculum."
The Global Studies Initiative is situated at the center of this mission to foster global citizenship among our students and produce graduates who are familiar with problems that traverse national, ethnic, and political borders and have the skills to critically analyze and creatively respond to these problems. To this end, we provide an opportunity for faculty to enhance and invent new curricula that help students develop skills at Whitman College that they will carry into the world after graduation. Since 2008, many Whitman students have taken interdisciplinary courses created through the initiative, but hundreds more have been impacted by the courses that faculty have retooled through the process of taking GSI workshops and seminars.
The Global Studies Initiative has four components supervised by the Director of Global Studies and the Global Studies Steering Committee:
The Global Studies Seminar
Every fall semester from 2008 to 2015, faculty members from departments all across the college participated in Global Studies Seminars to study different topics and approaches to global studies. The goal of the seminar is to produce new cross-disciplinary, team-taught Global Studies courses. The Global Studies Seminar will not be in session Fall 2016. Read more about the goals of the seminar here.
Sample syllabi from past faculty seminars are available here.
To date the program has designed the following eight courses, with more on the horizon.
Whitman College Global Studies Courses
"Raw Geographies" Michelle Acuff (Art) and Aaron Bobrow Strain (Politics)
"Violent Subjects" Bruce Magnusson (Politics) and Zahi Zalloua (Foreign Languages-French)
"Reading India" Shampa Biswas (Politics) and Gaurav Majumdar (English)
"Art & Architecture of Empire," Jeanne Morefield (Politics) and Matt Reynolds (Art & Visual Culture Studies)
"Global Public Health," Leena Knight (Biology) and Susanne Beechey (Politics)
"Global Childhoods," Michelle Janning (Sociology) and Erin Pahlke (Psychology)
"Theories of Work," Paul Apostolidis (Politics) and Jen Cohen (Economics)
"Discourses of Dictatorship" Julie Charlip (History) and Janis Breckenridge (Spanish)
"Questions of Colonialism and De-Imperialization in East Asia" Yuki Shigeto (Foreign Languages and Literatures) and Brian Dott (History)
"Mediating Religions" Lauren Osborne (Religion) and Tarik Elseewi (Film and Media Studies)
The Global Studies Summer Workshop
These workshops build on the intellectual leadership developed in the faculty development seminars, expanding opportunities for personal and curricular development to approximately ten additional faculty per year. The workshops provide these faculty the opportunity to recontextualize and enhance their academic work by engaging global issues. The syllabi for these intensive week-long summer workshops are developed by participants in the fall seminars, and four seminar participants lead the workshops. The goal of these workshops is to infuse global awareness into a wide variety of courses across the curriculum, and to create the intellectual momentum for a sustainable global curriculum and campus. The workshop is typically held for one week at the end of the Spring Semester.
A sample summer workshop program can be found here.
Teaching Global Studies Workshops
Teaching Global Studies Workshops were launched in Spring 2015 beginning with the "Global Studies Unveiled" event that offered a sneak preview of the Adnan Charara Photography collection featured in the Sheehan Gallery's "Scenes & Types" exhibition Spring 2016. In Fall 2015, "The Adnan Charara Collection in Your Classroom" workshop offered three presentations and lesson plans (including a faculty listserv with resource material) to those who intend to use the photographs in their teaching in Spring 2016. Teaching Global Studies workshops support faculty and by extension students with preparatory programs to link Global Studies programming to the Whitman classroom.
The Global Studies Symposium
The annual Global Studies Symposium is a culminating event in February in which students, faculty, and accomplished visiting scholars engage in cross-disciplinary, global conversations on pressing global topics. These symposia have resulted in several published volumes, most with the University of Washington Press.
The publication Spectacle, edited by Bruce Magnusson and Zahi Zalloua, which recently came out, developed from the 2011 symposium "Global Media, Global Spectacles," and can be purchased here.
Our most recent publication, Scenes & Types, is the published proceedings from the 2016 Global Studies Symposium on "Human Zoos" and accompanying
Sheehan Gallery exhibition Scenes & Types: Photography from the Collection of Adnan Charara. The volume features essays andshort responses by Whitman faculty, students, and staff alongside high quality reproductions of Charara's photography collection and original prints. Edited by Elyse Semerdjian and Elizabeth Miller, Scenes & Types can be purchased in the Whitman College bookstore.
O'Donnell Visiting Educator Endowment
The Ashton J. and Virginia Graham O'Donnell endowment brings renowned speakers with international experience and expertise to the Whitman campus under the umbrella of the Global Studies Initiative. The visiting educator program allows faculty to invite global practitioners to enhance our curricular offerings with workshops, presentations, and classroom visits.