Global Studies Symposium 2011-2012
Read more about the 2011-2012 Symposium here.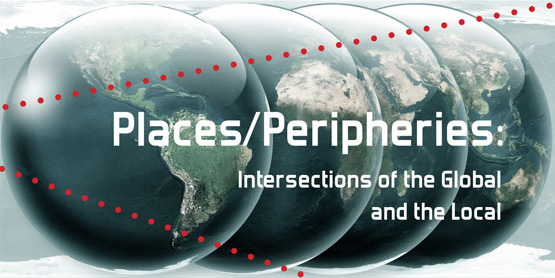 Where: Maxey Auditorium
When: Saturday, February 25, 1:00 PM
Details: The 4th Annual Whitman College Global Studies Symposium focuses on the topic of "Places/Peripheries: Intersections of the Global and the Local." Speakers include:
Simon Gikandi, addressing "Global Places and Fugitive Spaces: Refugees in the City"

Himadeep Muppidi, addressing "Who Dances the Region? Subaltern Struggles, Global Politics"

Carolyn Nordstrom, addressing "Neither Here Nor There (Global Warlords & Bots Without Borders)"
A select group of Whitman faculty and students will publicly comment on these presentations, followed by a questions and comments from the audience.
Simon Gikandi "is Robert Schirmer Professor of English at Princeton University and editor of PMLA, the official journal of the Modern Languages Association (MLA). He was born in Kenya and graduated with a B.A [First Class Honors] in Literature from the University of Nairobi. He was a British Council Scholar at the University of Edinburgh
in Scotland from which he graduated with a M.Litt. in English Studies. He has a Ph.D in English from Northwestern University. His major Fields of Research and Teaching are the Anglophone Literatures and Cultures of Africa, India, the Caribbean, and Postcolonial Britain, the "Black" Atlantic and the African Diaspora. He is also interested in the encounter between European and African languages in the modern period, literature and human rights, and writing and cultural politics. He is the author of many books and articles including Writing in Limbo: Modernism and Caribbean Literature, Maps of Englishness: Writing Identity in the Culture of Colonialism, and Ngugi wa Thiong'o, which was a Choice Outstanding Academic Publication for 2004, and co-author of The Columbia Guide to East African Literature in English Since 1945. He is the co-editor of The Cambridge History of African and Caribbean Literature and the editor of the Routledge Encyclopedia of African Literature. His latest book is The Aura of Blackness: Slavery and the Culture of Taste (Princeton University Press, Spring 2011). He is currently working on This Thing Called English: The Colonized and their Books and Modernism and Early Postcolonial Style and editing vol. 11 of The Oxford History of the Novel in English: The Novel in Africa and the Atlantic World." (http://english.princeton.edu/index.php?option=com_faculty&Itemid=28&func=fullview&facultyid=14)
Himadeep Muppidi is Associate Professor of Political Science at Vassar College and serves on the steering committees of the programs in International Studies and Asian Studies. His research and teaching interests are in the areas of globalization, critical international relations, South Asian politics and postcolonial theory. He is the author of The Politics of the Global (University of Minnesota Press, 2004) and is currently completing his second book titled, Telangana: The Global Politics of a Local Struggle. Recent publications include: "Shame and Rage: International Relations and the World School of Colonialism," in Robin Riley and Naeem Inayatullah (eds.), Interrogating Imperialism: Conversations on Gender, Race and War, Palgrave (expected 2006); "Colonial and Postcolonial Global Governance," in Michael Barnett and Raymond Duvall (eds.), Power in Global Governance, Cambridge University Press (2005); "Diasporas Before and After the Nation: Displacing the Modern," Interventions: An International Journal of Postcolonial Studies Vol. 5(1), 45-57, 2003. Co-authored with Christopher Chekuri; "State Identity and Interstate Practices: The Limits to Democratic Peace in South Asia," in Tarak Barkawi and Mark Laffey (eds.) Democracy, Liberalism and War: Rethinking the Democratic Peace Debate, Lynne Rienner, 2001; "Postcoloniality and the Production of International Insecurity: The Persistent Puzzle of U.S.-Indian Relations," in Jutta Weldes, Mark Laffey, Hugh Gusterson and Raymond Duvall (eds.) Cultures of Insecurity: States, Communities and the Production of Danger, University of Minnesota Press, 1999. (http://politicalscience.vassar.edu/bios/himuppidi.html)
Carolyn Nordstrom, Professor of Anthropology, Notre Dame University "is the 2011 recipient of the Reinhold Niebuhr Award, honoring a person whose life and writings promote or exemplify the area of social justice. A member of the faculty since 1997, she studies wars, the illegal drug trade, gender relationships and war profiteering. Her research has made her an eyewitness and scholar of worldwide urban and rural battlefields, as well as of the shadowy worlds of diamond, drug and arms smuggling. A recent reviewer of her work noted that, 'She is the best fieldworker in anthropology, bar none…and has pioneered new field sites and new forms of ethnography, as well as presented a new framework for viewing economics and economic power'" (http://anthropology.nd.edu/news-events/). She is author of dozens of articles and books that include Global Outlaws: Crime, Money, and Power in the Contemporary World (2007), Shadows of War: Violence, Power, and International Profiteering in the 21st Century (2004), A Different Kind of War Story (1997), Fieldwork Under Fire: Contemporary
Studies of Violence and Survival (2000).
Whitman faculty commentators include: Nicole Simek (French); Lynn Sharp (History); Moderator -- Matt Reynolds (Art History and Visual Culture).

Student commentators include: Daria Reaven '12 (Politics); Hannah Johnson '12 (Race and Ethnic Studies); Hari Raghavan '13 (Rhetoric and Film Studies).
The annual Global Studies Symposium is designed to examine and explore at great length and depth issues of global significance in an interdisciplinary way with renowned experts on the subject, faculty and student panelists, and input from an audience that includes the general public. Last year's topic was "Contagion."
Read more about Whitman's Global Studies Initiative here.
For more information, contact Bruce Magnusson, associate professor of politics and director of the Global Studies Initiative at magnusba@whitman.edu or (509) 527-4939.