Global Studies Symposium 2009-2010
Whitman College's second annual Global Studies symposium, built around the theme of "Contagion," brought together an interdisciplinary panel of experts for an exploration of disease emergence that also included Whitman professors and students. "It could not have been better," said Priscilla Wald recently, a symposium speaker and Duke University professor.
"I was deeply impressed by every aspect … I thought both the student and faculty respondents offered exceptionally intelligent, well prepared and provocative responses," said Wald, a professor of English and women's studies and the author of "Contagious: Cultures, Carriers and the Outbreak Narrative."
Watch the symposium video on Youtube or read more about it here.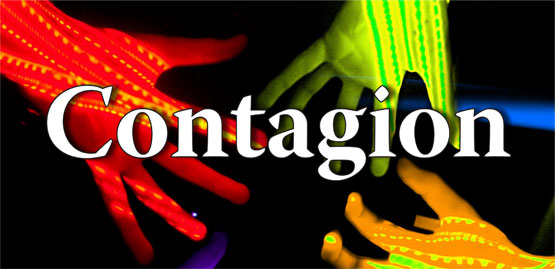 Where: Maxey Auditorium (Off Boyer at Otis)
When: Saturday, Feb. 27, 2010 – 1-4 p.m.
Details: The 2nd Annual Whitman College Global Studies Symposium focuses on the topic of "Contagion." Speakers include:
Andrew Lakoff, addressing Epidemic Intelligence: The Genealogy of Global Health Security
Priscilla Wald, addressing From Microbes to Monsters in the Outbreak
Stephen Morse, addressing Bio Terror: The Globalization of Infectious Diseases
A select group of Whitman faculty and students will publicly comment on these presentations, followed by a questions and comments from the audience.
Andrew Lakoff is associate professor of anthropology, communication and sociology at the University of Southern California. His main areas of interest include science and technology studies, biomedicine, social theory, and globalization processes. Dr. Lakoff's first book, Pharmaceutical Reason: Knowledge and Value in Global Psychiatry (Cambridge, 2005), examines the role of the global circulation of pharmaceuticals in the spread of biological models of human behavior; it is based on research conducted in Argentina, France and the United States. He has also co-edited a book titled Global Pharmaceuticals: Ethics, Markets, Practice (Duke, 2006), and has published articles on visual technology and the behavioral sciences, on the history of attention deficit disorder, and on the placebo effect. Dr. Lakoff's current research concerns global health and biosecurity, and his most recent book publication is the co-edited volume, Biosecurity Interventions: Global Health and Security in Question (Columbia University Press, 2008).
Stephen S. Morse is professor of clinical epidemiology, and was founding director of the Center for Public Health Preparedness, at Columbia University's Mailman School of Public Health. In 1996-2000, he was Program Manager for Biodefense at the federal Defense Advanced Research Projects Agency (DARPA), where his portfolio included co-directing the "Pathogen Countermeasures" program, and directing the "Advanced Diagnostics" program. He chaired the 1989 National Institutes of Health (NIH) Conference on Emerging Viruses, for which he originated the concept of "emerging viruses/emerging infectious diseases", and was a member of the "Committee on Emerging Microbial Threats to Health" (1990-1992) at the Institute of Medicine of the National Academies of Sciences (IOM). Dr. Morse was founding Chair of ProMED (the international Program to Monitor Emerging Diseases) and of its international e-mail listserv, "ProMED-mail", as well as a founding Section Editor of the CDC journal "Emerging Infectious Diseases." He is a fellow of the American Academy of Microbiology, the American College of Epidemiology, the New York Academy of Sciences, and the New York Academy of Medicine, as well as an elected life member of the Council on Foreign Relations. "American Scientist" selected his book Emerging Viruses (Oxford University Press, 1993) for its list of "The Top 100 Science Books of the Century". His research interests include the epidemiology, surveillance and pathogenesis of emerging infectious diseases, including pandemic influenza, and global health.
Priscilla Wald is professor of English and women's studies at Duke University. She teaches and works on U.S. literature and culture, particularly literature of the late-18th to mid-20th centuries. Her current work focuses on the intersections among the law, literature, science and medicine. Dr. Wald's book, Contagious: Cultures, Carriers, and the Outbreak Narrative (Duke University Press, 2008), considers the intersection of medicine and myth in the idea of contagion and the evolution of the contemporary stories we tell about the global health problem of "emerging infections". She is currently at work on a book-length study of the impact of genomics on current thinking about categories of social, biological and political belonging and on the narrative of human history. Dr. Wald is also the author of Constituting Americans: Cultural Anxiety and Narrative Form (Duke University Press, 1995), the editor of American Literature as well as on the Editorial Boards of ESQ and Literature and Medicine, co- editor of a book series on nineteenth-century American Literature at NYU Press, and Chair of the Faculty Board of Duke University Press. She is on the steering committees of the Institute for Global Health and ISIS (Information Sciences + Information Studies), and the curriculum committees for certificates in Global Health and the Institute for Genome Sciences and Policy, and is an affiliate of the Trent Center for Bioethics and Medical Humanities.
The annual Global Studies Symposium is designed to examine and explore at great length and depth issues of global significance in an interdisciplinary way with renowned experts on the subject, faculty and student panelists, and input from an audience that includes the general public. Last year's topic was torture.
Read more about Whitman's Global Studies Initiative here.
For more information, contact Shampa Biswas (509) 527-5895 or Susan Bennett (509) 527-5399.