Timothy Kaufman-Osborn, Baker Ferguson Professor of Politics and Leadership Emeritus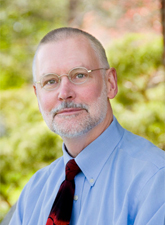 Office: Maxey Hall 222, 509-524-2085, kaufmatv@whitman.edu
Education: Ph.D., Princeton University, Politics, 1982, M.A., Princeton University, Politics, 1980, M.A. University of Wisconsin-Madison, Political Science, 1977, B.A., Oberlin College, Politics, 1976
Major Interests: Political Theory (contemporary Continental and American political and social theory, especially liberalism, pragmatism, feminism, technology and politics); the Politics of Law (especially civil liberties, constitutional interpretation, and capital punishment); and The Politics of Higher Education (especially neoliberalism and the contemporary academy; shared governance; and academic freedom).
Professor Kaufman-Osborn is the author of numerous articles and several books on topics including torture and the death penalty (From Noose to Needle: Capital Punishment and the Late Liberal State); feminist theory (Creatures of Prometheus: Gender and the Politics of Technology); the political theory of pragmatism (Politics/Sense/Experience: A Pragmatic Inquiry into the Promise of Democracy); the discipline of political science; and others. At Whitman College, in addition to serving as department chair, chair of the division of social sciences, and chair of the faculty, he recently completed an appointment as provost and dean of the faculty. His professional work has included service as president of the American Civil Liberties Union of Washington, president of the Western Political Science Association, and a member of the executive councils of the American Political Science Association as well as the Pacific Northwest Political Science Association. He is currently a member of the editorial boards of The American Political Science Review as well as Perspectives on Politics and has also served on the editorial boards of Gender and Politics as well as Political Research Quarterly.
Professor Kaufman-Osborn's curriculum vitae is available here.