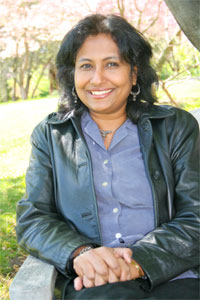 Paul Garrett Professor of Political Science and Politics Department Chair
Education: Ph.D., Political Science, University of Minnesota, 1999, M.A., International Relations, Maxwell School of Citizenship, Syracuse University, 1990, M.A., Economics, Dehli School of Economics, University of Dehli, 1988, B.A., Economics, St. Stephen's College, University of Dehli, 1986
Major Interests: International Political Economy; International Development; Theories of Nationalism; postcolonial Theory; Gender and International Relations; South Asian Politics
Courses:
International Politics (Pol 147)
International Political Economy (Pol 179)
The Politics of Globalization (Pol 232)
Global Security (Pol 320)
The Politics of International Hierarchy (Pol 331)
International Political Theory (Pol 347)
Gender and International Hierarchy (Pol 359)
Major Publications:
Nuclear Desire: Power and the Postcolonial Nuclear Order. Minneapolis, University of Minnesota Press, 2014.
"Postcolonialism" in International Relations Theories: Discipline and Diversity. Oxford: Oxford University Press, 4th edition, 2015.
"Postcolonial Security Studies" in Laura J. Shepherd (ed.), Critical Approaches to Security: Theories and Methods. Routledge Press., 2012.
Torture: Power, Democracy, and the Human Body, Co-edited with Zahi Zalloua. Seattle: University of Washington Press, in association with Whitman College, 2011.
"Aid Effectiveness, Transaction Costs and Conditionality", Co-authored (with Richard Ashford),International Journal of Educational Development, Volume 30, Issue 5, 2010.
Margins, Peripheries and Excluded Bodies: International Relations and States of Exception. Co-edited (with Sheila Nair), London: Routledge Press, 2009.
"Empire and Global Public Intellectuals: Reading Edward Said as an International Relations Theorist," Millenium: Journal of International Studies, Vol. 36, Issue 1, January 2007.
"Patriotism in the Peace Movement: The Limits of Nationalist Resistance to Global Imperialism." in Naeem Inayatullah and Robin Riley (ed.), Interrogating Imperialism: Conversations on Gender, Race and War. New York: Palgrave McMillan, 2006.
"Globalization and the Nation Beyond: The Indian-American Diaspora and the Rethinking of Territory, Citizenship and Democracy", New Political Science, Vol 27, No. 1, March 2005.
"To be Modern, but in the 'Indian' Way: Hindu Nationalism", forthcoming in Robert Denemark and Maryann Tetreault (ed.), Gods, Guns, and Globalization: Religious Radicalism and International Political Economy (International Political Economy Yearbook, Vol 13), Boulder: Lynne Rienner, 2004.
"W(h)ither the Nation State? National and State Identity in the Face of Fragmentation and Globalization", Global Society, Volume 16, No. 2, April 2002.
"Deconstructing the 'New Cold War': Religious Nationalisms, Orientalism and Postcoloniality". Chapter in Geeta Chowdhury and Sheila Nair (ed.) book titled Power in a Postcolonial World: Race, Gender and Class in International Relations. Routledge Press, 2002.
"'Nuclear Apartheid' Race as a Postcolonial Resource?" Article forthcoming in a special issue on Race and International Relations in Alternatives, Vol. 26, No. 4, Oct.-Dec. 2001.