Aaron Bobrow-Strain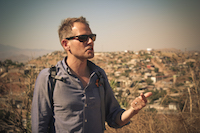 Professor of Politics
Office: Maxey 130
Email: straina@whitman.edu
Aaron Bobrow-Strain writes and teaches about food politics, immigration, political economy, and the U.S-Mexico border.
His first book, Intimate Enemies: Landowners, Power, and Violence in Chiapas (Duke University 2007) grew out of sixteen months of interviews with powerful coffee planters, pistoleros, and the peasant groups that fought against them in southern Mexico (read more about Intimate Enemies here).
His second book, White Bread: A Social History of the Store-Bought Loaf (Beacon 2012), explores the all-American desire to change the world by changing what people eat. It does this by tracing the bizarre and entertaining story of 150 years of battles over the country's most basic staple food--white bread (read more about White Bread here).
Learn more about his most recent book, The Death and Life of Aida Hernandez.

Along with academic journals in the U.S. and Mexico, his writing on has appeared in The Believer, The Chronicle of Higher Education Review, Salon, Gastronomica, and The Huffington Post. He's appeared on numerous national and regional NPR radio programs, and been interviewed for stories in The New York Times, The Boston Globe, Foxnews.com, Süddeutsche Zeitung Magazin, and other media. Listen to extended interviews with me on 99% Invisible, Against the Grain, PRI's To the Best of Our Knowledge, The BBC's Food Chain program, or Slate's Table to Farm Podcast.
He has an MA in Latin American Studies from Stanford University and a Ph.D. in Geography from the University of California, Berkeley.He's received grants and fellowships from the National Science Foundation and Social Science Research Council and won teaching prizes from UC Berkeley and Whitman College.
CONTACT INFO | CURRICULUM VITAE | WHITE BREAD BOOK | INTIMATE ENEMIES BOOK | SHORT READS