Associate Professor of Art
Fouts Center for Visual Arts 217
Biography
Employing both traditional and non-traditional methods of printmaking, Nicole Pietrantoni's artwork explores the complex relationship between human beings and nature via installations, works on paper, and public art. She is the recipient of numerous artist residencies and awards including a Fulbright to Iceland, a Leifur Eiríksson Foundation Grant, the Margaret Stonewall Wooldridge Hamblet Award, the Elizabeth Catlett Fellowship, and a public art commission from the University of Iowa Hospital. Along with exhibiting in solo and group exhibitions nationally and internationally, she frequently facilitates art workshops and special projects in the community. In addition to having served on the board of the Southern Graphics Council International, Nicole was the Director of the Visual Art, Craft, and Media Program at the Tennessee Arts Commission from 2003-2007, where she administered grants for artists and organizations and managed the state's public art program. Nicole received her MFA and MA in Printmaking from the University of Iowa (2010) and her BS in Human and Organizational Development and Art History from Vanderbilt University (2003).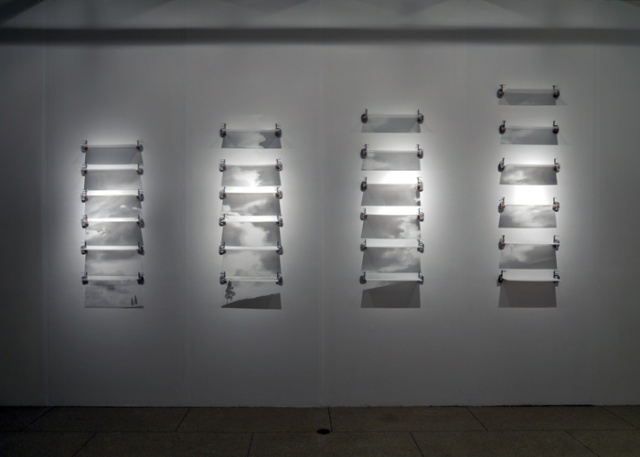 Fixing the sky
Cast shadows created by screen printed acrylic plates with c-clamps and laser cut paper.
2012, 10' x 18' x 7"