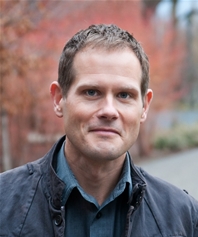 Associate Professor of Politics
Twenty years ago, I (a city kid from Chicago) accidentally found myself on a banana plantation in Ecuador, head over heels in love with the politics of food, agriculture, and rural development. My research, writing, and personal life have been wrapped up in those topics ever since. I've worked on a human-sustainable cattle ranch in southern Arizona, studied race and violence in the Mexican coffee industry, written on the history of U.S. food movements, had run-ins with the police over my backyard chickens, and, of course, baked a lot of bread.
My first book, Intimate Enemies: Landowners, Power, and Violence in Chiapas, grew out of sixteen months of interviews with powerful coffee planters, pistoleros, and the peasant groups that fought against them in southern Mexico.
My second book is White Bread: A Social History of the Store-Bought Loaf.
New Project! I'm going back to my roots in ethnographic research and the U.S.-Mexico border. Still in its early stages, this project explores the changing fabric of everyday life in Douglas, Arizona, during a time of rapidly escalating border enforcement. It is the story of a small town at the center of big debates about national security, immigration, and the plight of rural America. It asks: What can border town residents who have navigated the biggest law enforcement build up in U.S. history teach us about how we find true security in a dangerous world?
Along with academic journals in the U.S. and Mexico, my writing on has appeared in The Believer, The Chronicle of Higher Education Review, Salon, Gastronomica, and The Huffington Post. I've appeared on numerous national and regional NPR radio programs, and been interviewed for stories in The New York Times, The Boston Globe, Foxnews.com, Süddeutsche Zeitung Magazin, and other media.
I have an MA in Latin American Studies from Stanford University and a PhD in Geography from the University of California, Berkeley. I've received grants and fellowships from the National Science Foundation and Social Science Research Council and won teaching prizes from UC Berkeley and Whitman College.
My teaching includes courses on political economy, environmental politics, the global food system, and the U.S.-Mexico border. I coordinate a short-term summer field program on the U.S.-Mexico border, and have done collaborative teaching with Prof. Michelle Acuff (Studio Art) on the intersections of art, politics, and geography.