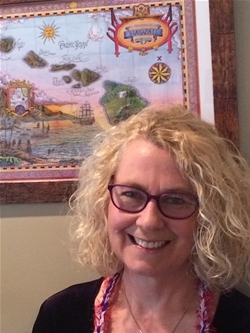 Gregory M. Cowan Professor of English Language & Literature; Professor of English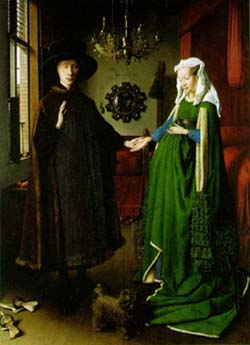 Van Eyck's painting of the Arnolfini wedding
Theresa DiPasquale graduated from the University of Notre Dame in 1983 with a B.A. in English. She earned her M.A. (1985) and Ph.D. (1989) in English from the University of Virginia. Before coming to Whitman in the Fall of 1998, she taught at Sweet Briar College, Carleton College, and Florida International University in North Miami, FL.
Her teaching and research interests include lyric poetry of every period, the culture and religion of the English Renaissance, 16th- and 17th-century English poets and dramatists (especially Sidney, Spenser, Shakespeare, Donne, Jonson, Lanyer, and Milton), early modern science and technology, and the cross-cultural reception of Shakespeare.
She has published in scholarly journals including Studies in the Novel, Philological Quarterly, Modern Philology, The Journal of English and Germanic Philology, the John Donne Journal, English Literary Renaissance, and Borrowers and Lenders: The Journal of Shakespeare and Appropriation. Her books Literature and Sacrament: The Sacred and the Secular in John Donne (Duquesne University Press, 1999) and Refiguring the Sacred Feminine: The Poems of John Donne, Aemilia Lanyer, and John Milton (Duquesne UP, 2008) were both honored with the John Donne Society Award for Distinguished Publication. Her recent work includes articles on the philosophy and technology of time in John Donne's poetry and sermons, on anti-court satire in Donne and Spenser, and on the reception of Shakespeare in 19th-century Hawai'i.
Please visit her web page at people.whitman.edu/~dipasqtm for more information on her teaching and research.