Paul Apostolidis
Professor and Judge & Mrs. Timothy A. Paul Endowed Chair of Political Science

Office: 127 Maxey Hall
Telephone: (509) 522-4426
Email: apostopc@whitman.edu
Curriculum Vitae: (updated January, 2017)
Research areas:
Migrant workers' experiences of labor, migration, and politicization (day laborers & worker centers; meatpacking workers' unions)
Neoliberalism and temporalities of work and everyday life
Biopolitics of border control and food-industrial systems
Race, power, and immigration
Methods of social research combining empirical field inquiries, critical theory, and political engagement
Christian Right media culture
Sex scandal discourses (race, masculinity, religion)
Feminist theory
Critical explorations of Gramsci, Foucault, Adorno, Freire, Butler, Young, Agamben, Connolly, and other theorists.
Additional Research Affiliation: Professorial Fellow, Institute for Social Justice, Australian Catholic University, Sydney, Australia.
Professional Leadership: Member of the Executive Editorial Committee for the journal Political Theory.
Teaching areas:
Community-based research: In 2005, I founded Whitman's nationally recognized community-based research program on The State of the State for Washington Latinos. In this program, which is running again in 2013-14, students conduct independent research in partnership with local and regional organizations and then bring their findings and recommendations to the public.
Politics of race and immigration
Latino politics
Critical theory and cultural studies
American political thought
Democratic theory
Religion and politics
I also have directed and have taught in Whitman's general studies program "Encounters: The First-Year Experience."
Current research: My book in progress, The Fight for Time: Migrant Day Laborers and Political Uprising under Neoliberalism, explores how the worker center movement challenges neoliberal temporalities through practices based in popular education for Latin American migrant day laborers. This study utilizes extensive interviews and participant observation at the CASA Latina (Seattle) and VOZ/Martin Luther King, Jr. worker centers (Portland, OR). The project puts critical theories of neoliberalism (by Harvey, Berardi, Weeks, Postone, Gorz, and others) in dialogue with the reflections of migrant day laborers, and with Freire's writings on popular education, to formulate a mode of political engagement capable of contesting the dominant features of time under neoliberalism.
Most recent book: Breaks in the Chain: What Immigrant Workers Can Teach America About Democracy, was published in Fall 2010 by the University of Minnesota Press. The book explores how immigrant workers' stories about their life experiences yield novel conceptions of racial and class domination and enable opposition to these power-formations. Breaks in the Chain employs concepts from Foucault and Gramsci to analyze interviews with Mexican immigrant meatpackers who waged struggles to democratize their union and workplace. I argue that through their narratives, everyday practices, and organizing efforts, immigrant workers facilitate neoliberal hegemony based on racial biopolitics but also generate opposition to this regime of power.
---Listen to a podcast of my lecture at City Club of Portland about 'The Politics of Immigration, Labor, and Food,' based on the book.
---See an interview about the book with Princeton Alumni Weekly and post your blog response.
Books: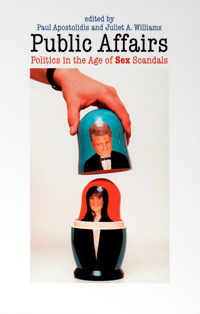 Public Affairs: Politics in the Age of Sex Scandals
Read our blog with feminist takes on sex scandals.

Breaks in the Chain: What Immigrant Workers Can Teach America about Democracy
Journal articles and published essays: My articles on critical social theory, immigrant workers, feminist theory, democratic theory, and the Christian Right have appeared or are forthcoming in Constellations, Theory & Event, Signs, Philosophy & Social Criticism, Contemporary Political Theory, Politics, Groups & Identities, The Journal of Political Power, Historical Reflections/Reflexiones Historique, Réseaux, and Political Research Quarterly. I also am a contributor to the edited volumes Feminist Interpretations of Theodor Adorno (ed. R. Heberle), Political Theory and Cultural Studies (ed. J. Dean), Animal/Human: Political Theory Interventions (ed. J. Grant and V. Jungkunz, forthcoming), Time and Violence: Defatalizing the Present (ed. A. Agathangelou, forthcoming), and The Radio Reader (ed. M. Hilmes and J. Loviglio).
Education:
Cornell University, Ph.D. (1996) in Government
Cornell University, M.A. (1993) in Government.
Princeton University, A.B. (1986) in Politics