2014 Abstract Mokuhanga Exhibit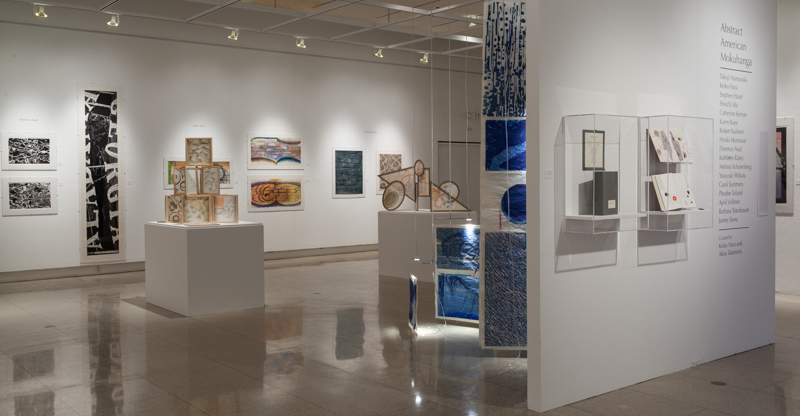 Abstract American Mokuhanga
Sheehan Gallery, Whitman College
February 19 - April 18, 2014
This exhibit was curated by Professor Akira Takemoto (Japanese Studies) and Professor of Art Emerita, Keiko Hara to explore the ways in which traditional Japanese woodblock print have influenced and inspired American abstract printmakers. The exhibit highlighted the work of seventeen American woodblock print artists who created new, different, and contemporary visual effects that mirrors and expands the Japanese mokuhanga and Ukiyo-e tradition. The exhibit included the work of the following artists: Takuji Hamanaka, Keiko Hara. Stephen Hazel, Shōichi Ida, Catherine Kerman, Karen Kunc, Robert Kushner, Hiroki Morinoue, Florence Neal, Kathleen Rabel, Mellesa Schulenberg, Yasuyuki Shibata, James Sienna, Carol Summer, Phoebe Toland, and April Vollmer.
The exhibition space included a room that presented traditional 18th century Ukiyoe Prints from collections in Walla Walla; a room that introduced the tradition of "Japanese Creative Printmaking" (sōsaku hanga); and a room that showcased the woodblock prints of Walla Walla artist, Laura Lee Robison Holmes who was profoundly influenced by Japanese sōsaku hanga. Throughout the gallery, there were displays of mokuhanga tools and a series of photos showing the mokuhanga process. The Olin East Asian Art Gallery and Lounge areas was also used to create a complementary exhibit of Japanese art from the Davis Collection where demonstrations of the art of serving tea (chanoyu) were presented.
The exhibit opened with a lecture by Karen Kunc (University of Nebraska-Lincoln) on Friday, February 21, 2014 (Olin 130 at 5:30 p.m.) and a workshop by Kunc on Saturday and Sunday, February 22-23; 2014; the exhibit also featured a special lecture and workshop by Hiroki Morinoue (Studio 7 Gallery, Holualoa, Hawaii) on Friday, April 4 to Sunday, April 6, 2014.
The exhibition and interpretive events at Whitman College was made possible by the support from the Sheehan Gallery, the Program in Asian Studies, the Program in Japanese Studies, the Department Art History and Visual Culture Studies, the Department of Studio Art and Printmaking, the Department of Foreign Languages and Literatures at Whitman College, and a special contribution by Whitman Class of 1988 alum, Mark Giordano.
Acknowledgements from the Curators
Professor Keiko Hara and I present this exhibit as a way for you to explore the ways in which traditional Japanese woodblock prints (mokuhanga) have influenced and inspired American abstract printmakers. Mokuhanga refers to the sumptuously colored and visually compelling woodblock print techniques that transformed Japanese art during the 18th and 19th centuries. The character for moku (木) literally means "wood"; han (版) refers to the process of printing or making impressions; and ga (画) or "picture" refers to the painting created by this woodblock print process. The term, therefore, refers to the technique that produced the now well-recognized Ukiyo-e ("pictures of the floating word") prints that flooded the streets of Edo (present day Tokyo) during the Tokugawa period (1603-1868). In fact, it was in 1765 that polychrome woodblock techniques allowed printmakers to move beyond single or two-colored prints and to experiment and produce rich and lavish multicolored prints that came to be known as nishiki-e (錦絵, literally, "brocade pictures"). These gorgeously crafted, colorful woodblock images celebrated the illicit, decadent, and suave lifestyles favored by merchants and townspeople in the Tokugawa period. By the late 19th century, after Japan's ports were open to American and European traders, these Ukiyo-e prints entranced and surprised European artists like Pissaro, Cassat, Gauguin, Degas, Van Gogh, and most famously, Toulouse Lautrec, who saw in the Ukiyo-e prints a style that surely led to the growth of Impressionism in Europe. Even today, Americans either know the word Ukiyo-e or they have seen that ubiquitously famous print showing a gigantic wave that overwhelms three small fishing boats while, in the distance, the snowy peak of Mt. Fuji rises unaware of this tsunami disaster. This print by Hokusai from the early 1830's along with the work of other Ukiyo-e artists quickly led to an interest in Japan and Japanese art. But the woodblock print technique itself never left Japan, and it remained the exclusive property of craftsmen employed by Japanese publishing companies. In fact, as Japan increasingly looked to the west to modernize and enlighten its society, Japan turned to western style lithography, etching, and silkscreen, which made it difficult for traditional Japanese master printers and carvers to make a living. After a hiatus during the first half of the 20th century, interest in mokuhanga as an intriguing technique for contemporary artists began to grow in the 1980's. In particular, Kathan Brown of Crown Point Press helped connect American artists with Japanese master printers like Toda Tadashi (1936-2000), who expressed an interest in working with non-Japanese contemporary artists. Between 1983 and 1988, Toda made prints with twenty-three Crown Point artists including Chuck Close, Helen Frankenthaler, Wayne Thiebaud, and Robert Kushner. More recently, American artists have learned, experimented with, and refined their mokuhanga skills, and they have used this process alone or in combination with other techniques to create challenging new prints that play with the possibilities of bringing together traditional techniques with new ways of thinking. Abstract American Mokuhanga serves as a way to illustrate this ongoing vitality by presenting the work of seventeen American woodblock print artists who have created different and contemporary visual effects that mirror and expand the Japanese mokuhanga and Ukiyo-e tradition. Despite its laborious and intricate nature, the work of these artists show how they have both mastered this method of printmaking and recognized a new platform for creating multiples. Though each print in this exhibition started by carving lines and patterns onto a woodblock surface, the prints on display clearly show how each artist's marks have transported him or her from familiar to unfamiliar places as they move beyond figurative icons and symbols to capturing intuitive, optical, and metaphysical expressions. We can almost sense the thrill that the artists feel in their individual journeys, and we can also note how they join a growing movement of artists from around the world who, in several international conferences and workshops, have exchanged ideas, exhibited work, and explored the ties that mokuhanga has with related crafts such as paper making and baren making. With another international conference scheduled in at the Tokyo University of the Arts (Tokyo Geidai) in 2014, mokuhanga continues to make its mark in the global art world, and we would like to consider this exhibit as a way develop a forum in Walla Walla and Whitman College for printmakers, artists, tool makers, art historians to gather again for future collaborative projects.
Finally, we would like to acknowledge contributions from the Whitman Class of 1988 alum, Mark Giordano, Whitman College's Asian Studies Program, the Department of Art History and Visual Cultural Studies, the Department of Studio Art and Printmaking, and the Department of Foreign Languages and Literatures for helping to make this exhibit possible. We certainly want to thank all of the artists who generously agreed to loan us their work for this exhibit, and we bow our heads with deep appreciation for the patience that Daniel Forbes, Director of the Sheehan Gallery and Kynde Kiefel, Exhibitions Manager, showered on us. In a world where people covet individual recognition, it is nice to collaborate with people like Daniel and Kynde and to trust their skills and sensibilities. Their efforts are visible in every corner of the gallery. We welcome you to enjoy the different spaces in the exhibit and join the collaboration.
Keiko Hara and Akira Takemoto