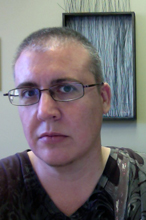 Director of the Sheehan Gallery and Adjunct Assistant Professor of Art
Daniel Forbes received his BA in Studio Art with an emphasis in sculpture and ceramics from Whitman College (Walla Walla, WA) in 1993 and a MFA in Studio Art with a focus on sculpture from Vermont College (Montpelier , VT) in 2007.
His sculptural works occupy many forms, ranging from ceramic and steel, to textiles and assemblage. Each body of work is different and Forbes maintains several different artistic styles. Forbes' commercial work is often described as light and whimsical and clearly reveals his attachment to and high regard for the animal other. His personal work, meanwhile, often follows darker veins and explores the complicated territories of gender, identity, psychology, ritual, fetishism, and the extraordinary body. His art has been displayed in the northwest in numerous solo and group shows in Washington, Oregon, Idaho, Nevada, and California. He has also exhibited in Colorado, Alaska, Maryland, and Connecticut.
Daniel Forbes currently resides and maintains his studio in Walla Walla, WA. In addition to his art, Forbes directs the Sheehan Gallery at Whitman College and teaches as an Adjunct Assistant Professor of Art. He is also an instructor at Walla Walla Community College.
off the deep end