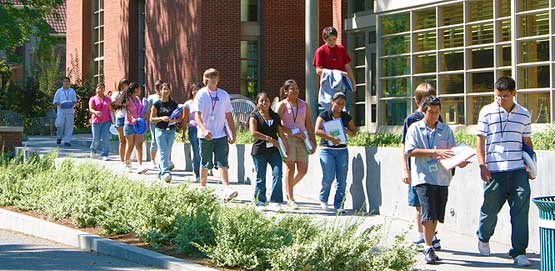 While at Whitman
Meet with one of Whitman's Pre-Education Advisors (Contact: Barbara Hoffman [hoffmabb], or Michelle Janning [janninmy]) (all Whitman emails are listed as [name] without "@whitman.edu")
Find out about current events and opportunities on campus related to education by joining the Education Listserv. Contact Michelle Janning, Professor of Sociology [janninmy] if you would like to be added.
Think about tutoring on campus through the Academic Resource Center. (Contact: Antonia Keithahn, Academic Resources Program Coordinator [keithaam, x5213])
Apply to work as a student aide (paid positions available) at our on-campus childcare center: The Kids Place. (Contact: kidsplacereggio@gmail.com).
Practice science pedagogy in local schools with Whitman's Science Outreach. (Contact: Heidi Chapin [chapinh])
Seek education-related job search help and internships through programs offered through the Student Engagement Center. (Contact: Susan Prudente, Outreach Coordinator [prudensk, x4429])
Seek local school-based opportunities (some paid) through community programs that support college readiness and learning improvement:

WISE Program (Contact: Sonja Aikens [aikenssl])
Walla Walla High School AVID Tutors (Advancement via Individual Determination) (Contact: SWeber at wwps.org, 526-8621)
Academic Lab (Contact: bkitamura at wwps.org)
WSU Gear Up (Contact: fsalinas at earlyoutreach.wsu.edu)
Consider summer opportunities in education-related placements:
Post-Graduation Teaching Opportunities
Graduate School and Careers in Education
State-by-State Certification Requirements:
Students who are interested in learning about the teaching certification requirements for a given state should Google "Teaching Credential [Enter State Here]" or follow these links:
Official Sites
Third-party sites
Curated Information for all 50 States - http://www.teacher.org - including...

Detailed information on what it takes to become a certified teacher
Career information and profiles for jobs within the field of education - including salary and job outlook
State by state certification/licensing information
State by state teacher shortage information
Expert advice via interviews
Information written by experienced and certified teachers, administrators, and teaching professionals

Link to state requirements, opportunities, and average salaries - http://teach.com/
National Opportunities
Public, Charter and Private Schools
STEM (Science, Technology, Engineering, and Math) focused opportunities:
Teaching Fellows: Different cities/states offer opportunities for recent college graduates to join their public school systems and gain experience while helping to raise student achievement.
Teacher Residency Programs: This is a method of recruiting and training teachers for hard-to-fill positions. Usually the programs give teaching residents a year of "on-the-job" training, similar to a medical residency so that they can hit the ground running when they become responsible for their own classrooms.
Austrian Teaching Assistants (USTA)
Fulbright US Student Program (English Teaching Assistantship - ETA): Grant lengths and dates vary by country.
JET (The Japan Exchange and Teaching Program)
Korean Teaching Assistants (TaLK)
Peace Corps: Peace Corps Volunteers currently work in 76 countries; approximately 43 percent of volunteers work in education.
Whitman in China: Only Whitman College alumni are eligible to apply.
WorldTeach: Fully and partially funded programs available for year-long and semester programs in American Samoa, Bangladesh, Chile, China, Colombia, Costa Rica, Ecuador, Guyana, India, the Marshall Islands, Micronesia, Namibia, Panama, Poland, Tanzania, Thailand, and South Africa.