The Class of 2014's Commencement ceremony was on Sunday, May 25. Julia Burrows '15 served as the Commencement Marshal. Sally Jewell, U.S. Secretary of the Interior, delivered the Commencement Address.
The Distinguished Teaching Award was given to Carol Howell of Raleigh Hills Elementary School in Portland, Oregon, who was nominated by Keiler Beers '14. Other honorees included:
Jeanne Marie Morefield

, recipient of the G. Thomas Edwards Award for Excellence in Teaching and Scholarship
Frederick G. Moore, recipient of the George Ball Award for Excellence in Advising

Susan Babilon

, recipient of the Thomas D. Howells Award for Distinguished Teaching in Humanities

S. Brooke Vick

, recipient of the Robert Y. Fluno Award for Distinguished Teaching in Social Sciences

Frank M. Dunnivant

, recipient of the A.E. Lane Award for Distinguished Science Teaching

Susanne N. Beechey

, recipient of the Suzanne L. Martin Award for Excellence in Mentoring
Robert Manning '80, chief engineer at NASA's Jet Propulsion Laboratory and Sally Jewell were both awarded honorary degrees.
2014 Baccalaureate Ceremony
The 2014 Baccalaureate Ceremony was hold on Saturday, May 24. Adam Kirtley, Stuart Coordinator of Religious and Spiritual Life, was the featured speaker.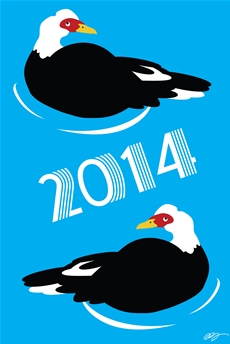 Molly Johanson '14 designed the class banner (above).