Aisha Fukushima and Justin Hayashi
By Aisha Fukushima'09 and Justin Hayashi '09
Baccalaureate speech, May 23, 2009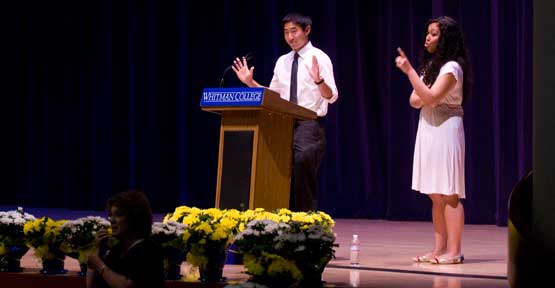 What can we offer the world, when it has given us so much?
The term "thank you" is not vibrant enough to express the profound appreciation we have for all of those who have touched our lives with their words, their presence and their actions.
When I visited an African American Baptist Church at the heart of one of Chicago's roughest neighborhoods to hear Maya Angelou speak, she proposed that we live with an "attitude of gratitude." This moment has informed and inspired this speech.
Justin
As an infant, a time I can't remember,
But I hear it was once upon a time in December,
My father held me in his arms, keeping me from harm,
And I the mischievous baby lost all of my charm,
As a baby I had no control over my body,
So when a baby needs to potty, well he's probably gonna potty,
So there I was with my dad in the store,
Then I suddenly went diarrhea all over the floor,
My father trying his best to get us out of this mess, started to stress, this new quest, looked hopeless,
But he did the unthinkable, he did the unspeakable,
What he did next was hardly believable, hardly conceivable.
This man, his plan, shazzam, HOT DAMN,
As he scooped up my excrement with his left hand,
As silly as this sounds, I am truly blessed to have somebody care enough about me,
To pick up my poop when no one else would around me,
To apologize for the mess I make when I can't speak for myself,
To carry me and my poop away from haters for the sake of my mental health,
And believe me holding my poop isn't the only thing my father did for me,
Although we've drifted apart, its one of many in our long history,
So my father has taken his actions to a new altitude,
And that's why I live with an attitude of gratitude,
Now,
These past four years have been so remarkable,
Many memories frozen in time through Facebook pictures and Pioneer articles,
And as our ships sail onward to our new destinations,
I say without hesitation, that our lives will continue on a path of escalation,
And it is my revelation that gratitude is the key to spiritual levitation,
I hope that we all do not take for granted, what we have been granted,
While many of us did not have everything handed, many of us are not empty-handed,
We leave here with a breadth of knowledge, so I pay homage,
To those who enriched my life here during college,
To those who fed my brain with academic nutrition,
To those who helped me pay my academic tuition,
45 thousand dollars a year?
Multiply that by four years?
That adds up to about 180,000 bucks,
Which is about 36,000 meals at a taco truck,
Which is about 22,000 hours of labor on minimum wage,
But whether its parents, scholarships, or financial aid,
Somebody's helped us get our finances paid,
So I live with an attitude of gratitude….
Aisha:
An attitude of gratitude.
Is…
To say thank you with our actions, not just our words,
To let go of the inhibitions and selfishness that constricts the wings of this, these metaphorical birds,
For the communities that have raised us,
For the trials and tribulations that have remade us,
For the support system that has guided and, at times, has saved us,
For the grandparents and ancestors, and the roads that they've paved us,
For the lessons learned and the mistakes that will reshape us.
This is for you.
For the selfless friends who would celebrate our triumphs and lend a hand when we fall,
Even for the haters hoping to see us self-destruct and begin to brawl,
This is for you.
For the professors who trained us to be lifelong learners, humbled by our task,
For the mentors who said if we needed help, all we had to do was ask,
For the loved ones who were there for the before, after and in between,
For the lovers who stuck with us, because we are part of a team,
For the people who believed in us, even when we forgot to believe in ourselves,
Helping us follow an intuition that paves the way of life's individualized trails,
This is for you.
Justin:
The ship of my life has been blessed in these last 21 years,
But I've steered through the fog and seen when the weather's been clear,
While rainy days come and stormy winds have prevailed,
Some have shown me the sun and paved me a trail,
Undoubtedly haters will try to bring your ship down,
But keep your head above water and try not to drown,
And even if you've had enough, and even when the going gets rough,
You've gotta bring you up, you've gotta keep you tough,
If the course you've set sail on looms ominously,
Don't hesitate to choose another path more promising,
A path more astonishing,
These seas are treacherous, these seas are calm,
But more importantly, these seas are unpredictable.
And you may find yourself in circumstances unlivable,
Circumstances that are trivial, where you face ridicule,
And your life lessons are no longer applicable,
But there is one thing that can remain the same,
There is one thing that can be attained,
There is one thing that will help you make it through the rain,
And that one thing is to live with an attitude of gratitude,
And whether you majored in history, biology, music, or psychology,
I hope you all leave here without regrets or apologies,
Because regardless of the times you had,
Regardless of whether they were good or bad,
Regardless of whether you were able to do what you had planned,
Regardless of whether somebody in your lifetime picked up your poop for you with their own damn hand,
We have benefitted from the gift of others,
And with an attitude of gratitude, I hope that we, too, will give back to our sisters and brothers,
Ancestors and predecessors,
Distant others and our communities,
And I speak truthfully when I say I would be NOTHING without the help of what others would do for me,
So I hope you all take a moment to reflect,
Take a moment to digest,
And someday choose a moment to invest,
The same time and energy that somebody selflessly gave to you,
Because we've all been blessed by at least a favor or two,
And if you ever have a chance to thank the ones that helped you,
Take that extra moment to appreciate what they do,
And I hope you turn around and thank them whether it's,
"Thank you for helping me pay for college"
"Thank you for enlightening me with a wealth of knowledge"
"Thank you for making my life so grand"
"Thank you for cleaning my poop with your hand"
And as you pursue your dreams and its many avenues,
I pray that you all continue to live with an attitude of gratitude.
Aisha:
This is for you.
For the family heritage that is as complex and contradictory as this nation's history or, dare I say, herstory
The education that liberated our minds with critical vocabulary for our intellectual inventory,
This is for you, class of 2009,
The pressure made diamonds, how we gonna let 'em shine?
Realizing that our paths of life are deeply intertwined,
What are we going to do, to give back this time?
To give back to those who have sacrificed so much,
So that we could contribute to the world with our own unique touch,
To live with an attitude of gratitude, my friends,
Is to realize that it's about more than a means to an end,
Is to aspire to embody the compassion and selflessness that has made us into who we are,
To, reinvest in the come-unities that raised us on their shoulders so we could reach for the stars,
For the people who made you slip up and trip up, and want to give up along the way,
For the people who are so proud that you are here today.
To live with an attitude of gratitude,
Is to be grateful that we are the people we have become,
Refusing to be that raisin, shriveling under the sun,
The allure of apathy and egotism must be overcome,
Dream deferred, replaced by passions overrun,
Today, let us remember that as we take away lessons learned, to pass on some,
Drop knowledge,
Lift up those around you,
We've made it through the last day of college,
So, thank those who surround you,
This is for the present, the future and the past,
For the opportunities seized, for the legacies of hope that will last
Dream big, think big, live strong,
An attitude of gratitude is our freedom song.
Aisha Sings and Justin Speaks at the same time:
"Thank You Lord" song:
Thank you, Lord,
Hallejuah,
I'm grateful for my blessing,
Trials and tribulations, I've been through…
I've realized no one
Can love like you do…
Maya Angelou Speech:
"The ship of my life may or may not be sailing on calm and amiable seas. The challenging days of my existence may or may not be bright and promising. Stormy or sunny days, glorious or lonely nights, I maintain an attitude of gratitude. If I insist on being pessimistic, there is always tomorrow. Today, I am blessed." –Maya Angelou