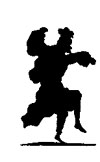 John Moore, July 1772
Moore published his account in his View of Society and Manners in France, Switzerland, and Germany (London, 1783), vol. I, pp. 261-285.
---
Geneva. I am not surprised that your inquiries of late entirely regard the philosopher of Ferney. This extraordinary person has contrived to excite more curiosity, and to retain the attention of Europe for a longer space of time, than any other man this age has produced, monarchs and heroes included.--Even the most trivial anecdote relating to him seems, in some degree, to interest the Public.

Since I have been in this country, I have had frequent opportunities of conversing with him, and still more with those who have lived in intimacy with him for many years; so that, what ever remarks I may send you on this subject, are founded either on my own observation, or on that of the most candid and intelligent of his acquaintance.

He has enemies and admirers here, as he has every where else; and not unfrequently both united in the same person.

The first idea which has presented itself to all who have attempted a description of his person, is that of a skeleton. In as far as this implies excessive leanness, it is just; but it must be remembered, that this skeleton, this mere composition of skin and bone, has a Iook of more spirit and vivacity, than is generally produced by flesh and blood, however blooming and youthful.

The most piercing eyes I ever beheld are those of Voltaire, now in his eightieth year. His whole countenance is expressive of genius, observation, and extreme sensibility.

In the morning he has a look of anxiety and discontent; but this gradually wears off, and after dinner he seems cheerful--yet an air of irony never entirely forsakes his face, but may always be observed lurking in his features, whether he frowns or smiles.

When the weather is favourable, he takes an airing in his coach, with his niece, or with some of his guests, of whom there is always a sufficient number at Ferney. Sometimes he saunters in his garden; or if the weather does not permit him to go abroad, he employs his leisure-hours in playing at chess with Pere Adam; or in receiving the visits of strangers, a continual succession of whom attend at Ferney to catch an opportunity of seeing him; or in dictating and reading letters; for he still retains correspondents in all the countries of Europe, who inform him of every remarkable occurrence, and send him every new literary production as soon as it appears.

By far the greater part of his time is spent in his study; and whether he reads himself, or listens to another, he always has a pen in his hand, to take notes, or make remarks.

Composition is his principal amusement. No author who writes for daily bread, no young poet ardent for distinction, is more assiduous with his pen, or more anxious for fresh fame, than the wealthy and applauded Seigneur of Ferney.

He lives is a very hospitable manner, and takes care always to keep a good cook. He has generally two or three visitors from Paris, who stay with him a month or six weeks at a time. When they go, their places are soon supplied; so that there is a constant rotation of society at Ferney. These, with Voltaire's own family, and his visitors from Geneva, compose a company of twelve or fourteen people, who dine daily at his table, whether he appears or not. For when engaged preparing some new production for the press, indisposed or in bad spirits, he does not dine with the company; but satisfies himself with seeing them for a few minutes, either before or after dinner.

All who bring recommendations from his friends, may depend upon being received, if he be not really indisposed--He often presents himself to the strangers, who assemble almost every afternoon in his antichamber, although they bring no particular recommendation. But sometimes they are obliged to retire without having their curiosity gratified.

As often as this happens, he is sure of being accused of peevishness; and a thousand ill-natured stories are related, perhaps invented, out of revenge, because he is not in the humour of being exhibited like a dancing-bear on a holiday. It is much less surprising that he sometimes refuses, than that he should comply so often. In him, this complaisance must proceed solely from a desire to oblige; for Voltaire has been so long accustomed to admiration, that the stare of a few strangers cannot be supposed to afford him much pleasure.

His niece, Madame Denis, does the honours of the table, and entertains the company, when her uncle is not able, or does not choose to appear. She is a well disposed woman, who behaves with good-humour to every body, and with unremitting attention and tenderness to her uncle.

The forenoon is not a proper time to visit Voltaire. He cannot bear to have his hours of study interrupted. This alone is sufficient to put him in bad humour; besides, he is then apt to be querulous, whether he suffers by the infirmities of age or from some accidental cause of chagrin. Whatever is the reason, he is less an optimist at that part of the day than at any other--It was in the morning, probably, that he remarked--que c'étoit domage que le quinquina se trouvoit en Amérique, et la fièvre en nos climats.

Those who are invited to supper, have an opportunity of seeing him in the most advantageous point of view. He then exerts himself to entertain the company, and seems as fond of saying, what are called good things, as ever:--and when any lively remark or bon mot comes from another, he is equally delighted, and pays the fullest tribute of applause--The spirit of mirth gains upon him by indulgence--When surrounded by his friends, and animated by the presence of women, he seems to enjoy life with all the sensibility of youth. His genius then surmounts the restraints of age and infirmity, and flows along in a fine strain of pleasing, spirited observation, and delicate irony.

He has an excellent talent of adapting his conversation to his company--The first time the D[uke] of H[amilton] waited on him, he turned the discourse on the ancient alliance between the French and Scotch nations.--Reciting the circumstance of one of his Grace's predecessors having accompanied Mary Queen of Scots, whose heir he at the time was, to the court of France,--he spoke of the heroic characters of his ancestors, the ancient Earls of Douglas--of the great literary reputation of some of his countrymen, then living; and mentioned the names of Hume and Robertson in terms of high approbation.

A short time afterwards, he was visited by two Russian noblemen, who are now at Geneva. Voltaire talked to them a great deal of their Empress, and the flourishing state of their country.--Formerly, said he, your countrymen were guided by ignorant priests,--the arts were unknown, and your lands lay waste;--but now the arts flourish, and the lands are cultivated.--One of the young men replied, That there was still a great proportion of barren land in Russia.--At least, said Voltaire, you must admit, that of late your country had been very fertile in laurels.

His dislike to the clergy is well known.--This leads him to join in a very trite topic of abuse with people who have no pretension to that degree of wit which alone could make their railings tolerable.--The conversation happening to turn into this channel, one person said, If you substract pride from priests, nothing will remain.--Vous comptez donc, Monsieur, la gourmandise, pour rien, said Voltaire.

He approves much more of Marmontel's Art of Poetry, than of any poems of that author's composition. Speaking of these, he said that Marmontel, like Moses, could guide others to the Holy Land, though he was not allowed to enter it himself.

Voltaire's unbecoming allusions to the Sacred Writings, and his attempts to turn into ridicule some of the most venerable characters mentioned in them, are notorious.

A certain person, who stammered very much, found means to get himself introduced at Ferney.--He had no other recommendation than the praises he very liberally bestowed on himself.--When he left the room, Voltaire said, he supposed him to be an avanturier, un imposteur.--Madame Denis said, Imposters never stammer:--To which Voltaire replied--Moise, ne begayoit-il pas?

You must have heard of the animosity which has long subsisted between Voltaire and Fréron the Journalist at Paris. The former was walking one day in his garden with a gentleman from Geneva. A toad crawled across the road before them:--The gentleman, to please Voltaire, said pointing at the toad,--There is a Freron.--What can that poor animal have done to you, replied the Wit, to deserve such a name?

He compared the British nation to a hogshead of their own strong beer; the top of which is froth, the bottom dregs, the middle excellent.

A friend of Voltaire's having recommended to his perusal a particular system of metaphysics, supported by a train of reasonings, by which the author displayed his own ingenuity and address, without convincing the mind of the reader, or proving any thing besides his own eloquence and sophistry, asked, some time after, the critic's opinion of this performance?

Metaphysical writers, replied Voltaire, are like minuet-dancers; who being dressed to the greatest advantage, make a couple of bows, move through the room in the finest attitude, display all their graces, are in continual motion without advancing a step, and finish at the identical point from which they set out.

This I hope will satisfy you for the present; in my next, I shall send you what farther particulars I think worth your notice con ceming this singular man.
---
Geneva. Considered as a master, Voltaire appears in a very amiable light. He is affable, humane, and generous to his tenants and dependents. He loves to see them prosper; and takes part in their private and domestic concerns, with the attention of a patriarch.--He promotes industry end manufactures among them, by every means he can devise: by his care and patronage alone, Ferney, from a wretched village, whose inhabitants were sunk in sloth and poverty, is become a flourishing and commodious little town.

That acrimony, which appears in some of Voltaire's works, seems to be excited only against rival wits, and contemporary writers, who refuse him that distinguished place on Parnassus, to which his talents entitle him.

If he has been the author of severe satire, he has also been the object of a great deal. Who has been the aggressor, it would be difficult to determine; but it must be confessed, that where he has not been irritated as a writer, he appears a good-humoured man; and, in particular instances, displays a true philanthropy.--The whole of his conduct respecting the Calas family;--his protection of the Sirvens, his patronage of the young lady descended from Corneille, and many examples, which might be mentioned, are all of this nature.

Some people will tell you, that all the bustle he made, on these, and similar occasions, proceeded from vanity; but in my mind, the man who takes pains to justify oppressed innocence, to rouse the indignation of mankind against cruelty, and to relieve indigent merit, is in reality benevolent, however vain he may be of such actions.--Such a man is unquestionably a more useful member of society, than the humblest monk, who has no other plan in life, than the working out his own salvation in a corner.

Voltaire's criticisms on the writings of Shakespear do him no honour; they betray an ignorance of the author, whose works he so rashly condemns. Shakespear's irregularities, and his disregard for the unities of the drama, are obvious to the dullest of modern critics; but Voltaire's national prejudices, and his imperfect knowledge of the language, render him blind to some of the most shining beauties of the English Poet; his remarks, however, though not always candid nor delicate, are for the most part lively.

One evening, at Ferney, the conversation happening to turn on the genius of Shakespear, Voltaire expatiated on the impropriety and absurdity of introducing low characters and vulgar dialogue into Tragedy; and gave many instances of the English bard's having offended in that particular, even in his most pathetic plays. A gentleman of the company, who is a great admirer of Shakespear, observed, by way of palliation, that though those characters were low, yet they were natural (dans la nature, was his expression). Avec permission, Monsieur, replied Voltaire, mon cul est bien dans la nature, et cependant je porte de culottes.

Voltaire had formerly a little theatre at his own house, where dramatic pieces were represented by some of the society who visited there, he himself generally taking some important character; but by all accounts this was not his fort, nature having fitted him for conceiving the sentiments, but not representing the actions of a hero.

Mr. Cramer of Geneva sometimes assisted upon these occasions. I have often seen that gentleman act at a private theatre in that city with deserved applause. Very few of those who have made acting the study and business of their lives, could have represented the characters in which he appeared, with more judgment and energy.

The celebrated Clairon herself has been proud to tread Voltaire's domestic theatre, and to display at once his genius and her own.

These dramatic entertainments at Ferney, to which many of the inhabitants of Geneva were, from time to time, invited, in all probability increased their desire for such amusements, and gave the hint to a company of French comedians, to come every summer to the neighbourhood.

As the Syndics and Council did not judge it proper to license their acting, this company have erected a theatre at Chatelaine, which is on the French side of the ideal line which separates that kingdom from the territories of the Republic, and about three miles from the ramparts of Geneva.

People come occasionally from Savoy and Switzerland to attend these representations; but the company on which the actors chiefly depend, are the citizens of Geneva. The play begins at three or four in the afternoon, that the spectators may have time to return before the shutting of the gates.

I have been frequently at this theatre. The performers are moderately good. The admired Le Kain, who is now at Ferney, on a visit to Voltaire, sometimes exhibits:--but when I go, my chief inducement is to see Voltaire, who generally attends when Le Kain acts, and when one of his own tragedies is to be represented. [See image below]

He sits on the stage, and behind the scenes; but so as to be seen by a great part of the audience. He takes as much interest in the representation, as if his own character depended on the performance. He seems perfectly chagrined and disgusted when any of the actors commit a mistake; and when he thinks they perform well, never fails to make his approbation with all the violence of voice and gesture.

He enters into the feigned distresses of the piece with every symptom of real emotion, and even sheds tears with the profusion of a girl present for the first time at a tragedy.

I have sometimes sat near him during the whole entertainment observing with astonishment such a degree of sensibility in a man of eighty. This great age, one would naturally believe, might have considerably blunted every sensation, particularly those occasioned by the fictitious distresses of the drama, to which he has been habituated from his youth.

The pieces represented having been wrote by himself, is another circumstance which, in my opinion, should naturally tend to prevent their effect on him. Some people indeed assert that this, so far from diminishing, is the real cause of all his sensibility; and they urge, as a proof of this assertion, that he attends the theatre only when some of his own pieces are to be acted.

That he should be better pleased to see his own tragedies represented than any others, is natural; but I do not readily comprehend, how he can be more easily moved and deceived, by distresses which he himself invented. Yet this degree of deception seems necessary to make a man shed tears. While these tears are flowing, he must believe the woes he weeps are real: he must have been so far deceived by the cunning of the scene, as to have forgot that he was in a playhouse. The moment he recollects that the whole is fiction, his sympathy and tears must cease.

I should be glad, however,to see Voltaire present at the representation of some of Corneille or Racine's tragedies, that I might observe whether he would discover more or less sensibility than he has done at his own. We should then be able to ascertain this curious, disputed point, whether his sympathy regarded the piece of the author.

Happy, if this extraordinary man had confined his genius to its native home, to the walks which the muses love, and where he has always been received with distinguished honour, and that he had never deviated from these, into the thorny paths of controversy. For while he attacked the tyrants and oppressors of mankind, and those who had perverted the benevolent nature of Christianity to the most selfish and malignant purposes, it is for ever to be regretted, that he allowed the shafts of his ridicule to glance upon the Christian religion itself.

By persevering in this, he has not only shocked the pious, but even disgusted infidels, who accuse him of borrowing from himself, and repeating the same argument in various publications; and seem as tired of the stale sneer against the Christian doctrines, as of the dullest and most tedious sermons in support of them.

Voltaire's behaviour during sickness has been represented in very opposite lights. I have heard much of his great contrition and repentance, when he had reason to believe his end approaching. These stories, had they been true, would have proved, that his infidelity was affectation, and that he was a believer and Christian in his heart.

I own I could never give any credit to such reports; for though I have frequently met with vain young men, who have given themselves airs of free-thinking, while in reality they were even superstitious, yet I never could understand what a man like Voltaire, or any man of common understanding, could propose to himself by such absurd affectation. To pretend to despise whet we really revere, and to treat as human, what we believe to be divine, is certainly, of all kinds of hypocrisy, the most unpardonable.

I was at some pains to ascertain this matter; and I have been assured, by those who have lived during many years in familiarity with him, that all these stories are without foundation. They declare, that although he was unwilling to quit the enjoyment of life, and used the means of preserving health, he seemed no way afraid of the consequences of dying. That he never discovered, either in health or sickness, any remorse for the works imputed to him against the Christian religion.--That, on the contrary, he was blinded to such a degree, as to express uneasiness at the thoughts of dying before some of them, in which he was at that time engaged, were finished.

Though this conduct is not to be justified upon any supposition, yet there is more consistency, and, in my opinion, less wickedness in it, if we admit the account which his friends give than there would be in his writing at once against the established opinions of mankind, the conviction of his own conscience, and the inspirations of the Deity, merely to acquire the applause of a few mistaken infidels.

However erroneous he may have been, I cannot suspect him of such absurdity. On the contrary, I imagine, that as soon as he is convinced of the truths of Christianity, he will openly avow his opinion, in health as in sickness, uniformly, to his last moment.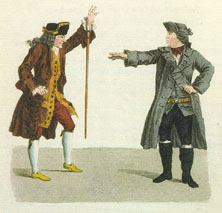 "Voltaire répétant Mahomet avec Lekain en costume de voyage."
Colored engraving based on a gouache by Fesch and Whirsker
---
Return to Visitors to Ferney
Return to the Homepage of the Voltaire Society of America