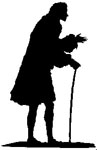 Marianne Baillie, 1818
Baillie (1795?-1831) published an account of her European travels in 1819, under the title First Impressions on a Tour upon the Continent in the Summer of 1818, through parts of France, Italy, Switzerland, the Borders of Germany, and a part of French Flanders. She later published some poetry and a two-volume description of Lisbon in the years 1821, 1822 and 1823.
---
We went the day afterwards to Ferney (the celebrated residence of Voltaire), and also to Sir F. d'I.'s beautiful country house in the same neighbourhood. We were highly interested by all we saw at Ferney. Voltaire's sitting-room, and bed-chamber, have been scrupulously preserved in the same state in which they were left at the time of his death: there was a bust of him in the former, and in the latter a smaller one, upon a mausoleum (which was erected to his memory, by his niece), bearing this inscription: son esprit est partout, et son coeur est ici. The latter was literally the case for a considerable time, his heart having been embalmed and placed in a leaden box, within the mausoleum; but it has since been removed to the Pantheon at Paris. We observed several prints framed and glazed, hanging upon the walls of his bed-room, portraits of those celebrated characters he particularly esteemed, either for their talents or from motives of personal regard. Among them we remarked those of Milton (notwithstanding Voltaire's unjust critiques upon the Paradise Lost), Newton, Washington, Franklin, Marmontel, Corneille, Racine, Helvetius, and Delille. The last personage (remarkable as a poet, and as the translator of Virgil), had a line underneath his portrait (written in what many people have believed to be the hand of Voltaire himself), which was singular enough, as it might be taken in a double sense, either as a compliment or a satire. Upon being made acquainted with its meaning in English, I saw the truth of the supposition in a moment. The words were these,

"Nulli flebilior quam tibi Virgili."


We saw Delille's tomb in the burying-ground of Pere de la Chaise, at Paris: a garland of flowers, evidently fresh gathered, had been hung by some admirer of his works over the door of his sepulchre. In this same apartment at Ferney were also portraits of Voltaire, Frederic of Prussia, the Empress Catharine of Russia (presented by herself), and some others. His own picture made a great impression upon us, not from any individual merit as a work of art, but as it so exactly expressed, in the countenance and air, the brilliant and lively genius, the arch satire, and acute penetration, of this celebrated wit. All the furniture of both rooms was dropping to pieces with age and decay. The garden was laid out in the ancient French mode, so abhorred by the purer taste of Rousseau at that time, and since, by every true judge of the grace and simplicity of nature. On one side was a grove of trees, and on the other a close embowered alley of hornbeam, cut into the shape of formal high walls, with gothic windows or openings in them, from whence the prospect of a rich vineyard in the foreground, a lovely smiling valley beyond, and the magnificent glaciers, with Mont Blanc, in the distance, formed a most sublime and yet an enchanting spectacle. I should think it almost impossible to live in the midst of all these charms and wonders of`creation, without lifting an admiring eye and grateful heart to "Nature's God." That Voltaire was an atheist is thought now to be a calumny entirely void of foundation, although he was so miserably mistaken, so fatally deceived, in regard to the glorious truths of revealed religion. Living in an age when the pure doctrines and benignant spirit of Christianity were so atrociously misconstrued and misrepresented, when bigotry stalked abroad in all the horrors of her deformity, and ignorance blindly followed in the bloody traces of her footsteps, it is less to be wondered at than regretted, that Voltaire's vigorous understanding should have disdained their disgraceful shackles; and that in his just ridicule and detestation of the conduct of some followers of Christianity, he should have been unfortunately induced to mistake and vilify Christianity itself: notwithstanding some impious expressions concerning it, at which I shudder in the recollection, he has in many parts of his works evidently looked with a more favourable eye upon the protestant doctrines of England. Certain it is, that he built at his own expense the church at Ferney. Not that I mean to assert, that church-building, any more than church-going, is always an infallible proof of religious feeling; I only mention the fact. The church bears the following inscription:

"Deo erexit Voltaire!"


There is a pretty copse or bosquet, at the end of his garden, in which the present proprietor has erected two paltry monuments, to the memory of Voltaire and his cotemporary Rousseau. I cannot wonder at the dislike which subsisted between them, since the latter was such a warm admirer, and the former so declared an enemy, of overstrained sentiment and sickly sensibility. However, they neither of them did justice to the real merits of each other; and proved individually how strong is the force of prejudice, in blinding the judgment even of the cleverest men.

The village of Ferney was by far the prettiest we had seen since we left our own country, the houses all had an air of neatness and comfort dear to an English eye, and nothing could be more gay and cheerful than their little gardens and orchards; in the former, flowers and vegetables flourished promiscuously, and in great luxuriance, and the latter were glowing with a profusion of rosy apples. We observed a species of this fruit among them, which we did not remember ever to have seen in any other country; it was quite white, and full of a sweet and spirited juice.
---
Return to Visitors to Ferney
Return to the homepage of the Voltaire Society of America